Contracts Down, but Recently Rising
Greenwich had an amazing first nine months with sales up 44% and sales volume up 66%. These big increases are even more amazing because they were increases over our record-setting 2020 home sales. Last year was a great year, but so far 2021 has been an even better year and that is true for every neighborhood. So, let's give out the awards for the most amazing performance by a neighborhood on a year-over-year basis.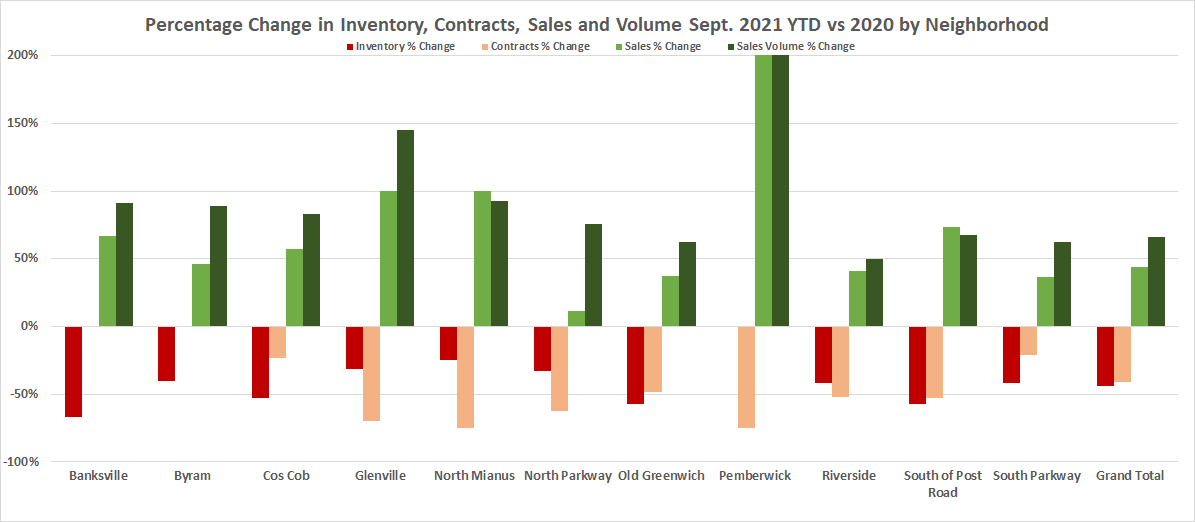 Biggest Percentage Increases from 2022
Award: Our Smaller Neighborhoods
When you look at neighborhoods by the percentage increase in sales, one neighborhood jumps out, Pemberwick, with sales up 250% on a year-over-year basis. Pemberwick's sales increased from 4 sales in the first 9 months of 2020 to 14 sales this year. An increase of 10 sales may not seem like much, but it's the first time in a while since we've seen Pemberwick home sales break into double digits. It's a small neighborhood and the people there love it. They tend to buy and stay, meaning even fewer houses come on for sale.
It's not just Pemberwick, Byram saw sales increase from 13 to 19 and North Mianus went from 5 sales to 10 sales. Banksville also saw its sales jump 67% from 3 sales to 5 sales. These are small numerical increases, but together they total an increase of 23 sales and tell us something about the market. There is a tremendous demand for houses in our most affordable neighborhoods.
Lots of people who live in apartments in the NYC metro area would love to have a house in Greenwich and the most affordable houses in Greenwich are often their first choice. While, we can't know whether there are thousands, or even tens of thousands of people, that fall in that category, we can say that at least 23 homeowners found new homes in these neighborhoods worth buying, even with price increases up to 25% in one year.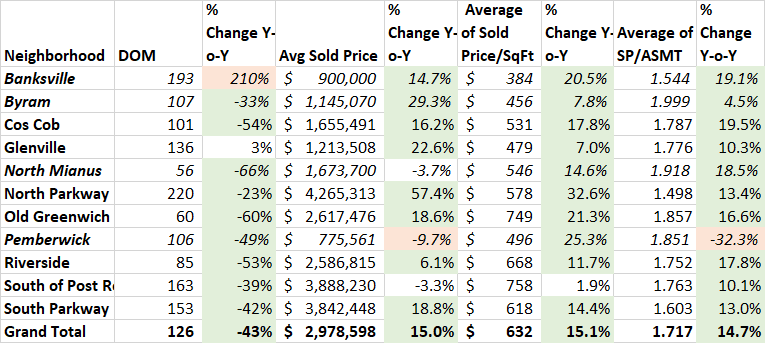 Our Hottest Neighborhood
Award: Riverside, Close Runner-up Old Greenwich
In Riverside, we had 134 sales in the first nine months of 2021, this is up 41% from the first nine months of 2020. This a lot of sales in a small geographical area, but it's a highly desirable area of Greenwich. Driving around with a real estate app you felt like every third house had sold, is under contract, or is about to be. In Riverside, the median days on market were only 44 days and prices appreciated by 17.8% based on the year-over-year increase in the sales price to assessment ratio.
Not everything went to contract quickly. One waterfront house took 429 days to sell, and I co-listed another waterfront home that took 299 days to get to contract. Now both were well over $6 million and high-end negotiations often get tricky, but long sales times aren't de rigueur for high-end Riverside houses. The highest sale in Riverside went for $7.8M, in 23 days. The listings that stay on the market for months make the Riverside average of 85 days on market very understandable and impressive.
Some people, (mostly those who live in Old Greenwich), would argue that Old Greenwich was the hotter market. Yes, Old Greenwich "only" had 126 sales to Riversides 134 sales, but its median days on market was a highly competitive 26 days to contract. Also, if you look at Old Greenwich's price appreciation on sales price/s.f. it's at 21.3% compared to Riverside's 11.7%, but that's more an issue of a few outliers for Old Greenwich. Often, this is due to a new construction replacing a teardown, but the square footage of the old house is still on the tax record, which leads to a very high sales price/sf.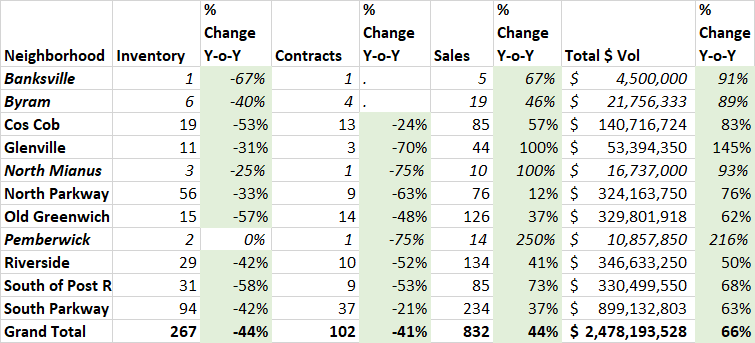 To decide the hottest market of these two, let's go to the tiebreaker, the most houses sold over the list price. Old Greenwich had 41 houses that sold for over the house's original list price, while Riverside had 48 houses that sold for over OLP. Riverside is the winner for our hottest market for the first nine months of the year. Let's see how it plays out for the full year.
The High-End Award
Backcountry vs. Mid-Country vs. the Waterfront Associations
One of the things that make Greenwich so attractive is that we have a variety of communities and the high-end Greenwich gives you a lot of choices. Over $5 million, you have your choice of Backcountry with 4 acres and excellent privacy; mid-country with one and two-acre lots and closer to downtown; and the waterfront associations; Belle Haven (including Field Point Circle), Indian Harbor, and Mead Point.
So far, our highest reported sale is for $45 million in the backcountry. I say reported sales because the market over $5 million and particularly over $10 million is very private with many sales going unreported. (This award is only based on the publicly reported listings on the Greenwich MLS.) Even though this sales price is almost twice the sales price reported in the Belle Haven area, it's only a single sale and one of only two sales over $10 million in the backcountry.
South of the Post Road, in Belle Haven, we have 6 sales over $10 million and an additional 10 sales over $5 million. All the sales are part, of the great reshuffling in Belle Haven as we have a good number of listings in one of our nicest areas and good demand for these listings. Below the Post Road, you can throw in an additional 4 sales for a total of 20 sales over $5 million south of the Post Road. This compares to 19 sales in the backcountry a much larger area.
If you want to talk about larger areas, the South of the Parkway runs from the Merritt Parkway to the north side of the Post Road and has by far the largest number of properties of any Greenwich neighborhood. For the first nine months of 2021, we have had 58 mid-country sales over $5 million and 3 of these were over $10 million. Compare that to the first nine months of 2020, when we had less than half that number with 28 sales over $5 million. Townwide our sales of over $5 million are up 265% from 2019 our last pre-Covid year.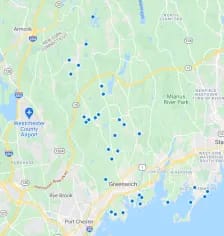 Sept 2019 YTD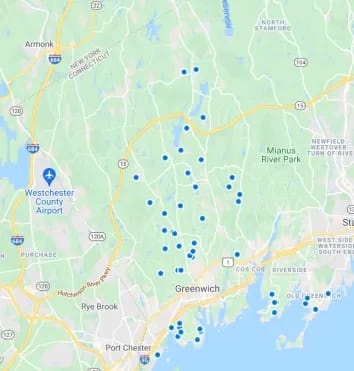 Sept 2021 YTD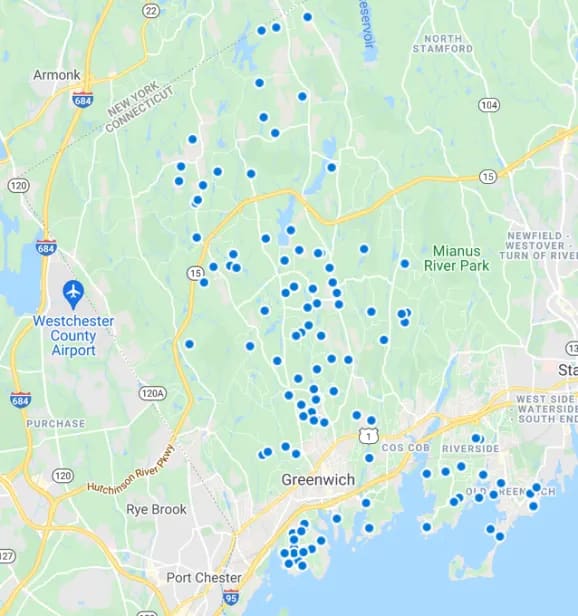 Sept 2022 YTD

Sales in Greenwich, CT Over $5 Million for the First Nine Months of Each Year
The biggest percentage increase in sales is over $5 million and the highest sales YTD goes to the backcountry. The greatest increase in a number of sales goes to mid-country and the greatest increase in sales in a single association easily goes to Belle Haven.
What about the Fourth Quarter
Update
At the end of the third quarter, things were looking bleak for Q4 2021. Our contracts had reached a low for the year with only 102 contracts and inventory was at record lows. Our contracts were 41% below last year and the number of contracts had been dropping for 4 months. Last year was an excellent year all the way through year-end, so being below last year in contracts is not that bad. To see a really terrible slow down go back to September 2019 when we had only 69 contracts at the end of September.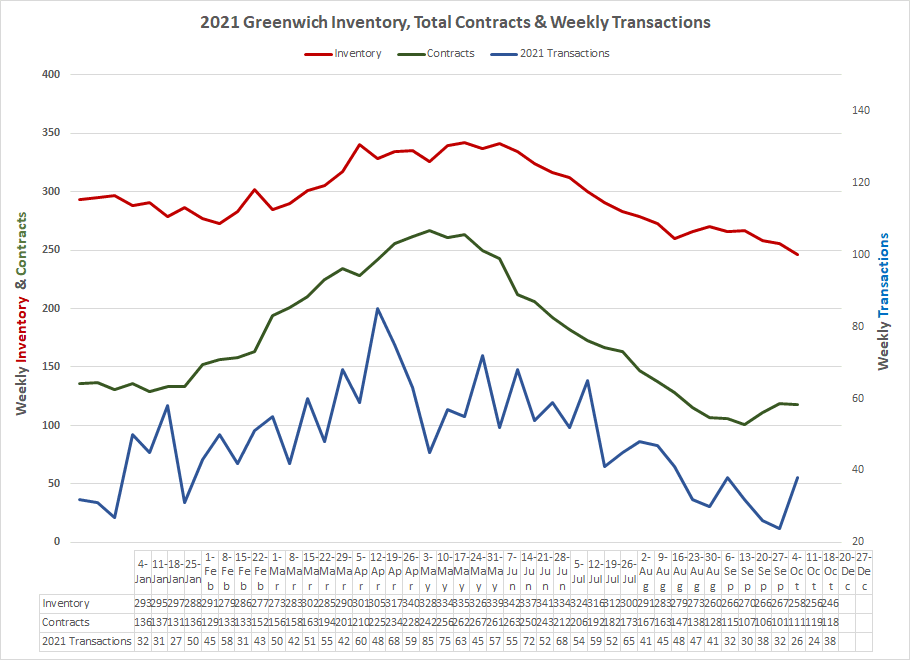 Overall, our contracts, in just about every part of town, had been dropping for 4 straight months. Luckily that stopped in October. We are now up to 118 contracts as our fall market sales kick in. The uptick is even more heartening when you consider that our inventory is at an all-time low with just 246 listings. Of those 246 listings, I bet 10 – 20% already have an accepted offer and are just waiting for contracts to be signed. In addition, a quarter of the listings are more than 6 months old, so our "active" active listings are something like 130 to 150 listings, which means buyers often have only a handful of options in a particular price range in a particular neighborhood. (Our total listings between $1 and 1.5 million in Riverside come to only one listing.)
The concern is not low inventory, we've had that all year. The concern is dropping inventory. This is like watching the gas gauge on your car dropping to "E". We can go a long way on a quarter of a tank of gas if we keep putting in a little gas here and there, but without continuous replenishment of our low tank, our market is going to sputter, and contracts are likely to resume their fall.
It is the second half of October, but arguably this is the best time to list your house with good demand and very limited inventory.
Stay tuned, the 4th quarter promises to be particularly interesting.
Mark Pruner is a sales executive with Compass real estate in Greenwich. He can be reached at 203-969-7900 or
[email protected]
.