As of the middle of July, we have had 287 single family home sales in Greenwich. Of those sales, 44 or 15.3% went for list or over list price. Many of these, and others that sold for under list price were multiple bid situations. Many of these transactions were pre-Covid and you can expect that the percent of list and over list deals will go up. (I'm working on one now.)
Our contracts only really started to accelerate in the second week in May when we went a slow 23 transactions, sales and contracts, to 33 contracts in a week. Last week we had 58 transactions down slightly from 64 transaction the previous week when the Gold Coast conveyance tax increase kicked in on July 1st. The large percentage of those 58 transactions were contracts being signed.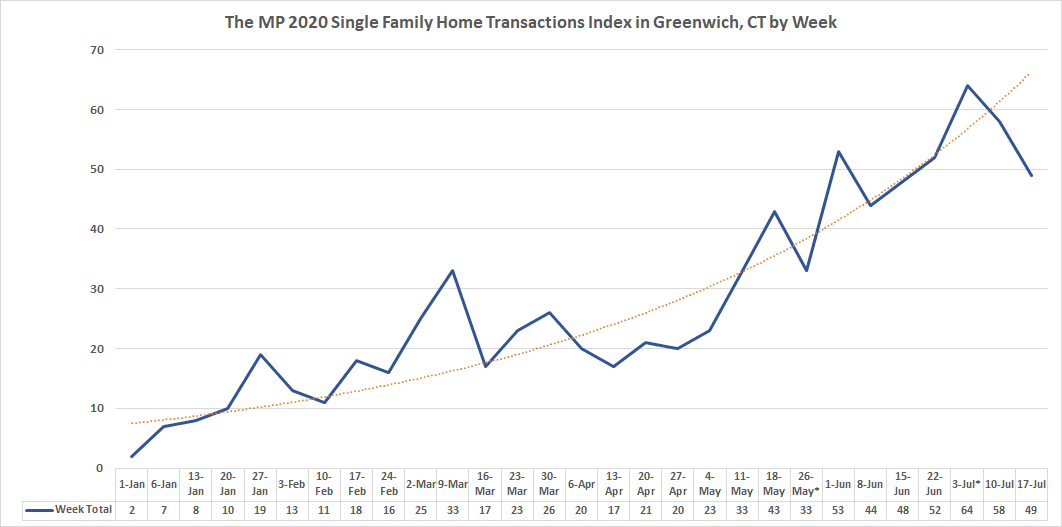 Single Family Homes Sales and Contracts Each Week in 2020
The other interesting thing is where these list and over list contracts are. If you read my neighborhood report last week, you can predict where the competitive sales are. They are in the hot neighborhoods. Old Greenwich, Riverside and Glenville are seeing their fair share of over list activity. Mid-country and Cos Cob are seeing hot sales and the" backcountry is back" area is also seeing over list activity, while we've yet to see this in Byram and Pemberwick.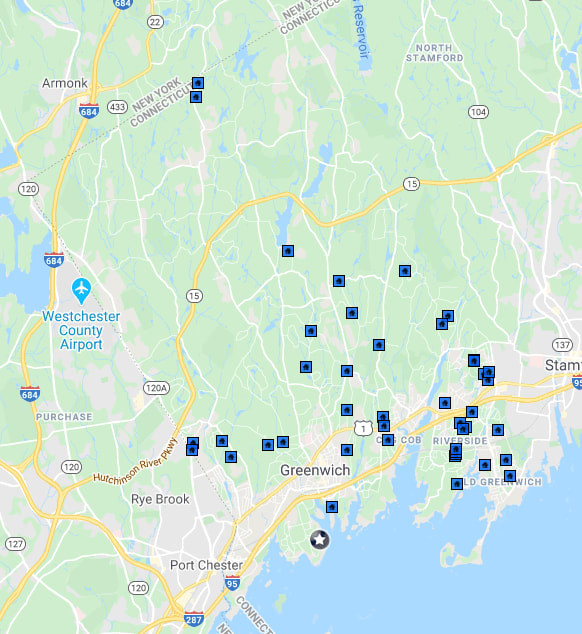 Closed sales for list or over list in Greenwich, CT as of 7/14/20
What's really remarkable is the number of outstanding contracts we have. As of 7/14/20 we have 198 contracts which is an amazing number when you consider that last year that number was around 99 contracts. This is a 100% Covid driven increase. You can be sure that many of those 198 contracts went for list or over list. The market is hot and so far is only getting hotter with each passing week.
On the inventory side we are getting new inventory, but it is going off fast also. We presently have 566 listings; this is down from 640 listings as of the end of July 2019 or a drop of 12%. We had been done down about 20% in inventory, so only 12% down is an improvement, but some price ranges in some neighborhoods are very much combat buying.
I have spoken to several of our longest serving agents, in some cases their tenure goes back 40 years. They say they have never seen a market like this; not after 9/11, not in the go-go years of the 80s, nor in the bubble years of the digits decade. This really is an unprecedented time.