You know you're in a tough market when you're actually happy, that while the inventory is at extraordinarily low levels, it's not going down even more. We presently have 155 single family home listings on the market, this is down 46% from last year and down 66% from January 2020 one of the last pre-COVID months. The good news is that that, unlike the last six months of 2021, inventory is not in a steady decline. We have stayed above 150 listings all month (except for a couple of days which don't count).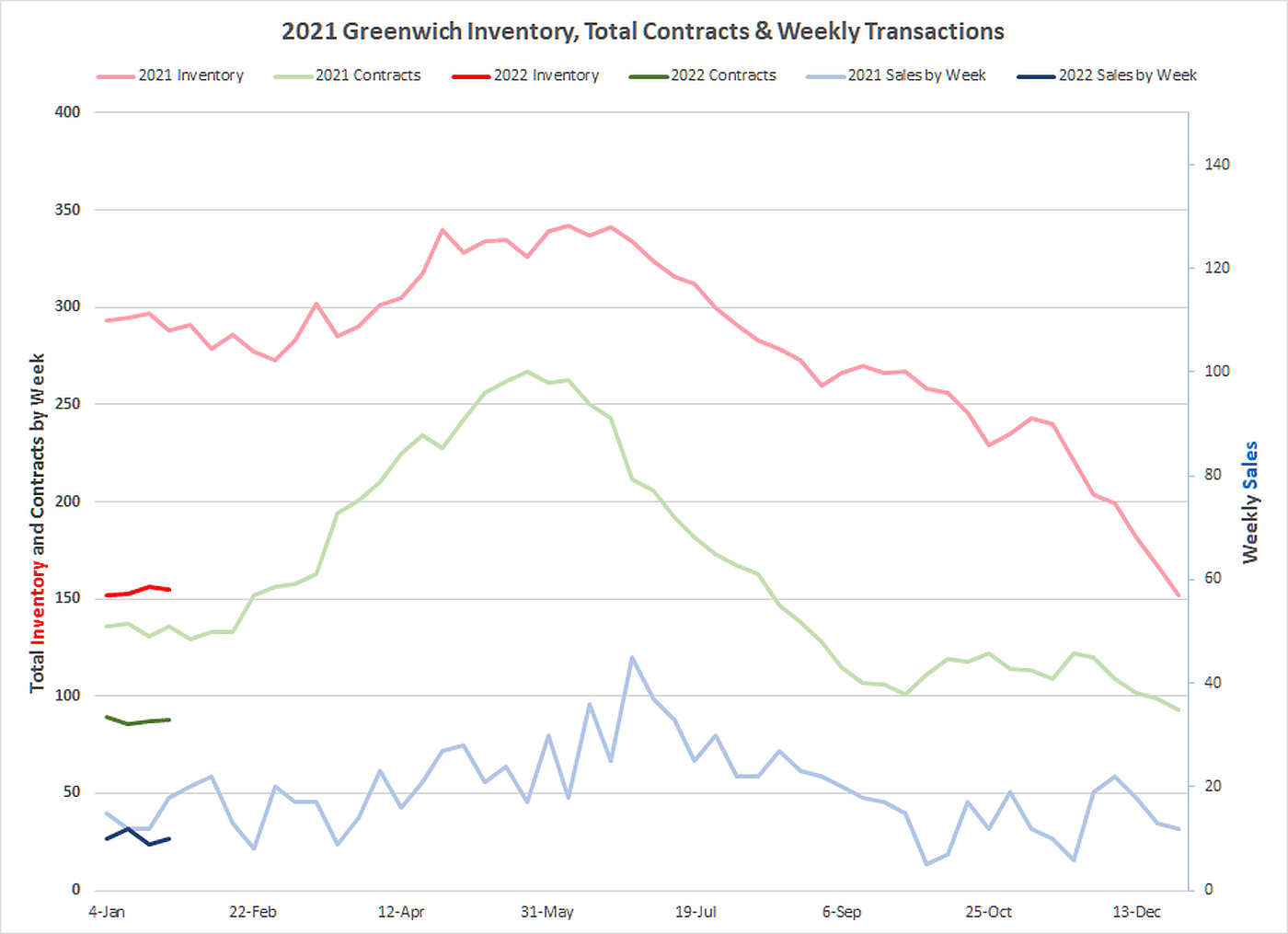 To use a gardening analog, we are seeing some of those early blooming snow drops, but the crocuses are still a few weeks away. The week after the Super bowl is traditionally the beginning of the spring market but if you look at the buyer demand it's already well underway. I put on a new listing at 5 Anderson Rd at 2:00 AM this Wednesday morning and by 9:30 I had seven inquiries and two scheduled showings within 10 hours of it going public on the Greenwich MLS.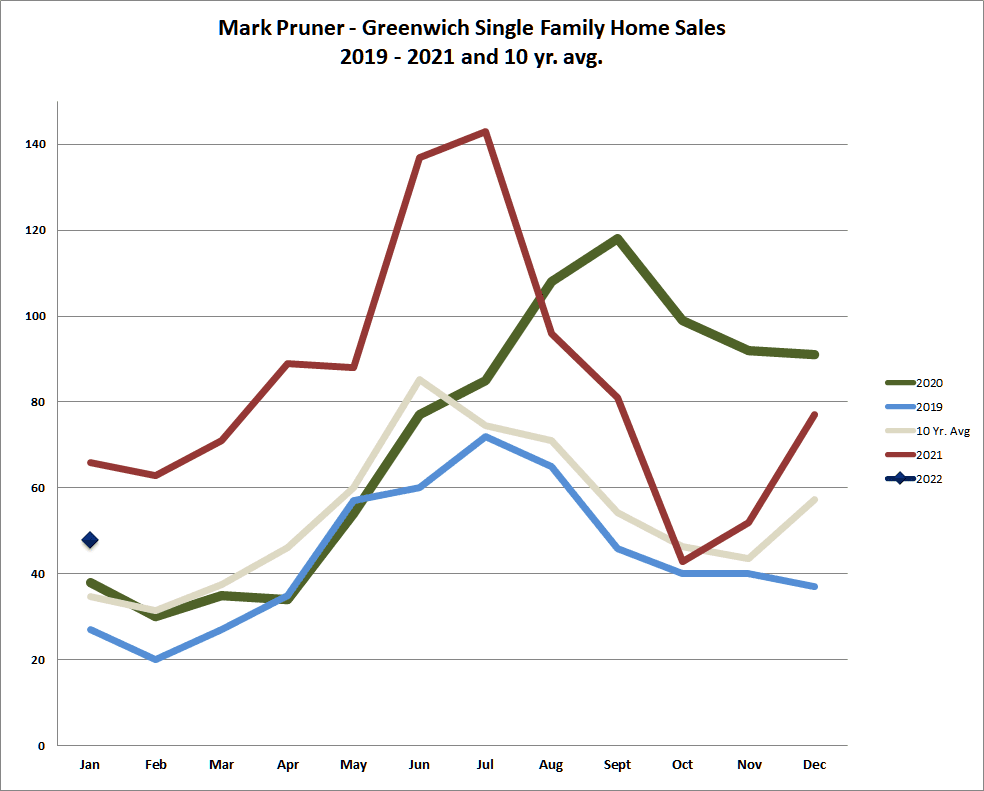 BTW: Realtor.com continues to get changes within minutes of them being made on the Greenwich MLS. They are an affiliate of ListHub, which distributes the vast majority of the IDX (Internet Data Exchange) feeds from multiple listing services. Zillow was getting their feed via Listhub sometimes, hours after Realtor.com. To get around that, Zillow actually created their own Zillow brokerage firms so that as a broker/member of each MLS, they could bypass ListHub and get a direct feed from the MLS. Of course, they were also using the Zillow brokerages in their iBuying programs and using their own Zestimates to set prices. After running up a half-billion dollars in losses, in a rising market, they figured out that was a bad idea. If you believe the Zestimate, I'm sure Zillow still has a few houses they would like to sell you.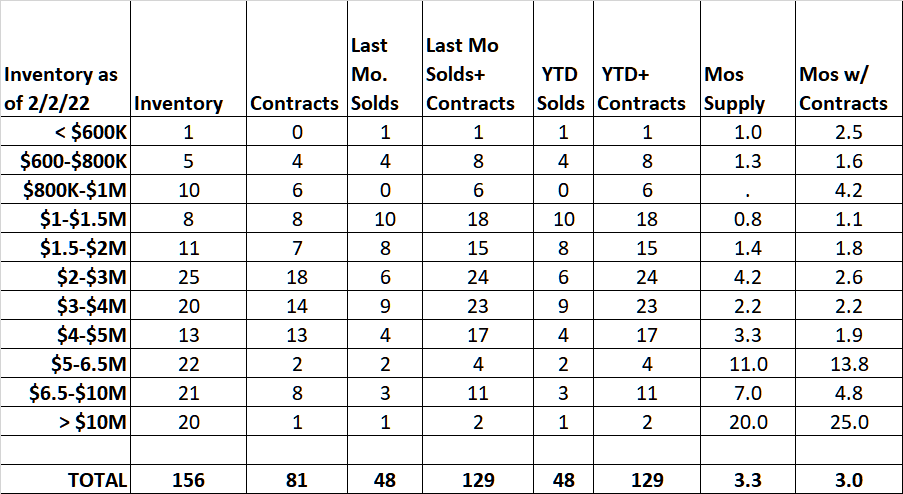 Here in Greenwich, like the rest of the country, the work from home movement is driving a lot of buyers this way. For the moment however the real spur to buyers to move faster is the rise in mortgage rates, which are expected to go up for many months, so buying earlier can save you a good chunk of change in your monthly mortgage bill. One of my listings recently went to contract and the buyer's agent did an excellent job of pestering me daily to make sure the contract got signed so no one else could come in and gazump her clients, but in this case, the clients wanted to get the contract filed so that they could lock in lower rates for the life of the mortgage.
While our inventory is hanging around 150 listings, an amount, that no agent expected to see in their lifetimes, at least we're not Darien. Their inventory is up 25% in January, from 12 listings at the beginning of the month to 15 listings month. That sounds tight, but you've got a better chance in Darien than in Old Greenwich where we only have 8 listings on the market.
As a result, homebuyers these days are more flexible. They are not stuck on just one style or neighborhood, at least they're not if they actively want to look for houses because otherwise all they can do is to keep refreshing their screen waiting for a new listing to come up on realtor.com. Actually, that's not quite true. A good buyer's agents are out there actively seeking out houses for their clients.
If you're a homeowner and haven't gotten a couple postcards asking you to list your house or an agent's letter saying that the agent has a client who is interested in your house, you should feel slighted. (NB: Take these ready buyer's letter with a large of grain of salt. The buyer may not be all that ready or on occasion may not even exist. You may be better off talking to agent that you trust, and they can talk to that agent. It's always good to have someone on your side.)
There are some early hints that the market might be changing. When you look at how this year compares to last January and to January 2020, we may actually be seeing a little price resistance under $3 million. The two price ranges where we saw the biggest drop in sales were $1.0 – 1.5 million and $2 – 3 million. Both price ranges are down 6 sales from 2021 or -38% and -50% sales drop. The price range where we've seen a significant jump in contracts is $4 – $5 million where went from 7 contracts in 2021 to 13 contracts this year. Then again this could just be random chatter in sales and contract numbers.
Clearly, if we had more inventory, we would have a lot more sales. From $1.0 – 1.5 million we have 3 weeks of supply. The one area where that may not be quite so true is over $10 million. In that price range, our months of supplies including sales and contract is up from 11.5 months of supply last year to 25 months of supply this year., I wouldn't worry too much however as this big increase is due to going from 5 sales and contract to 2 this year. Just under the ultra-high end we went from a hot 7.5 months to a very hot 4.8 months, when you include contract. Think about that, we would blow through our 21 listings from $6.5 – 10 million in less than 5 months.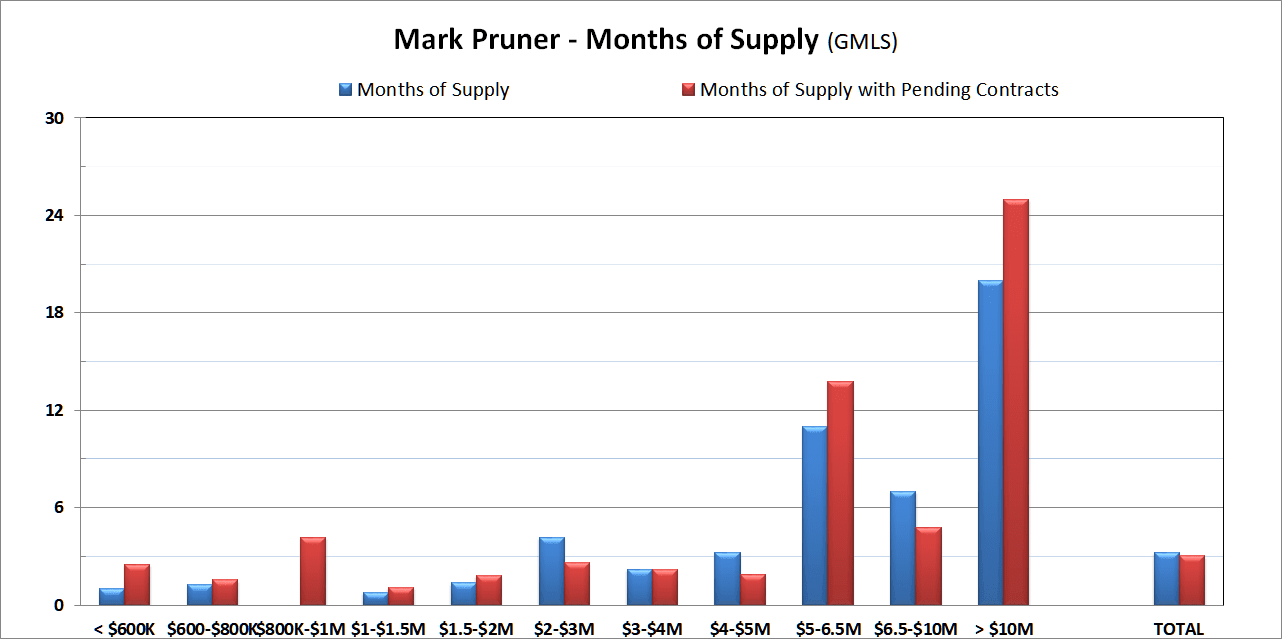 You should always be a little skeptical of January numbers, my brother, Russ, never even did a market report until the end of February, but Beth won't let me do that. Another problem in a hot market is that traditional real estate statistics don't necessarily show what is causing the change. You can't really say for certain, whether sales are down because of lower inventory or because of buyer price resistance due to double digit price increases the last couple of years.
For the moment, you can be pretty sure that it is low inventory is causing the sales drop, however, rising interest rates may become a bigger factor in a slowdown later this year. Rising interest rates often the Fed fighting rising inflation rates, which may encourage people to move money from cash into real estate.
We're also getting reports of excellent bonuses on Wall Street. In the good old days, those were paid out in cash and people were signing purchase contracts in January and closing in February. Now that compensation maybe deferred to the second half of the year and granted in company stock rather than cash, our biggest months for high-end sales are now in the fourth quarter.
We're going to have to be patient at least another month to see which way the 2022 market is heading. Inventory is down, which is choking off a lot of sales but we're not seeing what we saw in December where stellar demand led to sales increases even as inventory continued to drop. We are seeing the snowdrops from an early market showing up keeping inventory at least flat. If you look at Caesar Rabellino accompanying lists of sales and new listings, you'll see that last week we had 25 new listings and 19 sales. It's been a while, since we've seen a week where the number of new listings coming on exceeded the number of sales going off.
That's exactly normal in the spring market, inventory comes on in February and March. Deals get made in April and May and our big sales months are June and July. This year we're getting a little more early inventory, which is really heartening. I, and some other agents, were actually concerned that we might have burned through all of our inventory. But the nice thing is there are still houses is to be listed, deals to be made and certainly the buyers are here and ready to pay a premium. It's possible that prices may not go up quite as fast as it did the last couple of years, it's hard to sustain double digit annual price increases and they are not good for the long term health of the market.
Stay tuned, the first quarter is going to be interesting to see which of these trends has the greatest influence on the housing market.