Greenwich High-End Sales Do Well in Third Quarter
Overall Sales Average Even with Very Low Inventory
10/06/23
by Mark Pruner & Russell Pruner
In September 2023, Greenwich had more sales over $6.5 million dollars than we had under $1 million. We had 5 sales over $6.5 million, including sales of $22.9 million and $14.7 million. For the third quarter, we had 5 sales over $10 million and a total sales volume of $221 million for the quarter. Our third-quarter sales volume this year beat every year of the last four years for total volume with the exception of the record-breaking year of 2021.
Now part of that is that the third quarter included the sale of Copper Beach Farm, the highest sale ever in Connecticut at $138 million, but our number of high-end sales should come in at the second highest ever. We also have seen more sales each quarter and are on our way to having 100 sales over $5 million this year. By way of comparison, we had 41 sales over $5 million in 2019.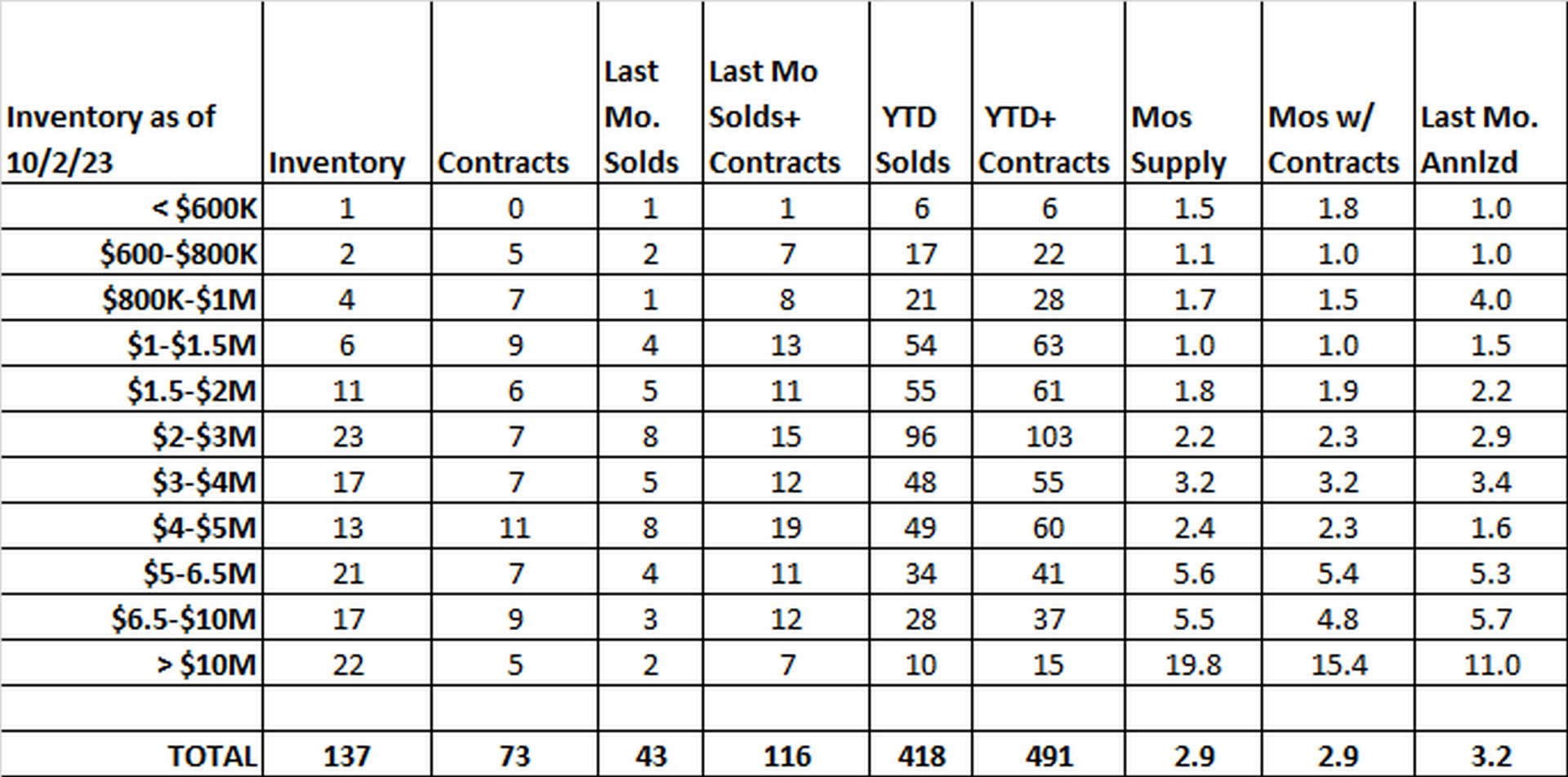 Under $1 million we only had 4 sales, but that's what happens when you only have 7 listings under $1 million and 12 listings go to contract.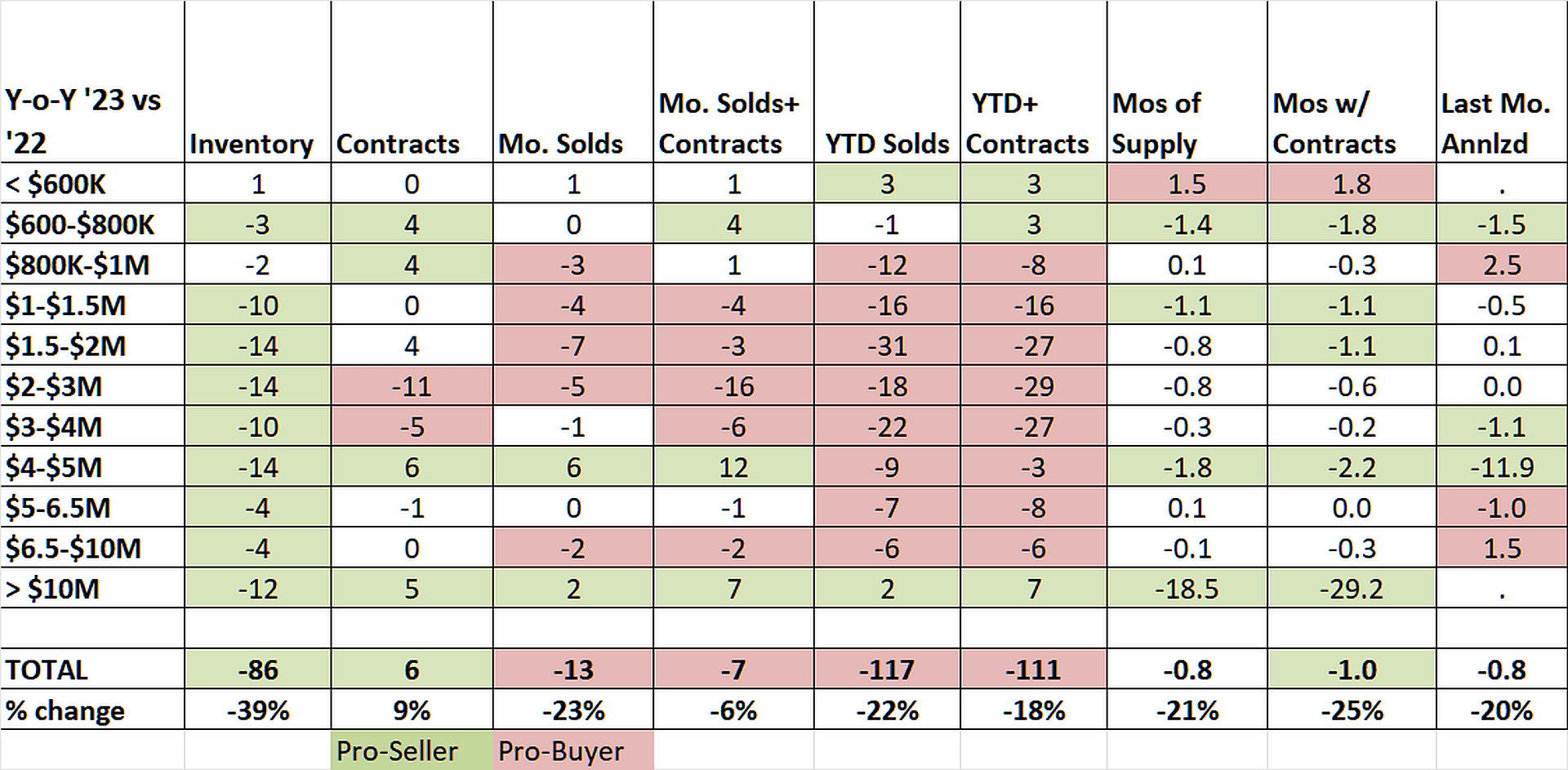 Our lowest single-family home sale for the month was for $547,000. It was a 1,100 sq. ft. house on 0.8 acres built in 1910. The people who bought this house get the same parks, beaches, skating rink, golf club, libraries, schools, and restaurants as the people who paid over $10 million. You might argue that the high-end buyer gets a better golf club, but not this year, as all the golf clubs in town have long waiting lists. (I'd also say the Griff would rate 6th or 7th if it were a private club.)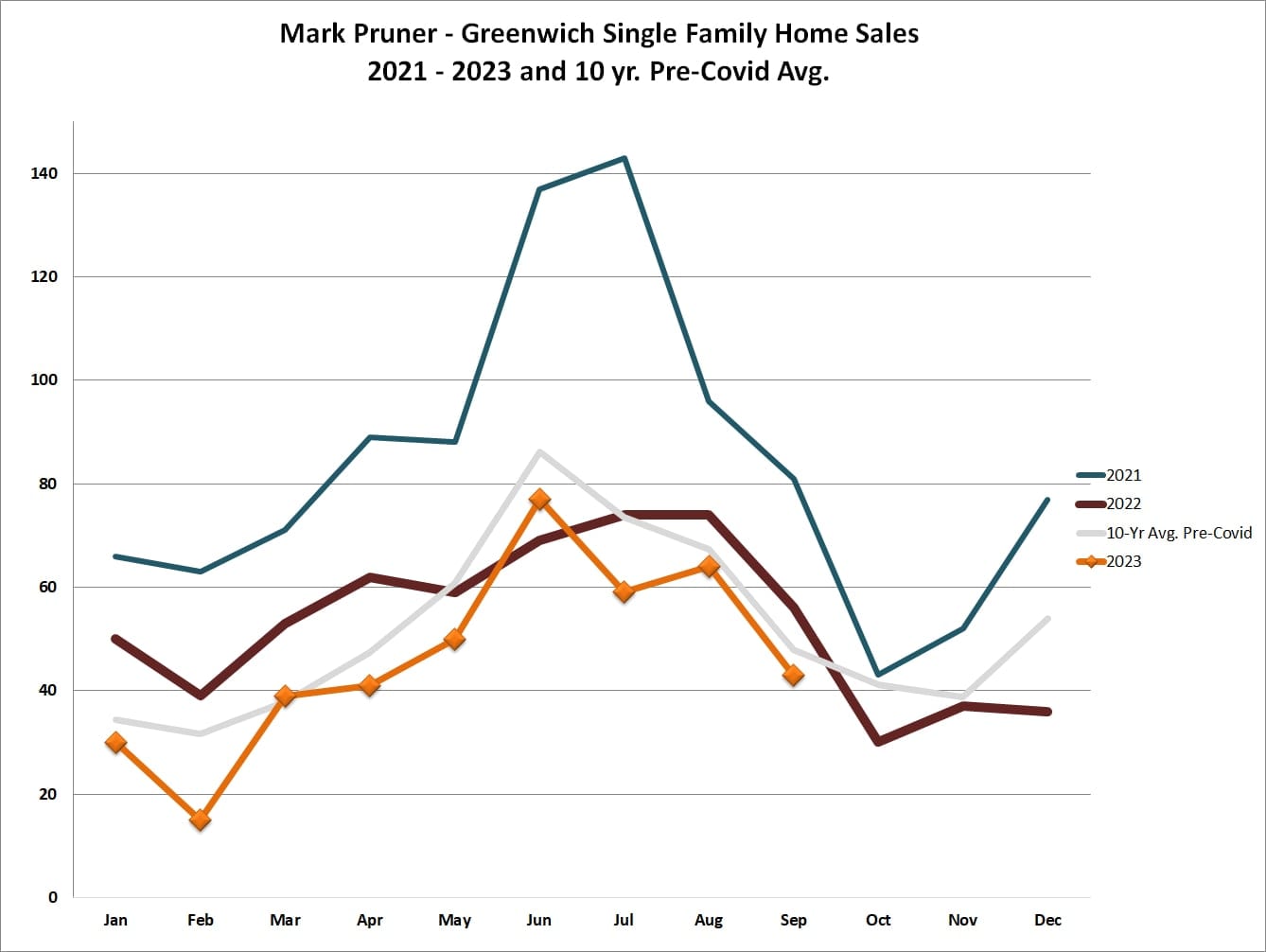 For the month of September, we had almost average sales with 43 sales compared to 47 sales for our 10-year pre-COVID average. That we are even close to average is remarkable given that our inventory is once again at record lows for every week in September, and it has been at record lows since the beginning of May. At the end of August 2023, we set a new record of only 117 house listings. Compare that to July 2021, when we sold 143 houses in that one month. Let's hope we never see that inventory record broken.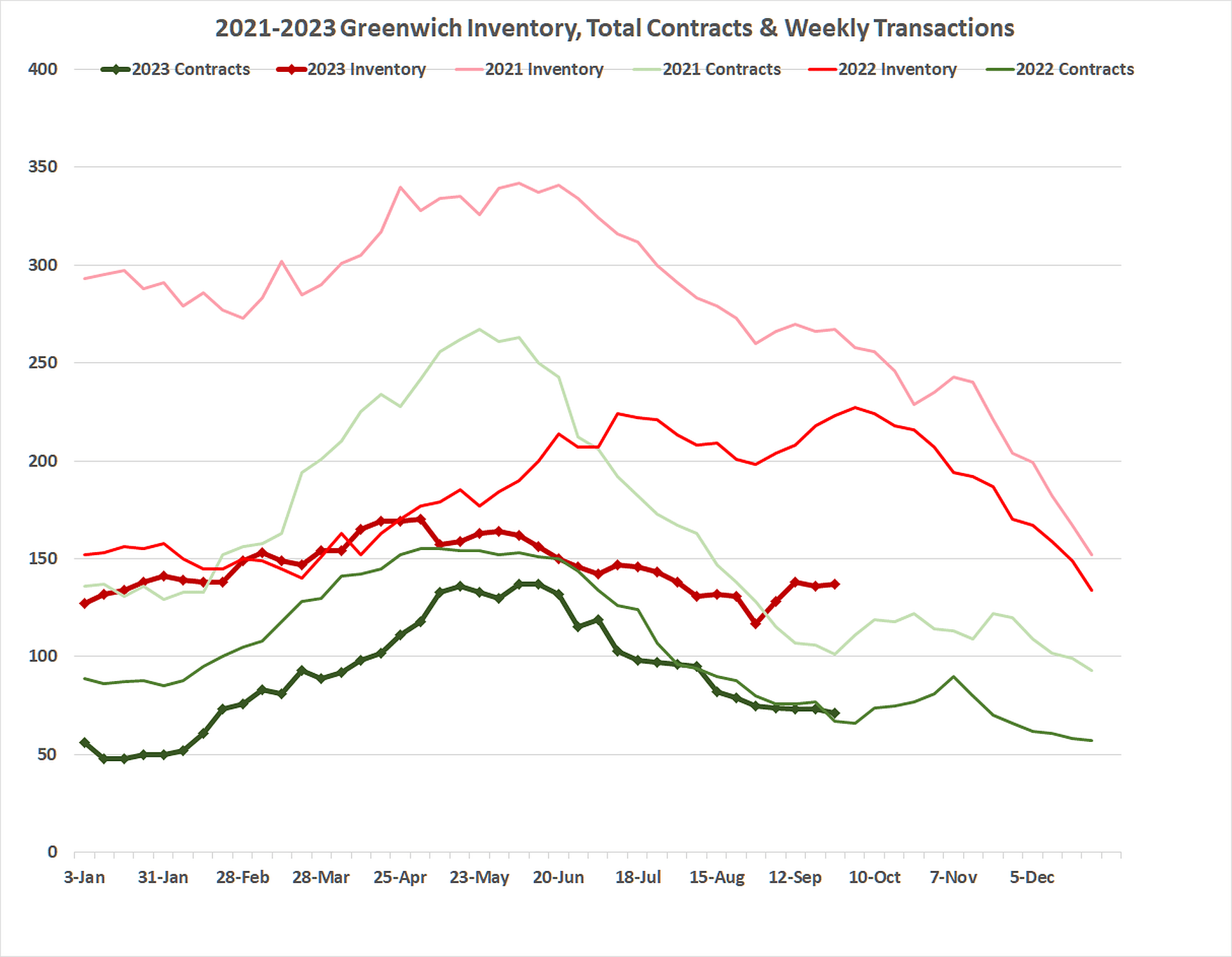 Our fall market begins in September, and of course, our inventory took a big jump up. Wrong! We ended the first month of the fall market with only 137 listings. To show how low this is, at the end of last September, we had a record low of 227 listings. So, our new record low September this year is 40% lower than our previous record September low. If you go back to our last pre-COVID year, we had 629 house listings in September 2019. We are down 78% from 2019, and our inventory has been down 78% ± 2% all the way since the beginning of May this year. On the good news side under $600,000, we are up one listing from none to one house listed. (There is a good chance that house won't be active at the end of this month.)
What happened to our September 2023 listings? This September we had 88 new residential listings, of which 23 were condos and co-ops, leaving 65 new single-family houses that came on the market last month. Of those 65 new house listings, 18 are already off the market. We had 5 go to contingent contract, and 19 go directly to pending (aka non-contingent contracts, where if the buyer doesn't close, they lose their 10% down payment.) We also had 4 houses that came on in September and were sold by the end of the month.
This leaves 46 houses that are still active out of the 65 new listings in September. It's even a little worse than it might appear at first glance, as these 65 new houses listed in September weren't on for the whole month, but only an average of 15 days.
The first 4 days of October have also seen a bunch of these September listings go off the market. Of the remaining 46 houses listed in September, 19 have gone to contract or closed in the first week of October. This leaves only 27 of the original 65 September house listings still on the market.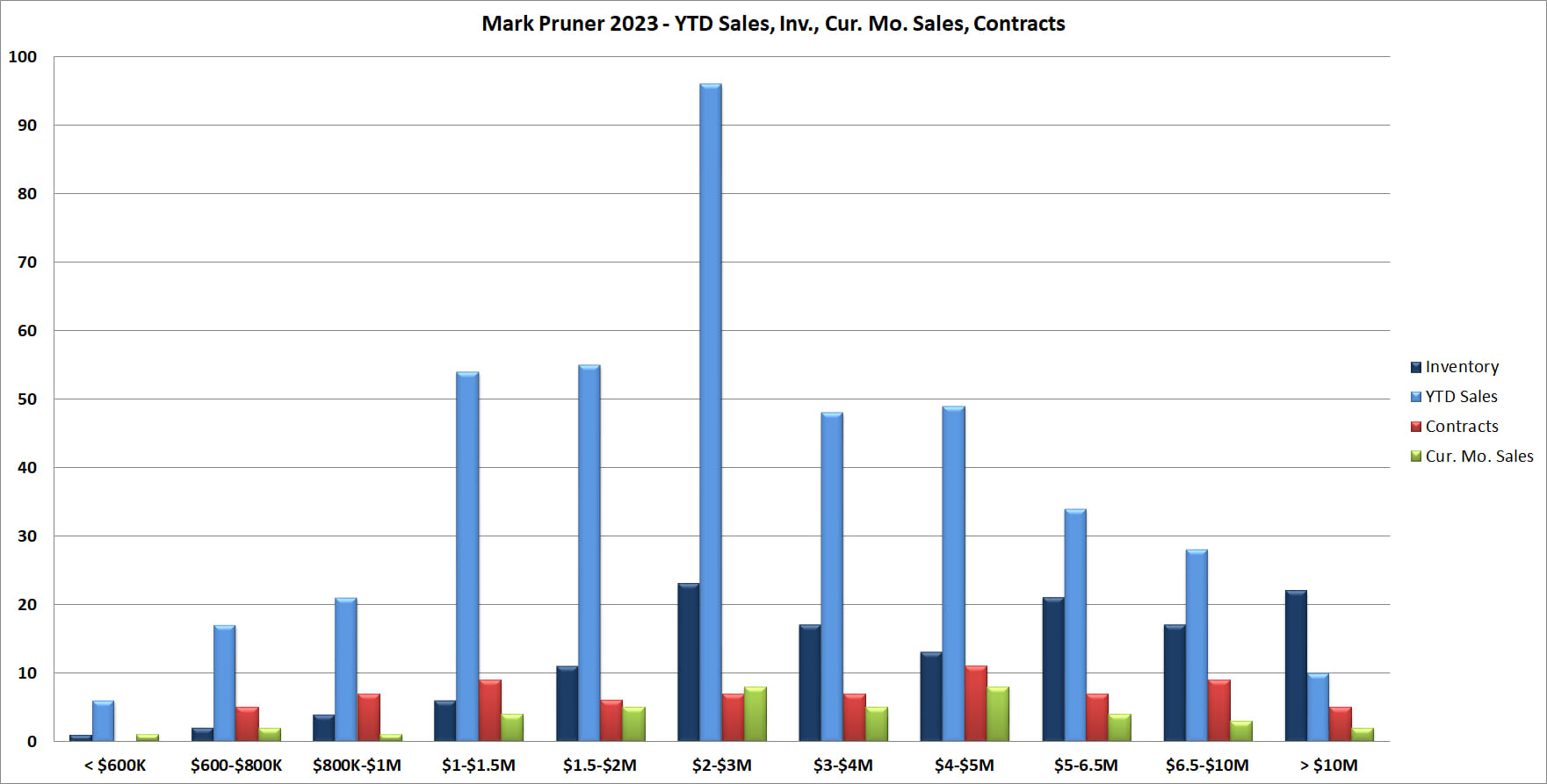 Overall, we are down 86 listings from September 2022, or a drop of 39%, which is remarkable when most people thought we'd never go lower than what we saw last year. What's really surprising is that in most price ranges, our contracts are up compared to last year, even with lower inventory. Also, our 73 contracts are actually six more than we had at the end of September 2022. Bottom line, more contracts with less inventory in the month of September.
In this September, we did see lower sales between $800,000 and $3 million, which is generally the heart of our market. Over $4 million, we actually had six more sales than we had last year when we had significantly more inventory as demand is up for this price range where we have more inventory.
In no price category do we have more than 25 listings, and under $800,000, we only have 3 listings. On the sales side, 227 out of our 418 sales so far this year are between $1,000,000 and $3,000,000. Over $5 million, we have 72 sales YTD and only 60 listings for sale. It's not until you get over $10 million that we have more inventory than we have sales.
Above $10 million, we have seven sales so far this year; this is up two sale from last year. What is really remarkable, however, is that we have five contracts above $10 million, and last year at this time, we had no contracts. As I wrote last month, the high-end market has had a recent turnaround and is now doing well and continues to be on track to be our second-best year ever for sales over $5 million.
We have a super-seller's market all the way up to $5 million, with months of supply under three months. Even from $5 to $10 million, we're looking at months of supply under six months, the traditional dividing line between a seller's market and a buyer's market.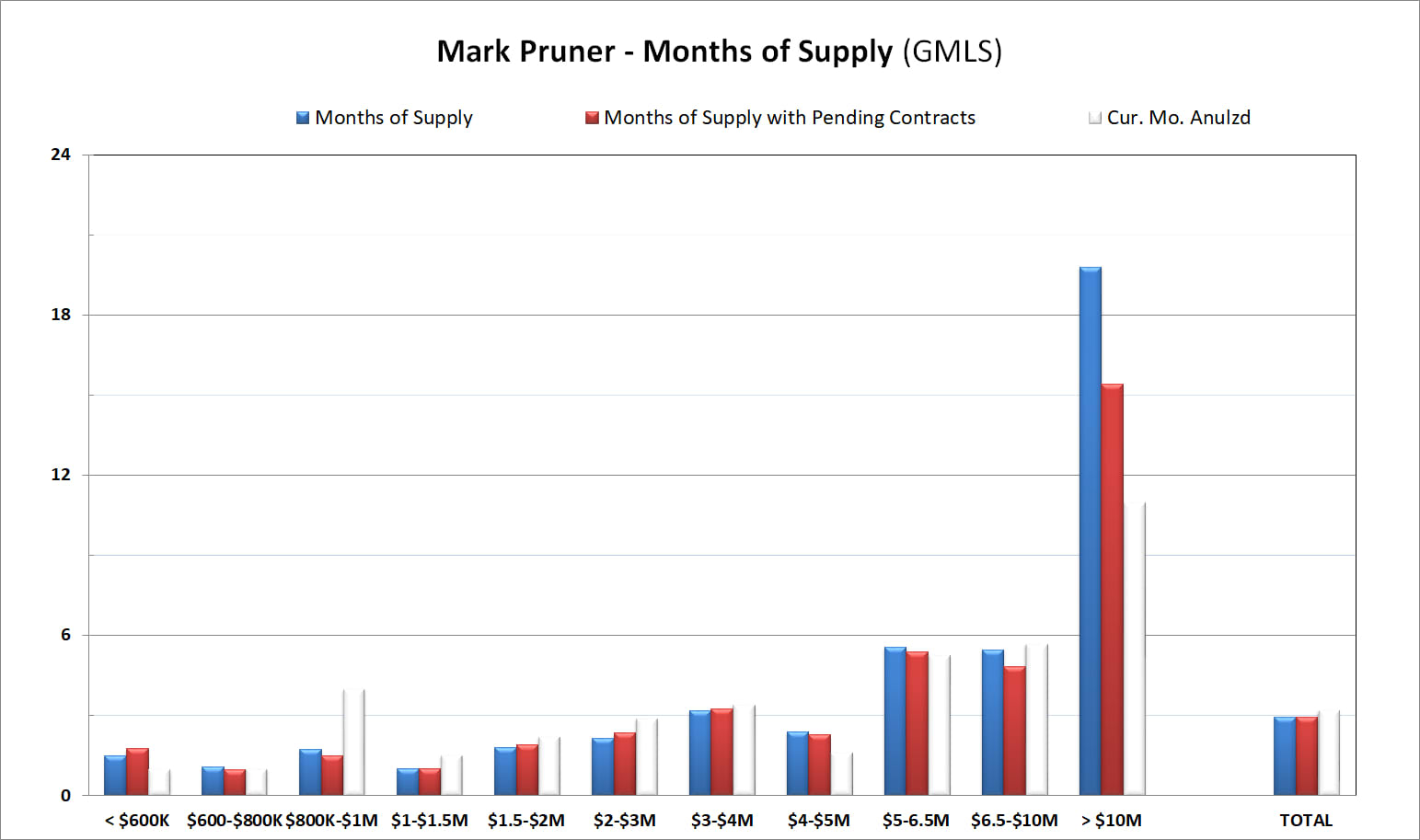 Over $10 million, our months of supply have come down quite a bit. As of the end of September 2023, we had 19.8 months of supply compared to 33.8 months of supply at the end of last September. We also have the aforementioned 5 contracts over $10 million bring the months of supplies with contracts down to 15.4 months of supply. If you annualize the sales that we had in September, you are under a year of supply. Anytime you see months of supply dropping with months of supply with contracts even lower and months of supply based on annualizing last month's sales even lower, those are signs of an accelerating market.
One thing to watch is that the months of supply based on sales and the sales with contracts are about the same all the way up to $10 million. This indicates that the market is continuing to chug along but is not getting tighter under $10 million.
When you look at our overall market as a percentage of sales, you can see that the market under a million and a half dollars represents only about 10% of our inventory but it represents 25% of our sales. Interestingly, as we lose sales in the under $1.5 million market because of extreme inventory shortages, we're actually seeing better sales in the condo market. This is unusual because condo buyers and single-family home buyers don't normally overlap; however, in this extreme shortage situation, it looks like some people may be buying an available condos now rather than wait for single-family homes that might be available sometime in the future.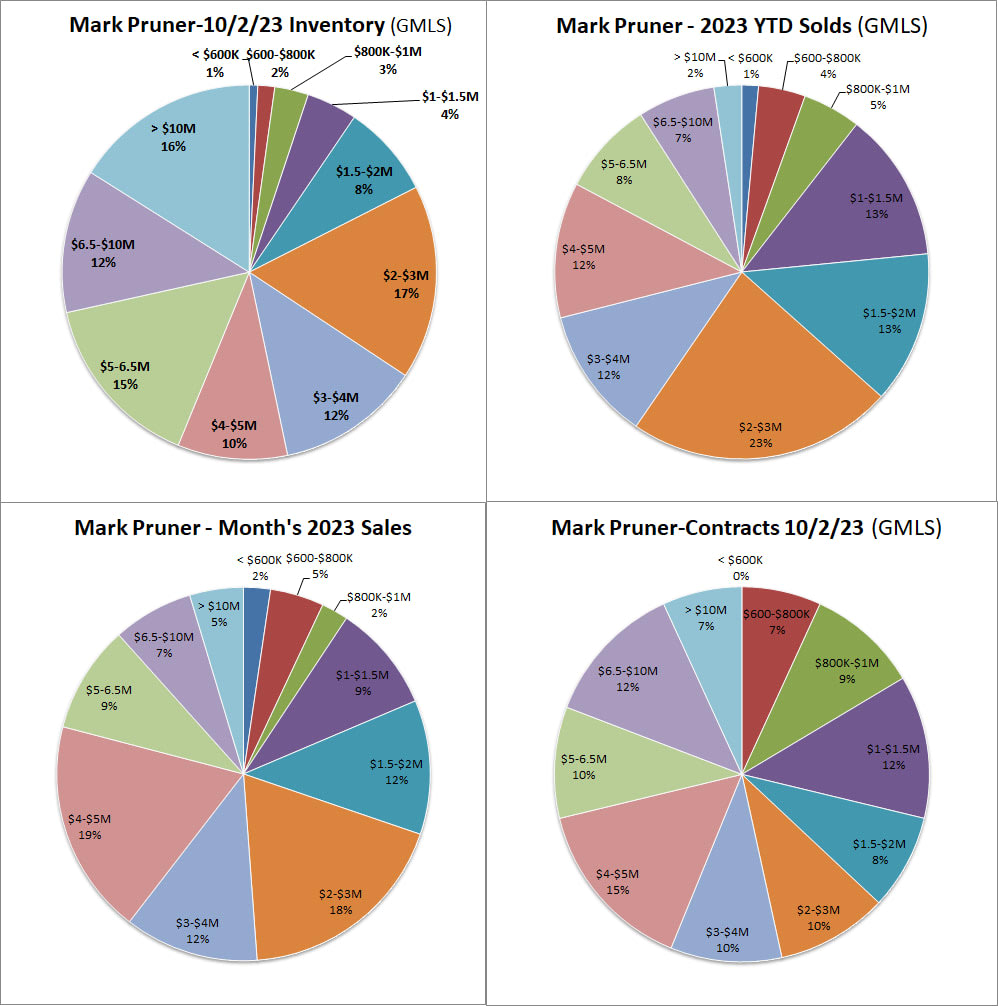 At the other end of the market, our over $5 million market represents 43% of our listings and only 17% of our sales. You can see the improving high-end market as our contracts are over $5 million, representing 29% of our contracts waiting to close. It seems that people are going where the inventory is.
All of these numbers in a market this hot have to be taken with a grain of salt because there is so little inventory available. Anecdotally, demand is down, but you can't really tell when inventory is this low and down even more than any drop in demand.
Also, we have off-market sales; however, my article in the Greenwich Sentinel last month indicated that off-market sales (i.e., sales not on the GMLS) are only about 13% of the sales of Greenwich. Some of those are actually on the market; it's just that the agent only listed a Greenwich house on the Connecticut-wide SmartMLS and not on the GMLS.
Stay tuned for an interesting 4th quarter.