A Fast Car With Expensive Gas on a Stormy Night

Real estate in Greenwich set a couple of records in first half of 2022. We had both the highest average price and highest median price at the end of 1st half. Our average sales price for a single-family home in Greenwich is now $3,089,555, this is up 24% over the $2.54 million average price that we had four years ago in June of 2018.

Record Median Sales Price

Amazingly, our median price appreciated 32% over the same period from $1.87 million to $2.53 million. What this indicates is that demand in price ranges under the median price are going up faster than our high-end houses. Not to worry if your house is over $3.1 million, every price range is up.
Record Low Inventory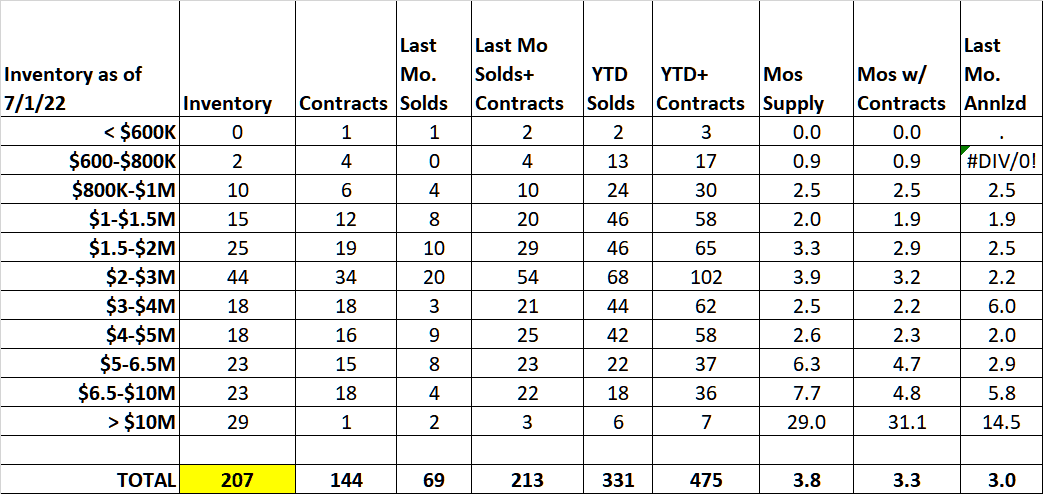 That inventory number was in itself a remarkably low number. Go back two more years to 2019 and had 729 listings at the end of June. This 52% increase in inventory in the last couple of months is actually a decrease of 72%. Some of our cars has never had much gas in the tank, but it was replenished regularly just not as much as last year.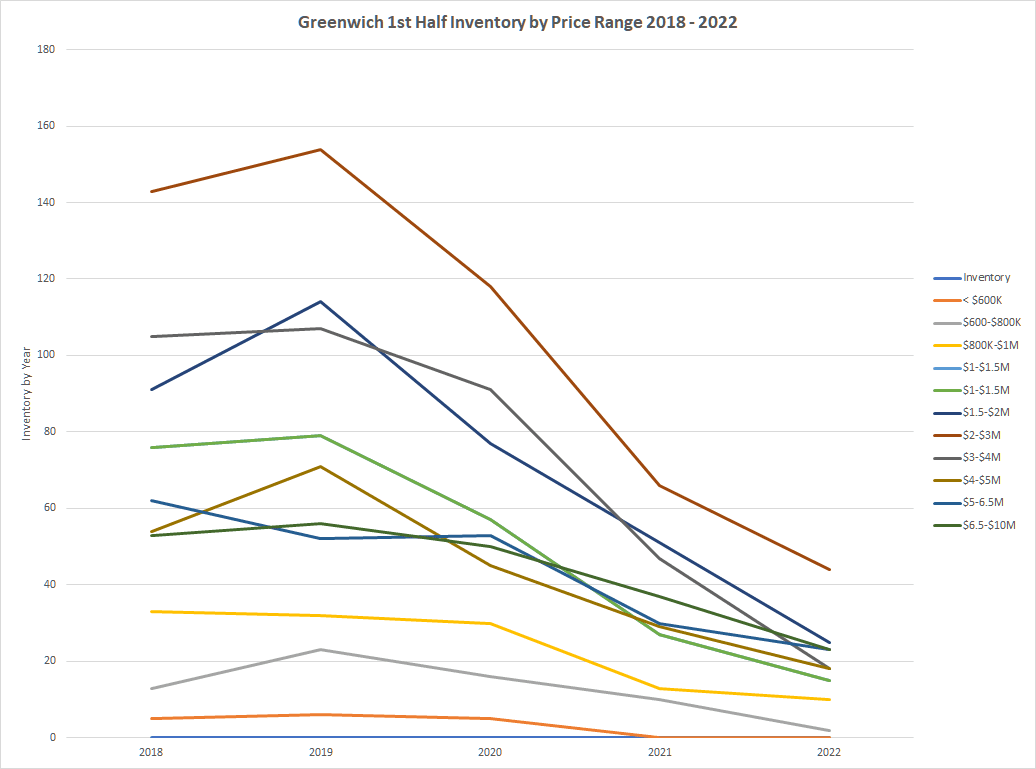 Low Inventory Limits Sales
In the first half we had 331 sales down from the 511 blockbuster sales that we had last year. While we didn't have the Bugatti Chiron of sales that we had last year, we still had a pretty peppy Audi TT driving sales (my favorite car, I've every owned:). Given the record low inventory we had every week this year, those 331 sales are remarkable. If we'd had more inventory, we would have a lot more sales.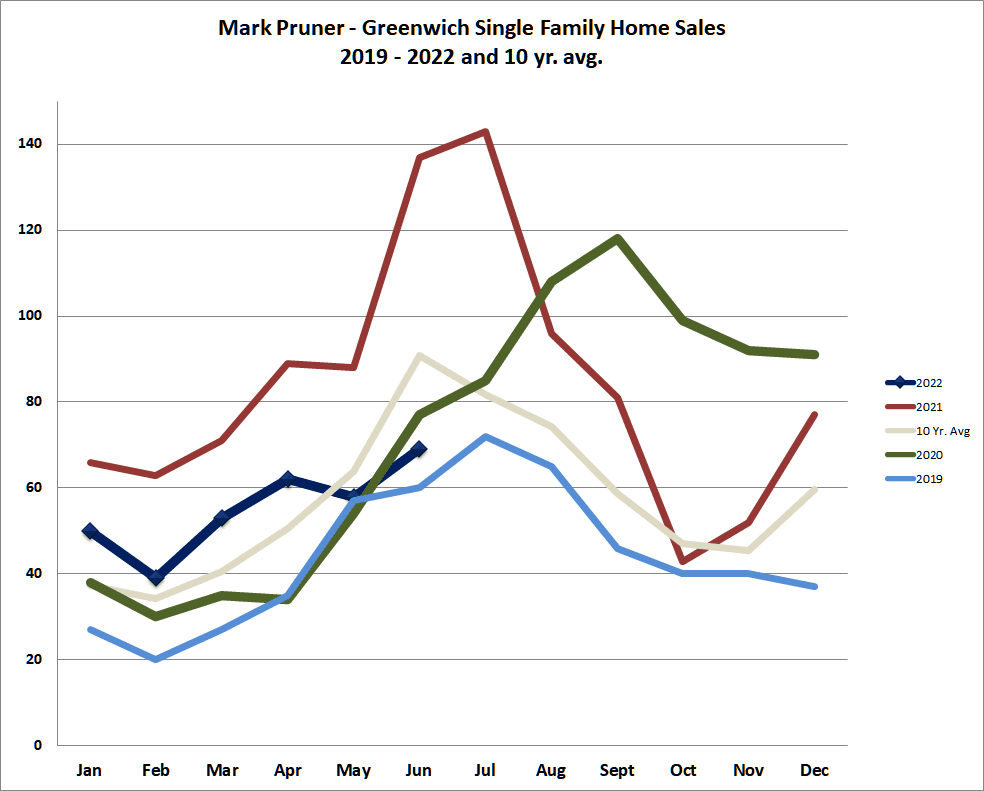 What About Those Sky-high Interest Rates?
You would think reading many of the news reports that sales have stopped due to sky-high interest rates. Sales haven't stopped, and by just about any measure interest rates are not sky high. We had 69 sales in June this year, which is below our 10-year average of 91 sales, but it's only 24% down, when our inventory is down 72%.
Interest rates were reported over 6%, but I don't know that anyone in Greenwich saw that rate. All of the mortgage bankers that I work with have been sending me with their weekly emails with 30-year jumbo rates in the low to mid 5%'s. ARM's are often under 5% and at least one bank will offer you a mortgage under 4% if you are willing to move your banking relationship over to them.
In Greenwich, thought most buyers aren't using mortgage contingencies. Normally, we are about 50:50 in contracts, with half of our sales contracts having mortgage contingencies and half, being non-contingent deals.
For the month of June, it was more like a 25:75 ratio. It was a competitive market and removing the mortgage contingency would get the buyer a better price and moved to the front of the line in multiple offer situations.
The 75% of buyers without mortgage contingencies, may well be financing their house purchase. Smart buyers in this market are underwritten pre-approved and are willing to take the small risk, that the house might not appraise out and they will need to come up with more money.
Other buyers are eschewing the typical mortgage, especially now that federal interest deduction only applies the first $750,000. Buyers are using long term margin loans, art loans, and a wide variety of non-standard financing. Still, lots of those 75% of buyers without a mortgage contingency are all-cash buyers, reallocating funds from a risky asset into the relative security of a Greenwich real estate investment where supply still can't meet demand.
Months of Supply Also at Record Lows

You can see just how much excess demand we have for our limited inventory by looking at the months of supply numbers. This number tells you how long it would take to sell the present inventory based on how fast houses have sold year to date. The problem with this one number for months of supply is that if you have a hot first quarter and a slower June, months of supply may not accurately reflect the market right now.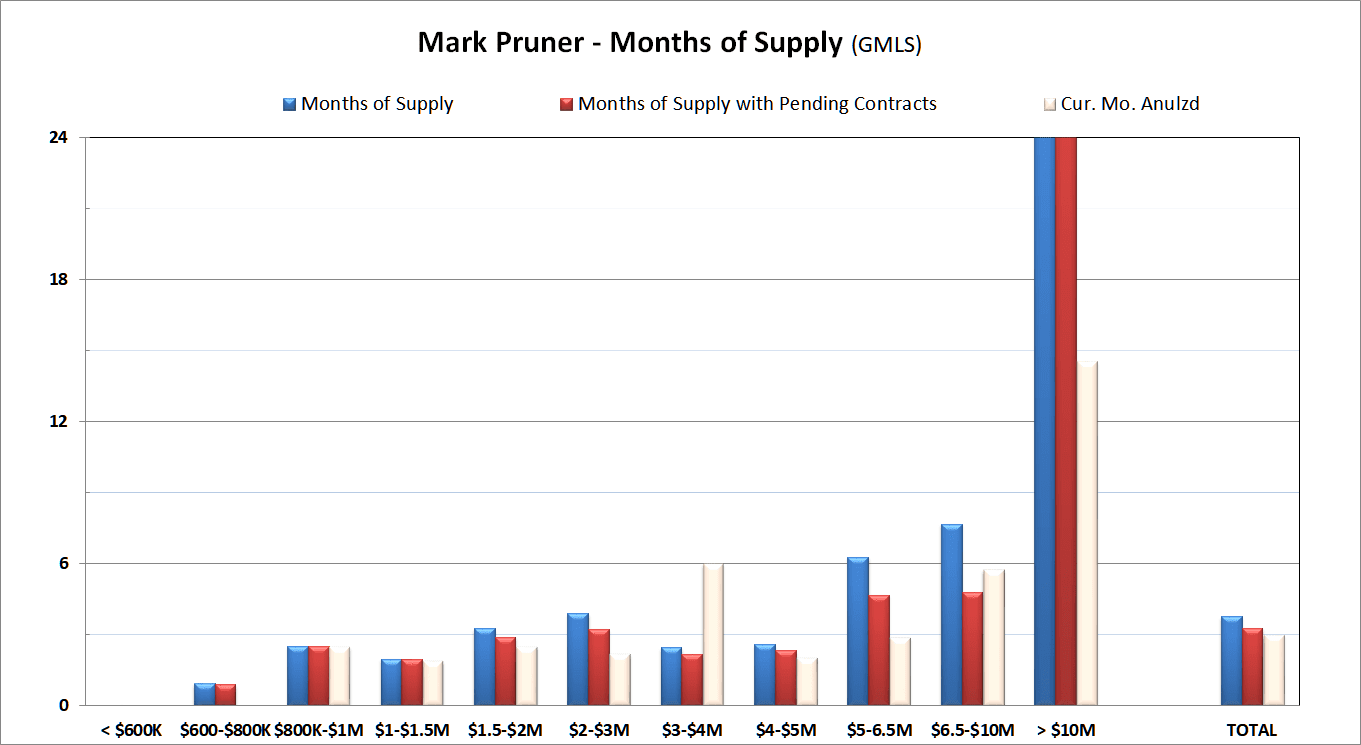 Two things you can do to get a better feel for the market is to add in the contracts that are signed but haven't closed yet and assume they will close, on average, in a month and a half. A second method is to take what closed this month and annualize that one month's sales to see how hot the market is now. If months of supply with contracts is a lower number than months of supply only using closed sales and annualizing the current month of sales is even lower, you have an accelerating market.
When you do that in this market you see accelerating markets in several price ranges. For example, from $1.5 – $2.0 million, months of supply is a low 3.3 months, throw in the 19 contracts waiting to close and you are down to 2.9 months and annualize June sales and MoS is only 2.5 months of supply. If you are looking in that price range you presently have a choice of 25 listings, but 46 have already sold this year and 19 are under contract. It is not a soft market.
This accelerating market is seen in 4 of 11 price ranges. The other price categories are best characterized as flat with now clear signs of accelerating or decelerating. Having said that, they are already at ridiculously low levels all the way up $5 million. The only real pro-buyer market we have is over $10 million, where we have 29 listings and only 7 sales and contracts, but that was also true last year. If you are selling a house in that price range, you need to price it competitively and do a good staging job.
An Example of Today's Inventory
Russ and I put on 562 North Street on Tuesday last week at $3.395,000. It's an architect-designed house sitting on 2 acres with a pond in mid-country. There is a large deck that overlooks the pond and plenty of room for a pool. It also comes with two downstairs bedrooms with a full bath. One of the first-floor bedrooms has a separate entrance. This gives the owner the option of two offices, a staff suite, mother-in-law apartment, or a two-bedroom guest suite.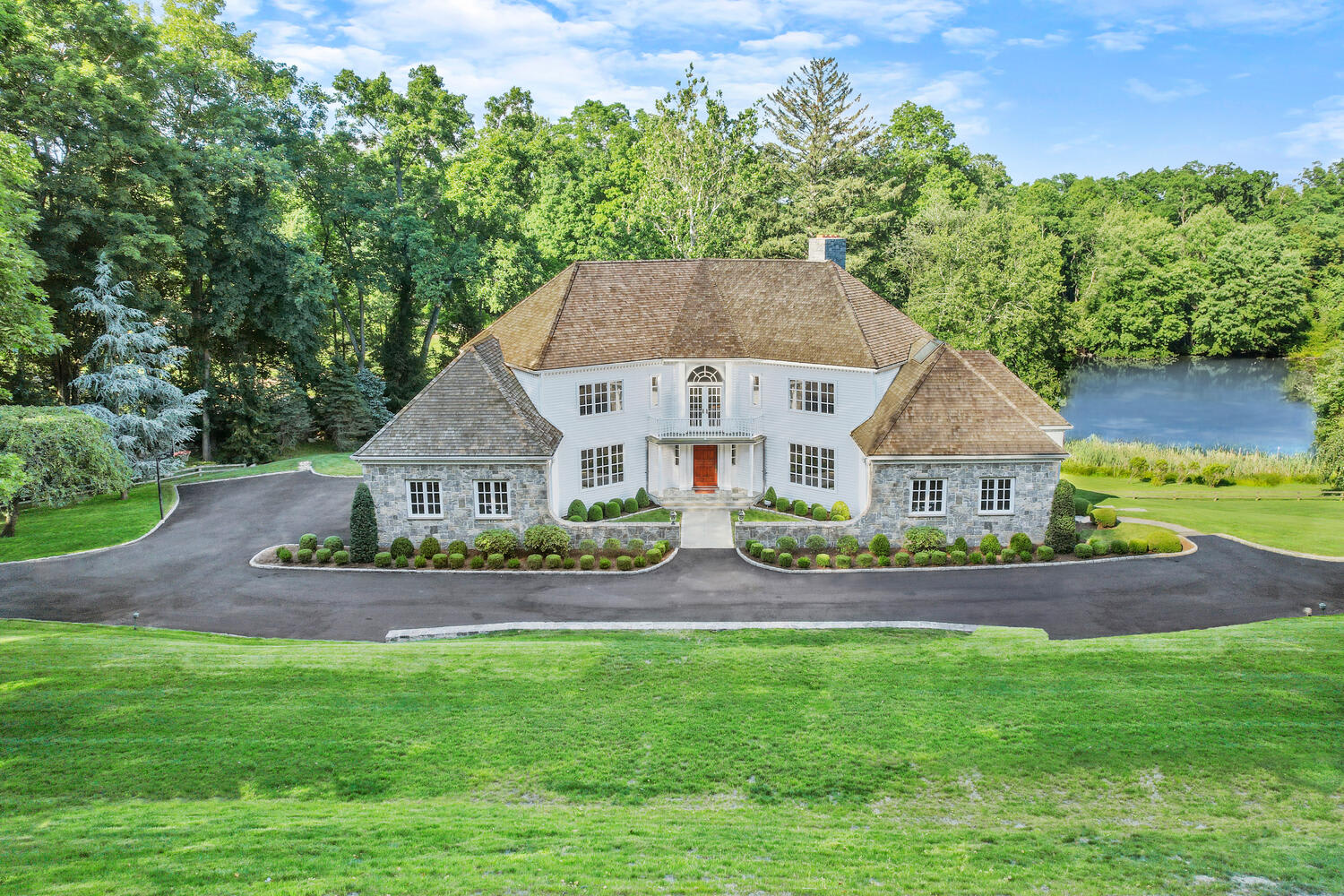 We had the realtor open house that Tuesday, 7/5, and had several appointments for showings right after the realtor open house. Showings have gone well and the market for that house in that location is good. It's also good, for most other Greenwich properties, which are newly listed at market prices.
It is not the market that we had in March. Today, listing too high is much more of a problem now than it was then. Today, there is a fair amount of uncertainty, and most buyers need a reason to move when such uncertainty is present. Smart buyers see this as an opportunity.