August 2023 was a peculiar month, but peculiar in a good way, much like that dessert at a fancy restaurant with unusual ingredients that surprisingly tastes delicious. We witnessed 64 sales in August this year, and what makes it peculiar is that our August sales exceeded the 59 sales in July. Most years, August sees a decline in sales compared to July, unless external factors disrupt the natural flow of seasonal sales. In 2020, that disruptor was Covid, we had 85 sales in July 2020 followed by a large jump to 108 sales in August 2020. What's causing this rise in Greenwich home sales in August 2023?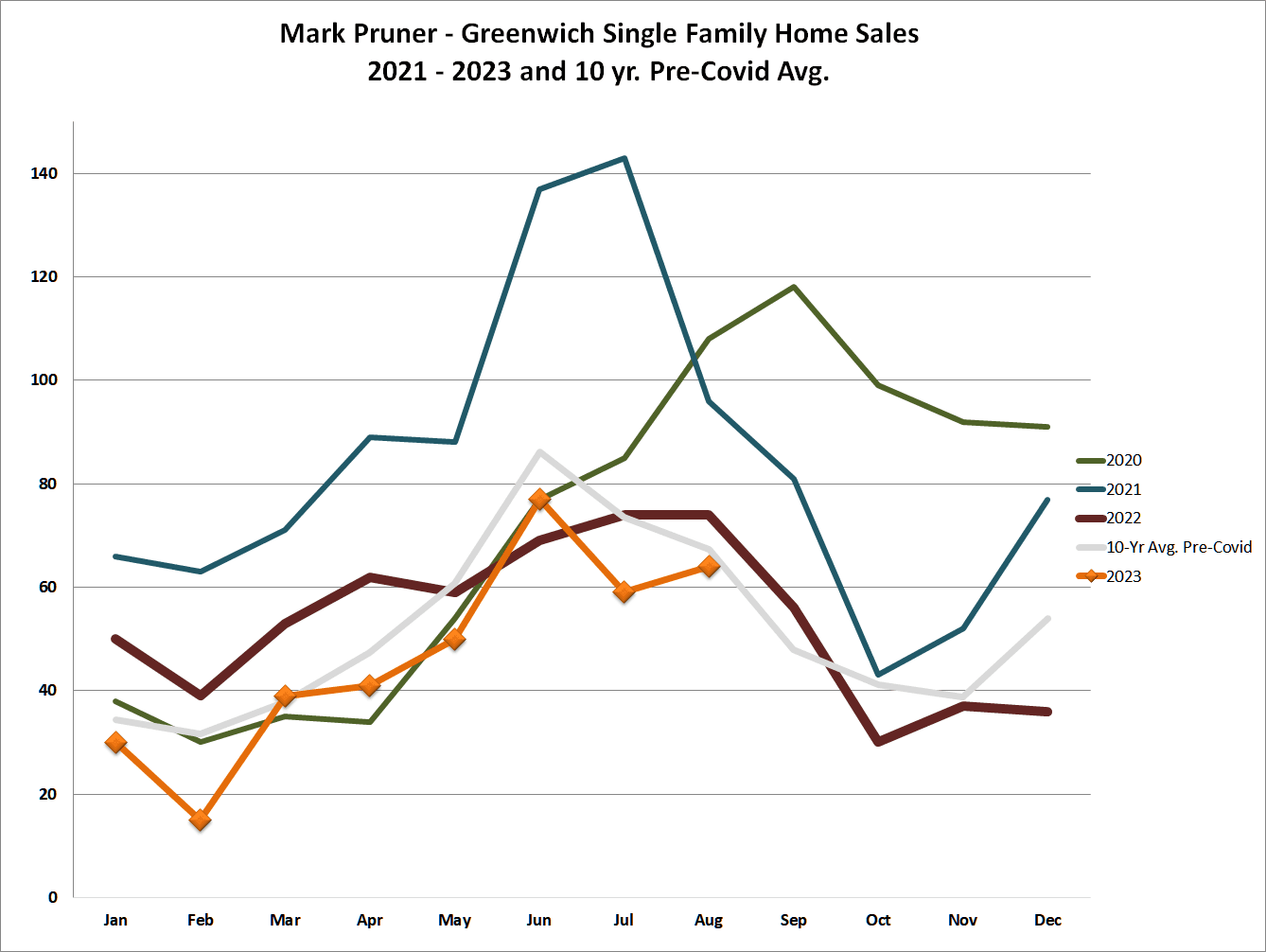 August Sales Increase
Several factors could be contributing to this trend, though none of them are as obvious as Covid. Below the $1 million mark, one contributing factor is the increase in listings. We've seen 7 more sub-$1 million transactions in August 2023 compared to last August. While this may not sound like a significant increase, transactions under $1 million have surged by 58% from last year, rising from 12 closed sales last year to 19 this year.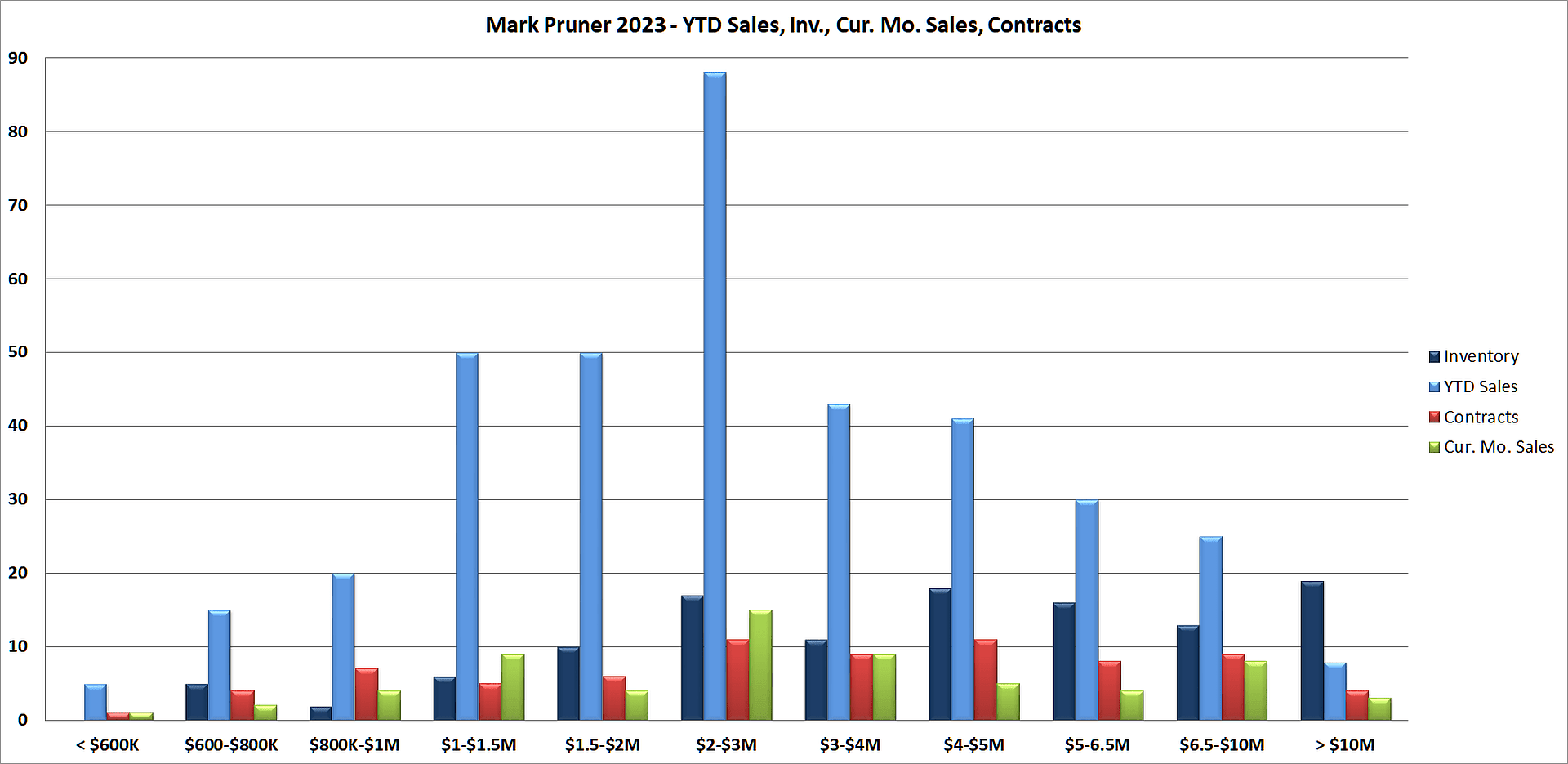 It might seem like we have more to sell, but in reality, that's not the case for the rest of the market over $1 million. Last year, we witnessed record-low inventory levels, and this year's levels are even lower, which is quite astonishing. Many believed we couldn't go lower than the inventory in 2022, but we did. As a point or reference our previous all time low for inventory pre-Covid was 271 single family home listings.
Inventory at Record Lows
In 2021, we recorded 1,007 sales. In 2022 our inventory dropped, and sales plummeted to 639. This year, inventory has been steadily declining since it reached its 2023 "peak" of 169 listings in April. We're now down a further 31% to only 117 listings on the market as of the end of August. Every week since our April "peak" we have set a new record low. To put things into perspective, in June 2019, we had 744 listings, which is 6.4 times more than what we have now.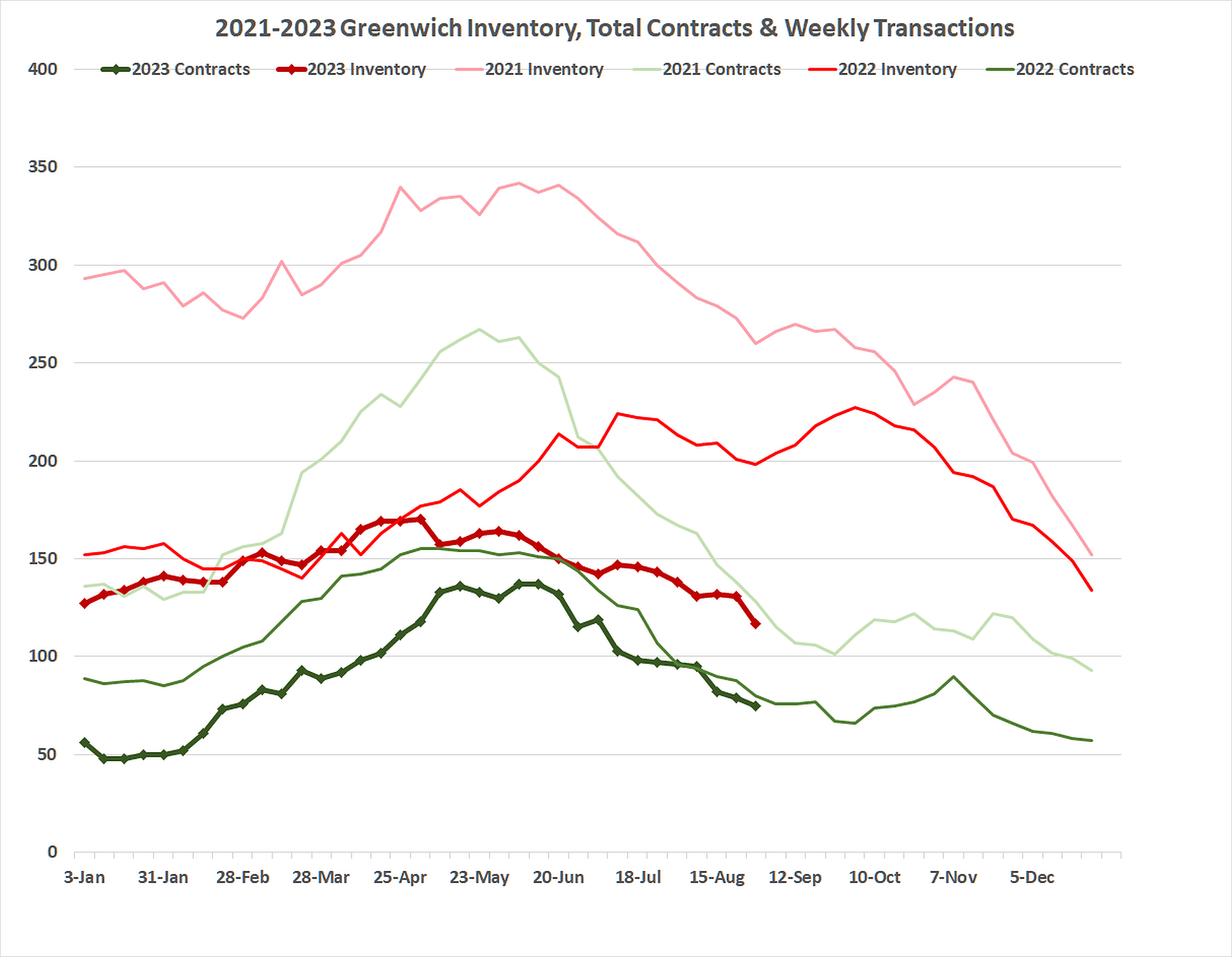 The dwindling inventory led to lower average sales in 2022, with 639 sales. Based on year-to-date sales, we're on track to have only 563 sales this year. Yet, demand remains strong, with the sales price to the original list price increasing this year, and the days on the market decreasing. All we need Is more inventory and we just might get it.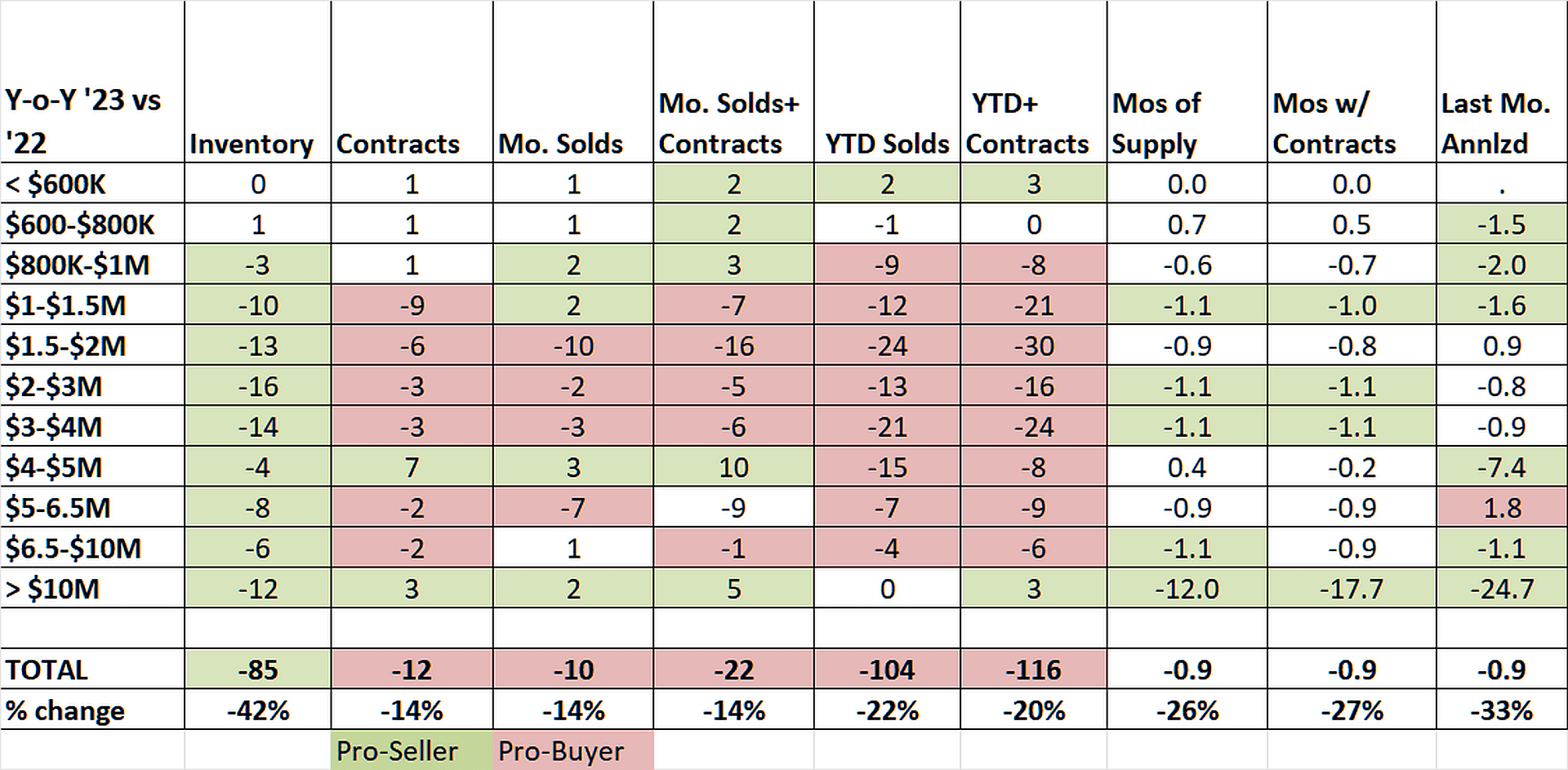 High-End Sales Do Well Due to Higher Inventory
The consequence of our present inventory shortage is that sales have gravitated toward the higher end of the market, particularly properties priced over $10 million. At the end of August, we had 19 listings over $10 million, which is actually more than the listings we have under $1.5 million, with 19 listings over $10 million and only 13 listings under $1.5 million. However, it's important to note that this abundance of 19 listings over $10 million is deceptive, as last year at this time, we had 31 listings over $10 million. This year, with 3 more contracts and 2 more August sales than last August, the market appears to have shifted.
Very Low Months of Supply
Last year, we had 31 months of supply over $10 million. When we add in the outstanding contracts and assume they would take 1.5 months to close, the months of supply increased to 33. Even if we annualize last August 2022's sales, we still have 31 months of supply.
This year, we've reduced months of supply to only 19, and with the inclusion of our four outstanding contracts, it drops to 15 months of supply. When you factor in the 3 sales over $10 million that we had in August and annualize that number to get 36 sales, our ultra-high-end sales drop to 6.3 months of supply. And, the three August 2023 sales are remarkable. We had a record-breaking $139 million sale, a $30 million sale, and a $15 million sale, totaling $184 million from only 3 sales. Equally remarkable is that these three listings had collectively spent a total of 1,123 days on the market. This indicates the kind of activity you typically see in a rapidly accelerating market. Listings that have been on the market for a considerable duration, even a prolonged one, suddenly start to sell.
Four Factors Driving High-End Sales
Four factors appear to be driving our high-end market, and to some extent, the entire market. The stock market's upward trajectory has given people a sense of having more disposable income. Some of these individuals may view this as an opportune moment to divest from the stock market and invest in less volatile assets.

Most experts also believe that the likelihood of a severe recession in the coming year has diminished. The prevailing sentiment is that we might witness the often-discussed but rarely achieved "soft landing." There is even a growing contingent that believes we may not just experience a soft landing, but rather a continued expansion with significantly lower inflation, akin to a phoenix rising from the ashes. The uncertainty about negative outcomes or a recession is shifting towards positive uncertainty about whether we will have a soft landing or continued growth. As a result, many astute investors are feeling more confident about buying homes.

A corollary to this positive outlook is the strength of the U.S. economy, particularly when compared to Europe and Asia. Simultaneously with the lifting of Covid-related travel restrictions, the relocation genie, which had been confined for three years, has now been released. Major financial institutions and other organizations that had previously postponed transferring executives between their international and U.S. offices are now beginning to do so. This is a trend that is likely to gain momentum as the U.S. economy continues to expand, and companies seek to broaden the experience of their talent pool.

This optimistic outlook not only bodes well for relocating executives but also for people looking to relocate their wealth. Both European and Asian investors are actively seeking investment opportunities here, and they have the added bonus of acquiring desirable residential properties that they can live in.
Low Inventory Restricting Sales in Greenwich Particularly Below our $2.5M Median Price
Thus far this year, our median sales price has held steady at exactly $2,500,000. Half of our sales fall above this price, and half fall below it. On the listings side, we have 31 listings priced under $2.5 million and 86 listings above that price. As a result, our median listing price stands at $4.4 million. High-end sales are flourishing, largely because that's where the inventory is concentrated.
To further highlight the disparity between listings and buyers, out of our 117 listings, only 42 have been on the market for less than 60 days, constituting our active inventory. Moreover, of our 64 sales in August, the median days on the market were only 27 days. If a listing looks good, and it doesn't have to be perfect, but overprice a listing that needs work, and it will sit on the market.
Buyers & Sellers Experiences in Today's Greenwich Market
As an example of where the market is, I'm currently working with three clients who are in search of houses at $1.5 million, $3.5 million, and a high-end condo. If they manage to find suitable properties to purchase, they are eager to list their current homes. With some of the uncertainty lifting, five other prospective sellers, we have worked with may decide that now is the right time to list their houses. Our hope is that as the logjam begins to loosen, we may reach a point where listings start to accelerate as more listings lead to even more listings as the buyers of the initial listings end up listing their houses. We have already seen several houses come onto the market at the beginning of the fall season, and more are expected next week. Let's hope it's a substantial increase.