You could make a plausible argument that 2022 was one of the worst rental years in Greenwich history. We had 698 rentals when our 10-year pre-COVID average is 821 listings, that rentals are down by 15%. If you look at the last three years, the drop is even more dramatic. In 2020 we had 1041 rentals. In 2021 we had 784 listings. So, from our peak we are down by 33% in properties actually listed.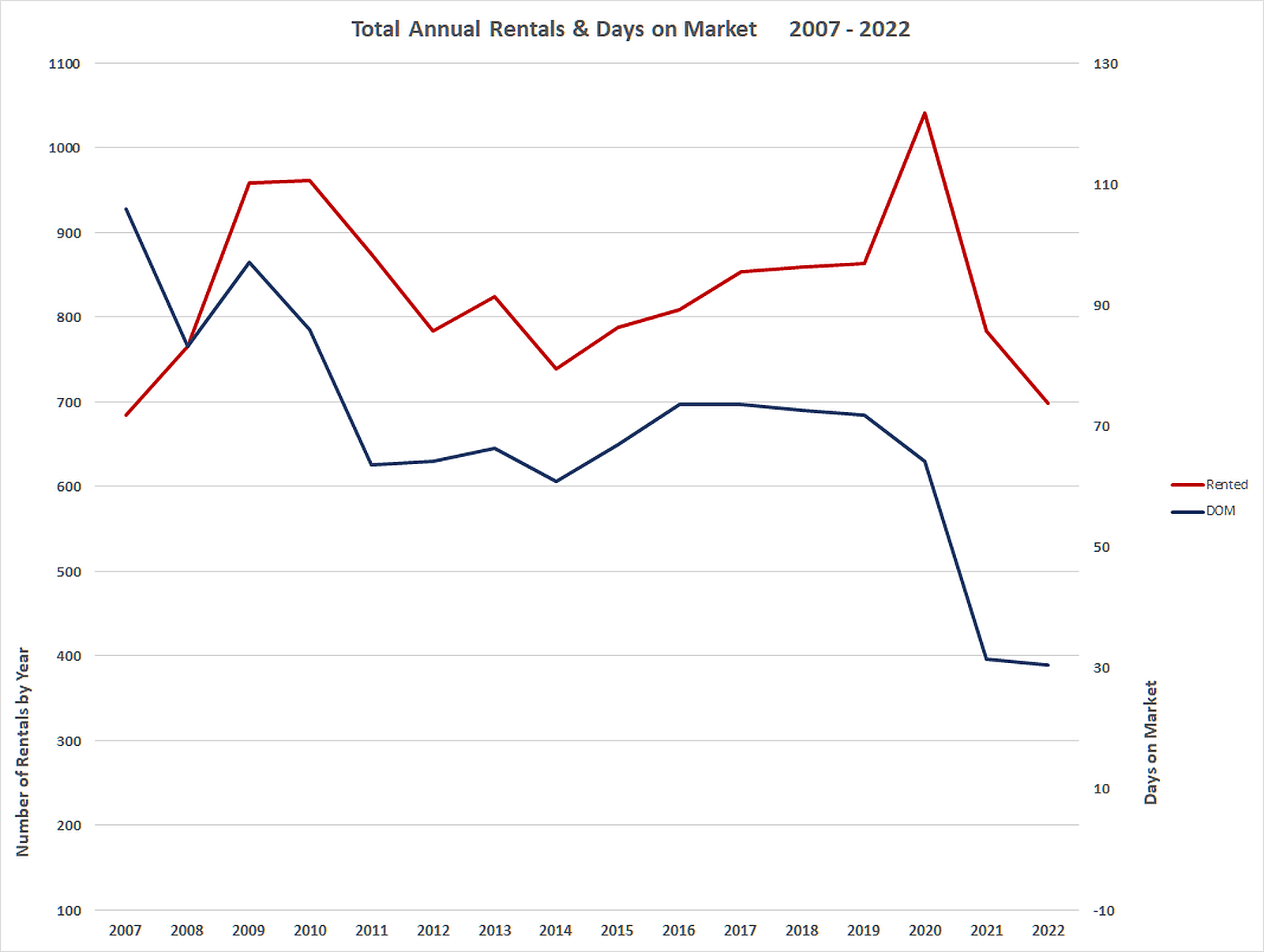 However, if you look at days on market, we were down to an extraordinarily low 30 days on market in 2022. This is the average and includes a rental that took 250 days to rent. Our median days on market in 2022, was a very hot 15 days on market. If a good rental comes on the market go, see it today. There is a good chance it won't be there tomorrow.
In April of 2022, we got down to only 42 rental listings. This compares to 91 rental listings in May of 2021. Both of these figures are well below our pre-Covid average number of listings on the Greenwich MLS. As of this week we are back up to 108 rental listings. That number is still extraordinarily low but it helps to explain why we have seen the drastic drop in rentals in 2022 compared to 2023.
The 30-day average days on market is even down a smidgen from the hot market of 2021, when had a 31 day average of rental listings on the market. If inventory is up, but days on market are down, it's the sign of a continuing busy market, able to absorb even more inventory without days on market rising. This is what we are seeing so far in 2023, where inventory has doubled, but DOM is only up to 36 days on market. Once again, just as with our housing sales market, inventory is the main market force driver.
What is really remarkable is that we even had 698 rentals in 2022 and given the extraordinarily low inventory all year. It tells you that rentals were going off about as fast as they were coming on. When you get to these remarkably low inventory numbers, many of the houses that rented in Greenwich never show up in inventory.
As noted, our median days on market is only 15 days . As a result, lots of listings aren't on the market at the end of the month, when the inventory numbers are fun. The 30 days on market that we had in 2022 is it average brought up by a small number of high end houses that were put on at extraordinarily high aspirational prices.
In addition, many of the rentals in Greenwich never actually made it to the Greenwich MLS. If an agents announces that they are getting a listing for a rental at the weekly office meeting there is a good chance that two or three other agents would say they have clients that want to see that rental. The rental market was tight in 2021 and 2022, but it wasn't quite as bad as the public numbers show.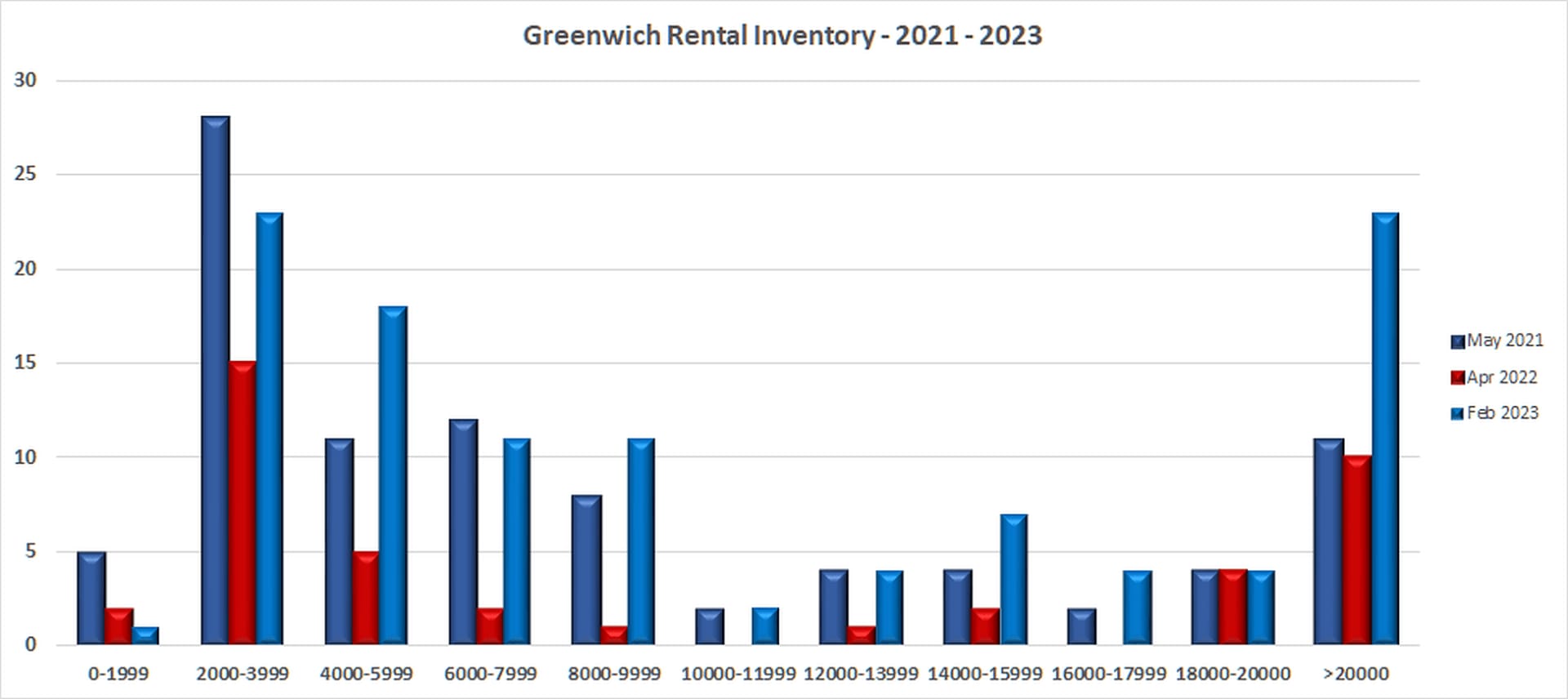 In just about every price range when you look at rentals for the last three years, the inventory looks like a tuning fork. We have higher inventory in 2021 and in 2023, but very little inventory in 2022. (Note that some of this is due to the fact that the monthly inventory I'm using aren't the same month for each year. Getting historical rental inventory data is difficult.)
When you look at our rental inventory by year there are two "bookends "that stand out. The left bookend is rental inventory in 2021 under $4,000, when we had 28 listings. This price range is 80% apartments and condos. You would think that given that 2021 was a bad year for COVID that our low end rentals would be snapped up. However, during that time, people were reluctant to share hallways and elevators with other tenants. We actually saw some apartments sit on the market in the Greenwich as people didn't want to move out of an NYC apartment into a Greenwich apartment. (That was when we wore masks, gloves and booties to do a showing and only the agent was allowed to touch anything in the listing including doorknobs.)
The other bookend is our present inventory over $20,000 per month which is exclusively single family homes. In May of 2021, we had 11 listings over $20,000 per month. These are our larger homes, usually on one or more acres with amenities like pools and tennis courts. Today we have more than double that number of listings in inventory with 23 beautiful houses waiting to be rented. If you further break down our over $20,000 rental listings, what you find is that half of them are between $20,000 and $30,000 17% are between $30,000 and $40,000 and the remaining third is above $40,000.
During the heart of Covid, we saw extraordinarily high rentals for beautiful houses that their well-to-do owners never would have thought of running before, but at those rental prices even our wealthier homeowners often couldn't turn down a rental. What we are seeing now is that the demand for the very highest rentals is dropping somewhat.
You can see this when you look at a map of where our 108 rental listings are today. The $2,000 to 6,000 rentals that form the heart of our market are principally apartments and condos and these are located in the Post Rd./I-95 corridor.
In 2023, we are seeing more rentals in the two and four-acre zone that stay on the market for a little longer. This doesn't mean that that price range isn't hot, it just means that the demand isn't quite as high as it was before.
The other thing to note as to why inventory was so low in 2022 was that many of our renters love the places that they had rented in 2020 and 2021. They renewed their rentals, and these units did not come back on the market. At my listing at 320 Cognewaugh, which is on $1,795,000 about a third of the people that are coming to see it are people that have been renting in Greenwich.
The majority of the rest are our traditional young families from New York and the remainder are downsizers from Westchester once their children leave home. This downsizer market used to wait until they retired, but now when the kids come back from college, they may well not find their room waiting for them. At least not their old room with the Star Wars symbols on the headboard that they grew up with. :)
One of the things that we see when you look at the actual number of rentals that closed is that in 2020, we had an extraordinary number of listings rented over $20,000. In that year we had 79 properties that rented for more than $20,000 a month. In this price range, the tenant is paying a minimum of $140,000 per year in rent. For those folks who rented at $50,000 a month, they were looking at $600,000 a year to rent in Greenwich. Of course, for that price you get a really nice house frequently on Long Island Sound or with four acres and a pool and a tennis court in backcountry.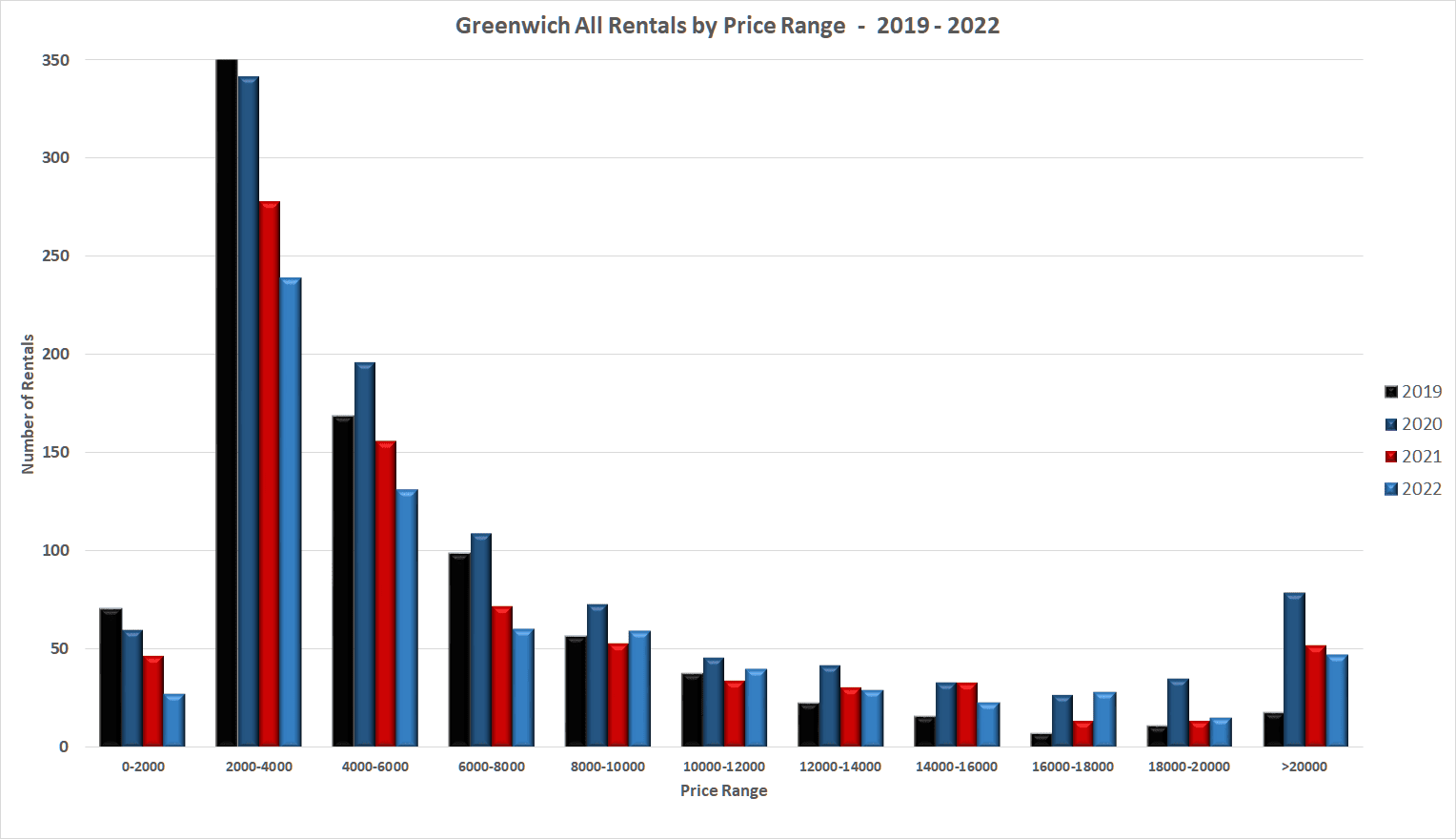 So far in 2023 our days on market have ticked up slightly to 36 days on market. As noted, our inventory is also more than double what it was in April of 2022. Overlaid with this additional Covid driven demand is a trend that might have taken a decade but instead happened in 18 months which was the work from home phenomena.
It looks like WFH is here to stay in one form or another. Many firms are continuing to allow people to work from home and even the ones that want their employees back in the office are finding that if they want to keep their good people they can't push them to come back for more than three days a week. The lower total weekly commuting time means that, what might have been 15 hours of weekly commuting time down to Wall Street is now cut to nine hours, six hours or even zero hours depending on how flexible their employers are and how much they really need that employee. This only makes Greenwich rentals and sales look more desirable, now and going forward.
So, what's likely to happen in 2023, the first couple of months show increased inventory but only slightly less days on market. I expect that you're going to start seeing our inventory return to more normal levels, as annual leases expire and people head back to their New York apartments or buy houses.
Offsetting that we may not see as many high-end rentals but one thing that we might see more of is the high end summer rental. Once people have gotten a taste of the amount of money that they can make by going to their vacation homes in Nantucket, Martha's Vineyard, Maine or other places that they have second homes, it's hard to resist that annual shot of income.
Under $4000 in our apartment rentals, which make up the largest portion of rentals in town, we should a return to normal. This new normal however will be at a higher monthly rate. The number of rentals that we have under $2000 is becoming less and less every year. In 2022 we only had 27 rentals under $2000 this was down from 71 rentals in 2019. Both demand and inflation have pushed those rentals up above $2000 a month. I have a large one bedroom rental coming on in downtown Greenwich that was initially rented for $2,100 back in 2014. In 2023, it will likely go for around $3200. People who invested in rentals, of which we have a wide variety of attorneys, doctors and retired financial people as landlords, have done well in the last four years.
If you're thinking of renting in Greenwich particularly under $2000 you need to check the newspaper and Craigslist. Above that amount having a good realtor who's clued in to what is going on is crucial as lots of our rentals get done by word of mouth.
Stay tuned the future of the rental market could be drastically different...