High-End Houses in Greenwich in High Demand
August 2023 is a Remarkable Month
8/29/23
Fourth, third or maybe even second; that is the question for high-end home sales in Greenwich this year. So far, we have had 65 sales over $5,000,000 on the GMLS and another 11 off-market sales. If you annualize the 63 on-market sales, you come up with 95 sales. That number is just one short of the 96 high-end sales that we had in 2022. If our sales rate picks up a fraction, and it should, 2023 will be the third highest number of high-end sales that we have ever had in Greenwich. Just 7 more sales and 2023 will be the second highest number of sales that we have ever had in Greenwich.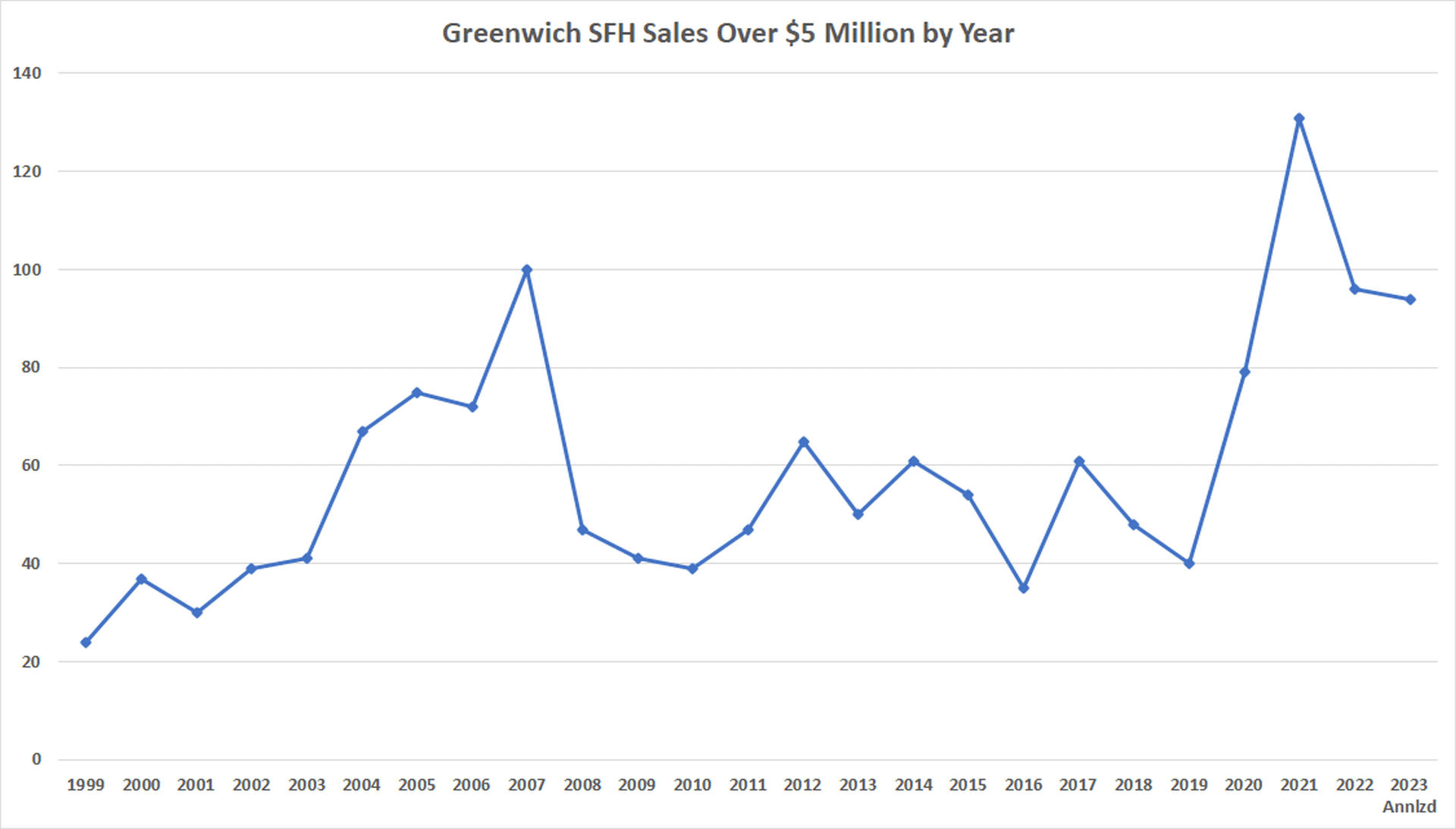 When you look at the chart of high-end sales by year, you see the steady rise of high-end sales from 1999 to 2007. Way back in 1999, we had only 24 sales over $5M, eight years later we had quadrupled that number and had 100 sales high-end sales. Part of that increase in sales was due to price appreciation. Houses that might have sold for $4 million in 1999 were now selling for over $5 million in 2007.

Then the bubble burst and high-end sales went from 100 sales in 2007 to 47 sales in 2008. From 2008 to 2019, we were in a trading range with 40 to 60 high-end sales each year. Then came the pandemic and sales in Greenwich shot up at all price levels. We had 79 sales over $5 million in 2020. The next year 2021 set all kinds of records, most unit sales, highest volume of sales and with 131 of sales over $5 million, most high-end sales.

Last year, in 2022, our sales in all price ranges dropped to 639 single family homes or a 37% drop in sales from the 1,007 home sales that we had in 2021. This drop was in reality just a return to our long-term average sales. Of our 639 sales in 2021, 96 of them for $5 million or over. So, while overall sales dropped by 37% from 2021 to 2022, high-end sale only dropped by 27% and came in at 3rd place overall. Only 2021 and the bubble year of 2007 exceeded the number of high-end sales that we had last year.

So far in 2023, we've had 63 sales which put us right at last year's sales level. This is remarkable, because this year's overall sales are down 23% from 2022, while high-end sales are going to be around 100% of last year's sales.

So why have high-end sales, been so resilient and robust this year, when all of our other price ranges are seeing sales declines? Much of it is just basic economics; supply and demand. At lower price ranges, we don't have much to sell. We just hit an all-time inventory low with only 124 single-family home sales on the GMLS. As a result, sales are down, even as we have good demand, albeit less demand than we saw in 2022, before the Fed jacked up interest rates.

High-end sales can actually benefit from higher interest rates as bonds pay more interest. Having said that, if you have to sell those same bonds, prices have dropped this year. Of course, we only need a hundred or so coupon clippers who want to buy in Greenwich to push up our sales back to normal and above.

What has gone up this year is the stock market. The S&P 500 is up 11.2 percent so far this year. At the high-end, the wealth effect is kicking back in. People are more willing to make high-end purchases when they have more money.

Uncertainty freezes markets, and that is definitely true of Greenwich real estate. It's more likely that high-net worth buyers will pull the trigger the more likely they think that we will have a soft landing and avoid a wealth killing recession. To see this expanding confidence, all you have to do is to look at what happened in August.

Year to date, we have had 82 sales and contracts on houses over $5 million. Of those 82 transactions, 23 of the sales and contracts happened in August. We have had 13 sales in August and three of those were blue moon sales, meaning they listed and sold in the same month. (I don't know if it's a coincidence, but astronomically, we had a super blue moon on August 30th. It was not only the second full moon of the month, but it was also super close. :)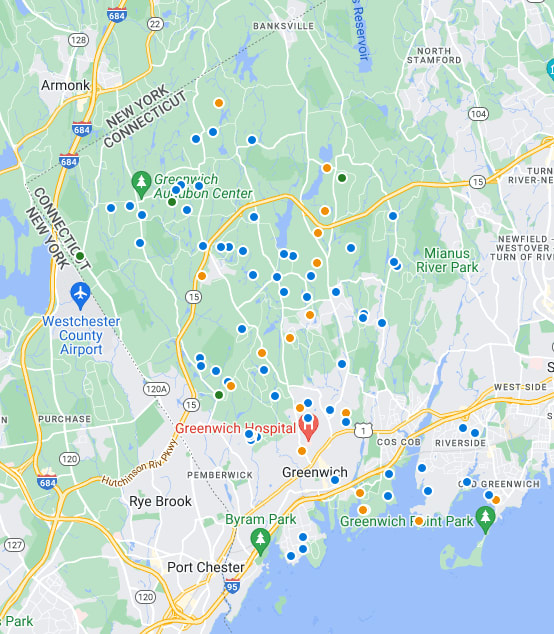 Our biggest sale ever happened this month. Copper Beech Farm closed at $138 million dollar with the buyer represented by Stephanie Bo Li. We also had a backcountry sale for $30 million and a Belle Haven sale for $15 million. The result is that the three highest sales of 2023 happened this month. The contract side was also very interesting. So far in August, we have properties with list prices of $28 million and $15 million going to contract, plus another 8 high-end properties between $5.5 million and $9 million. All in all, a very remarkable month.
Indicators of a Hot High-End Market
The high-end market is doing well, and multiple indicators show that.

SP/OLP

It's not just the number of sales, but when you look at the ratio of sales price to original list price, we are seeing a big jump over historical numbers. We've gone from high-end houses selling for 83.9% or their original list price in 2019 to 97.0% last year. This year, we saw a small drop to 96.1%. for our SP/OLP. These two numbers are the highest and second highest in the last 24 year for sales price to original list price for high-end sales, buyers are paying closer to full price than they ever had for high-end houses.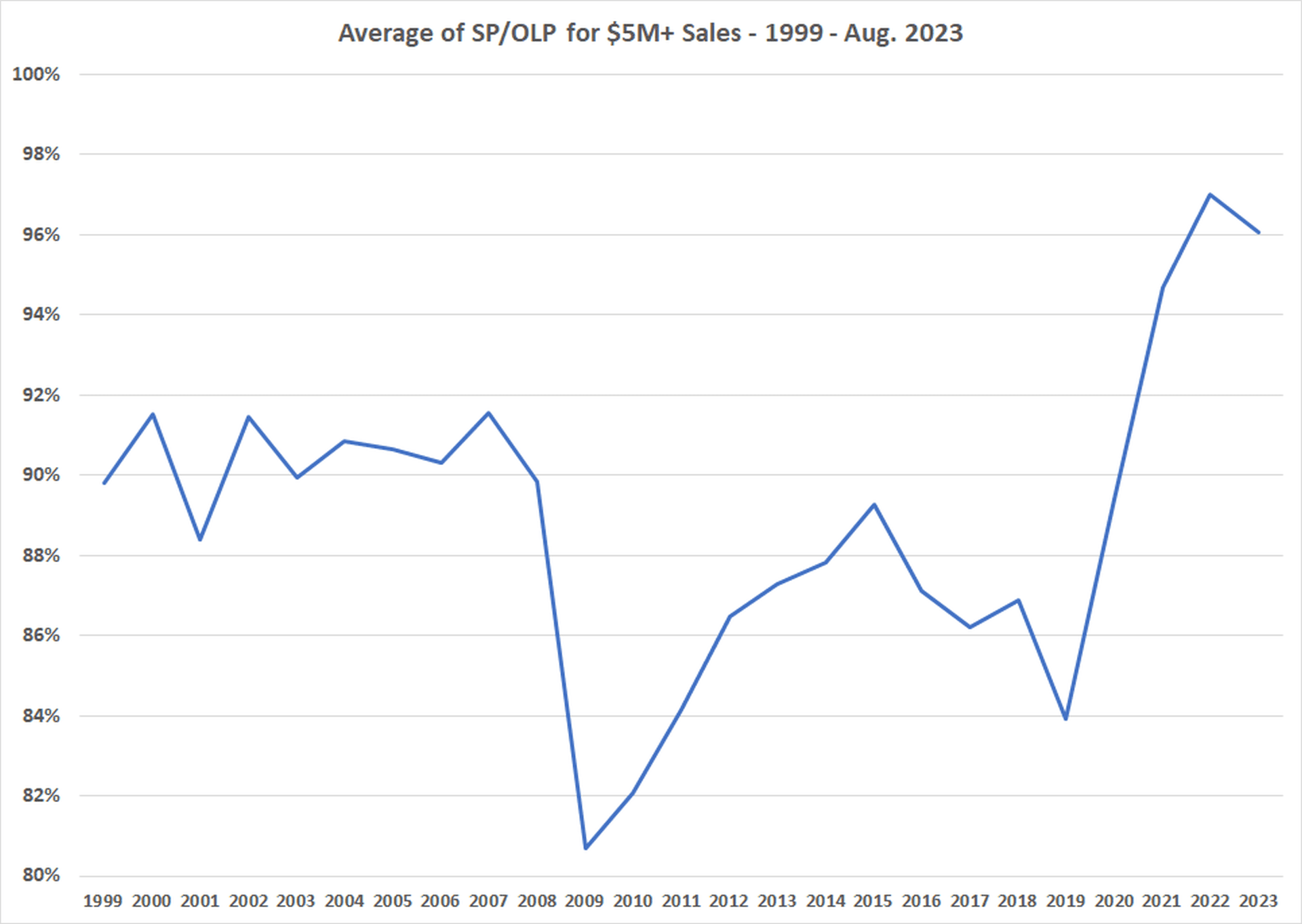 Cumulative Days on Market
The average property over $5 million was only the market for 180 days this year which is a big jump up from the average of 127 cumulative days on market last year.

(Cumulative days on market includes the present listing and all prior listings unless there was at least a 3-month break from the last listing. If the owner switches brokers and put its right back on the market, the days on market continue to accumulate from the date of the first listing to the date the sales contract goes non-contingent, regardless of how many listings there were during that period.)

A jump from 127 CDOM to 180 CDOM would be concerning until you look at the history of this stat over the last quarter century. The high-end days on market hit a high in 2019 of 405 days on market, and that was the average, several houses had been on for multiple years.

We had a weak high-end market for ten years from 2009 to 2019, per our CDOM numbers. In 2020, we dropped to 310 days on market and then to 195 days on market in 2021. As mentioned, this number went down even more in 2022. Our increasing CDOM in 2023 is worth watching, but at this level, it's still a strong signal.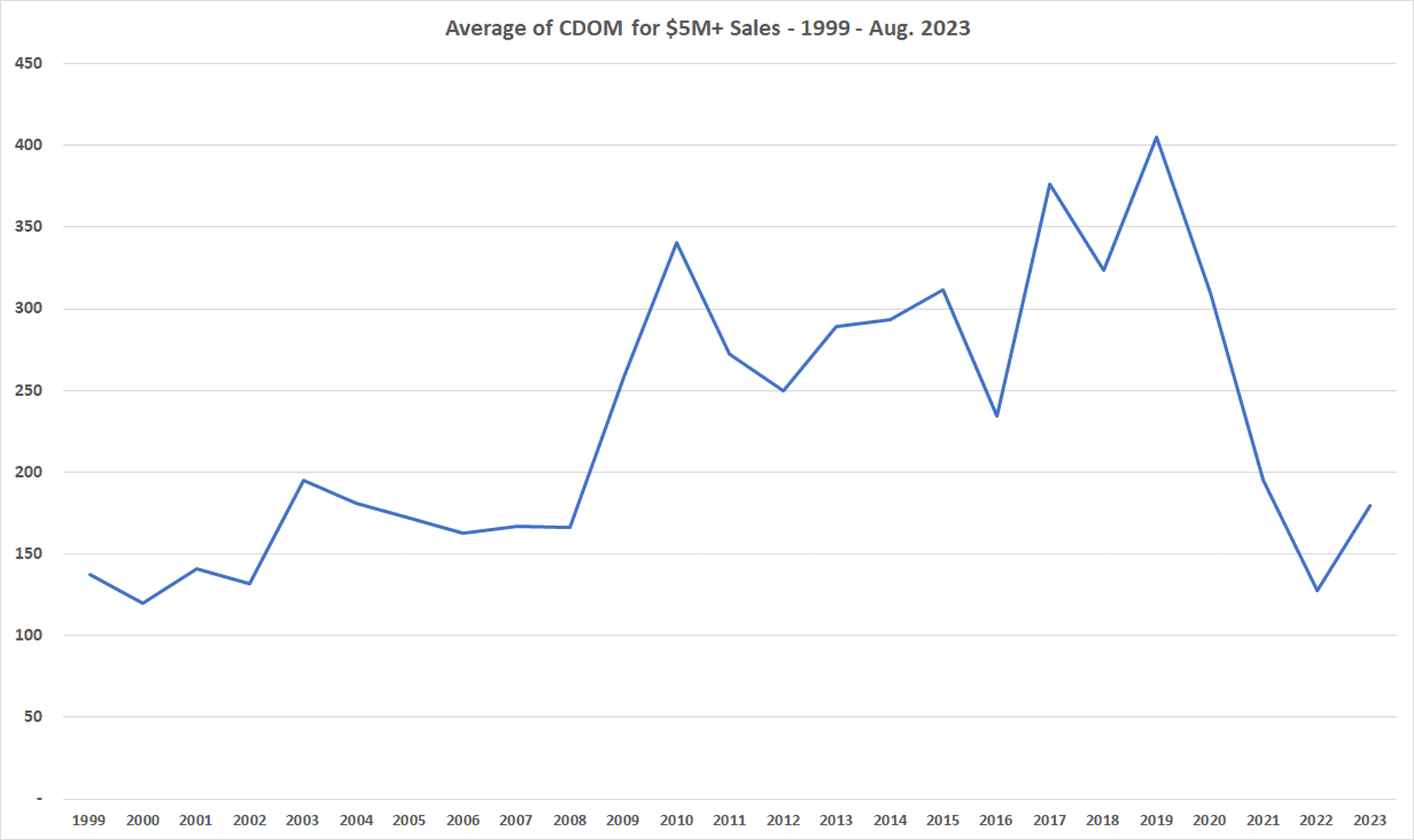 Total Sale Volume
At the peak of the digit's decade this century, we sold $786 million worth of high-end houses in 2007. In the teens, total volume continued to drop, and in 2016 that number was down to $259 million in total high-end sales. Then the record-breaking year of 2021 blew away the 2007 record with $1.069 billion in sales.
The following year, we dropped back to "only" $688 million of high-end sales. This year we have the Copper Beech Farm sale at $138 million to bolster our sales. Annualizing our present rate of sales gets you to $911 million in potential total sales for 2023. Even if you take out Copper Beech Farm, you'd still have $773 million in total sales volume, the third highest in the last 24 years. Since we aren't likely to have another Copper Beach Farm sale, I don't expect $911 million in total sales. However, we are still likely to have the second highest year ever for total high-end sales volume.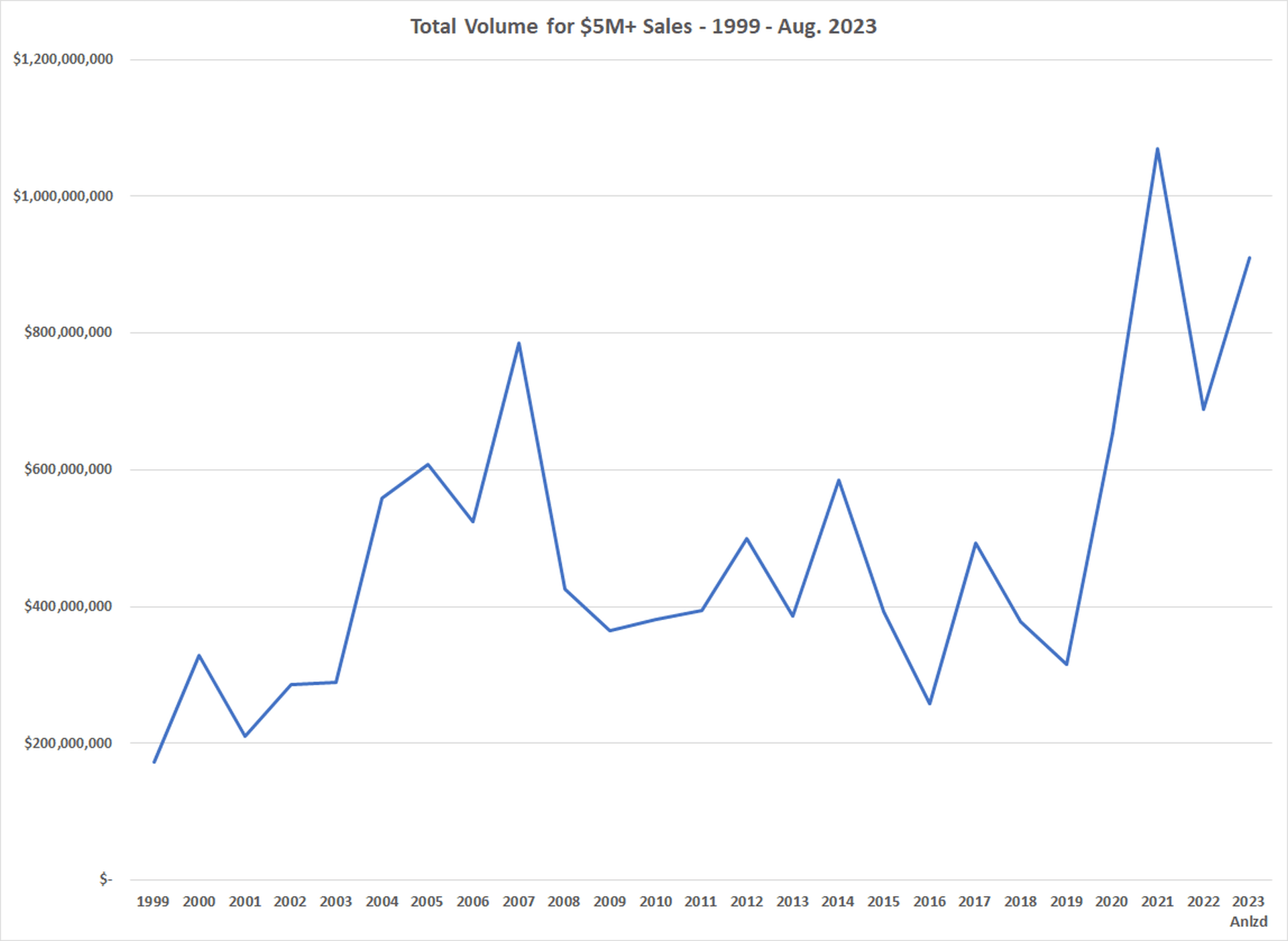 Summary
We have a lot of things driving our high-end market, a strong stock market, work from home making larger houses more in demand and more people who want larger lots with more onsite amenities. The lifting of international travel restrictions means we are also seeing more buyers from Europe and Asia as some recent sales have shown. The U.S., and particularly the Greenwich real estate market, are looking like safe places to invest overseas money.
The other factor driving sales is that at the high end, we have something to sell. It's no accident that our highest sales this year at all price ranges have been in the Parkway district, our 2- and 4-acre zone. That's where we have the inventory. It's a little hard to imagine that we would have a shortage in high-end inventory, but we are seeing inventory even at the high-end shrinking with only 48 listings over $5 million. Compare our present 48 high-end listings with August 2019, our last pre-Covid year when we had 124 high-end listings. Our listings are down 61% from 2019, while sales are up 110% from 30 high-end sale in August 2019 to 63 sales this year.
On our Greenwich Streets Team here at Compass, it's been an interesting time for our high-end buyers and sellers. We had one high-end property listed at $10.95 million and sell for 95% of list with multiple offers in 10 days. Another took 113 days to get to contract and a third sold off-market quickly. That off-market sale was 1 of 11 high-end off-market sales so far this year. Our highest off-market sale this year was in Belle Haven for $15.3 million. In total, we have had 74 high-end sales, 63 listed on the GMLS and 11 private sales.
We've got a couple of high-end properties coming on GMLS in the Fall market starting next month and it will be interesting to see if there are any changes in this year's hot high-end market.