Greenwich sales of single-family homes were up 63% on a year-over-year basis. This means that sales YTD through the end of August has increased from 461 homes last year to 752 home sales this year. For all of 2018, our last "normal" year we had 593 sales so even if we did not sell another house this year, we would have a great year in Greenwich real estate.
But we also have a market that is bouncing around like crazy. Our sales are down 33% from last month when we set an all-time monthly record for sales of 143 homes. Instead of last month, if you compare last August's sales to this August's sales, we are down 11% compared from 108 sales last August to 96 sales this August. This is the first month that 2020 sales exceeded 2021 sales, but it is also the first month that we saw a big jump in 2020 sales, which continued for the rest of last year.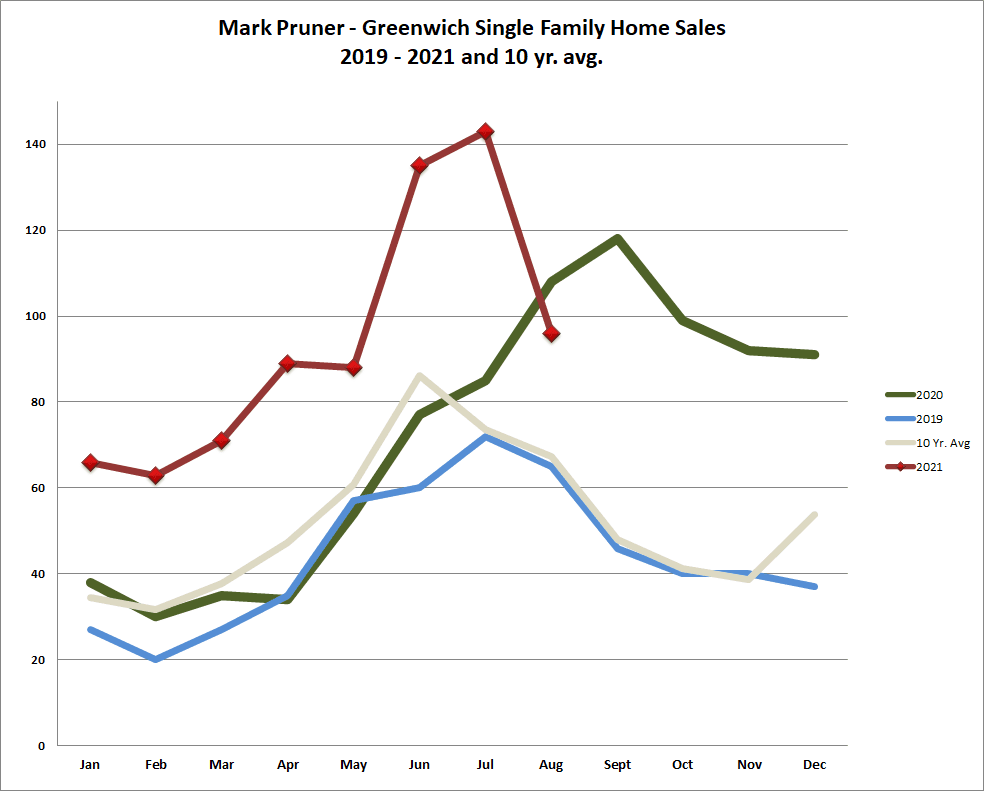 In fact, for the rest of the year, you need to watch year-over-year comparisons very closely. The last 5 months of 2021 were not normal months. So, comparisons to last year are likely to show a down market, when it could very likely actually be a hot market, just not as hot as last year.
10-Year Average Comparisons, the Better Measure in a Volatile Market
The better comparison is probably how this year has done compared to our 10-year average. On average, we sell 67 houses in August, this year it was 96 houses, so we are 43% above average. For the year, we have sold the aforementioned 752 houses which is 71% higher than our 10-year average. While sales are down from an all-time record last month they are still well above average for just about any other August.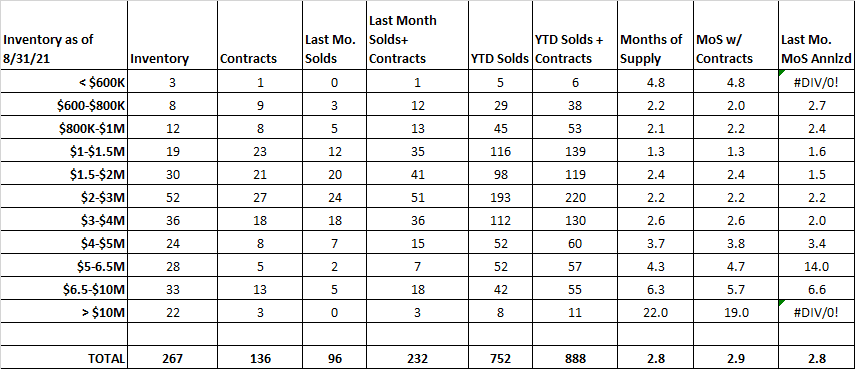 Whither Our 2021 Inventory
When you compare our sales so far this year to last year, this year blows away last year in just about every category, at least if you are a seller. All year we have had lower than normal inventory, but we are getting to unheard-of low numbers. As of the end of August, we only had 267 listings. I've never seen inventory this low. We briefly got up to 342 listings, but inventory has been in a steady decline since the middle of June. Our inventory is 47% below the 505 listings we had at the end of August last year.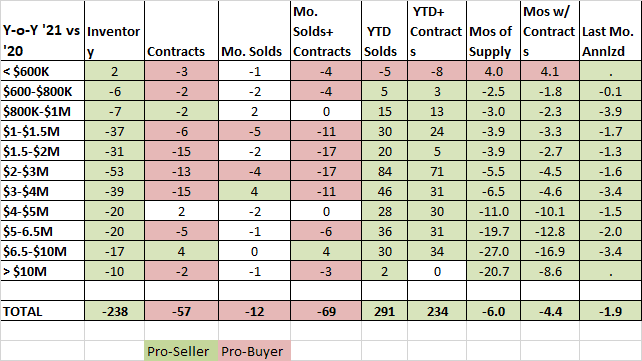 Our year-to-date sales are up 63%, but it looks like our lack of inventory is finally costing us sales. All year, we have had extraordinarily low inventory, but the total 2021 listings put on the market were actually much higher than we saw in the first eight months of 2020. You don't get 63% higher sales without having more listings, it's just that these "extra" listings went to contract almost as fast as they came, so inventory barely rose during the course of the year and inventory has been drifting down for 2.5 months.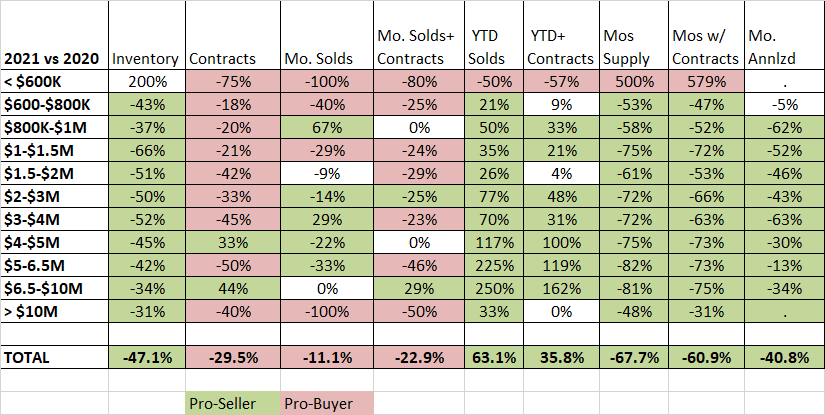 Check Out Contracts to See What Is Happening Now
To see where our market is going look at contracts. Our 136 contracts are lower by 30% compared to last year's 196 contracts at the end of August 2020. If, however, you go back to August 2019, you'll see that we had only 83 contracts, which means that our 136 contracts are looking very good.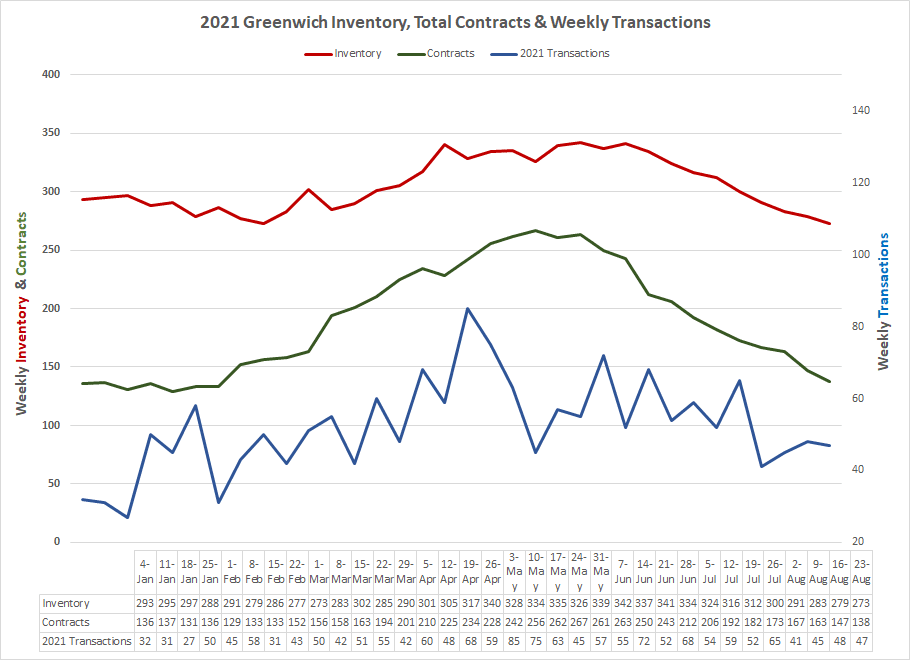 Market Drivers, COVID, WOOFH, Shadow Inventory, and Babies
Our market continues to be hot. It's just no longer frenzied. So, what is likely to happen for the rest of the year. The right answer is that no one knows. The big question is whether we've blown through all the people who want to sell. The short answer is that as long as people get married, have kids, retire, and pass away, people will list their houses. This is the natural rate inventory.
For the last 13 months, we've seen a lot more than this. Much of it was the so-called shadow inventory, people who had been waiting years for prices to go up before they were willing to list their houses. Hundreds of these people have listed their houses and we probably don't have enough left to make a real difference in the market.
What we have seen a lot of this year, and will probably continue to see, are upsizers. The Work Occasionally or Often From Homelife/work change will likely continue for several years. Senior managers now need bigger home offices, we are even starting to see a few home office suites, with an office, assistant's room, file room, and supply closet.
The great thing about these Greenwich people upsizing is that their buying a new house is a zero-sum game. Yes, they buy a house and take it off the market, but they also put their former house on the market. Lots of the explosion in new listings this year were these upsizers, buying and freeing up their present house for another buyer, who might also be freeing up a third house.
Hindsight is 20:20, and it will be a while before these trends become clear, what is very likely is that September 2021 sales will be lower than the stellar September 2020 sales. Having said that, our September 2021 will likely be above our 10-year average of 48 September sales.
Stay tuned, these next two weeks may well set the tone for the rest of the year.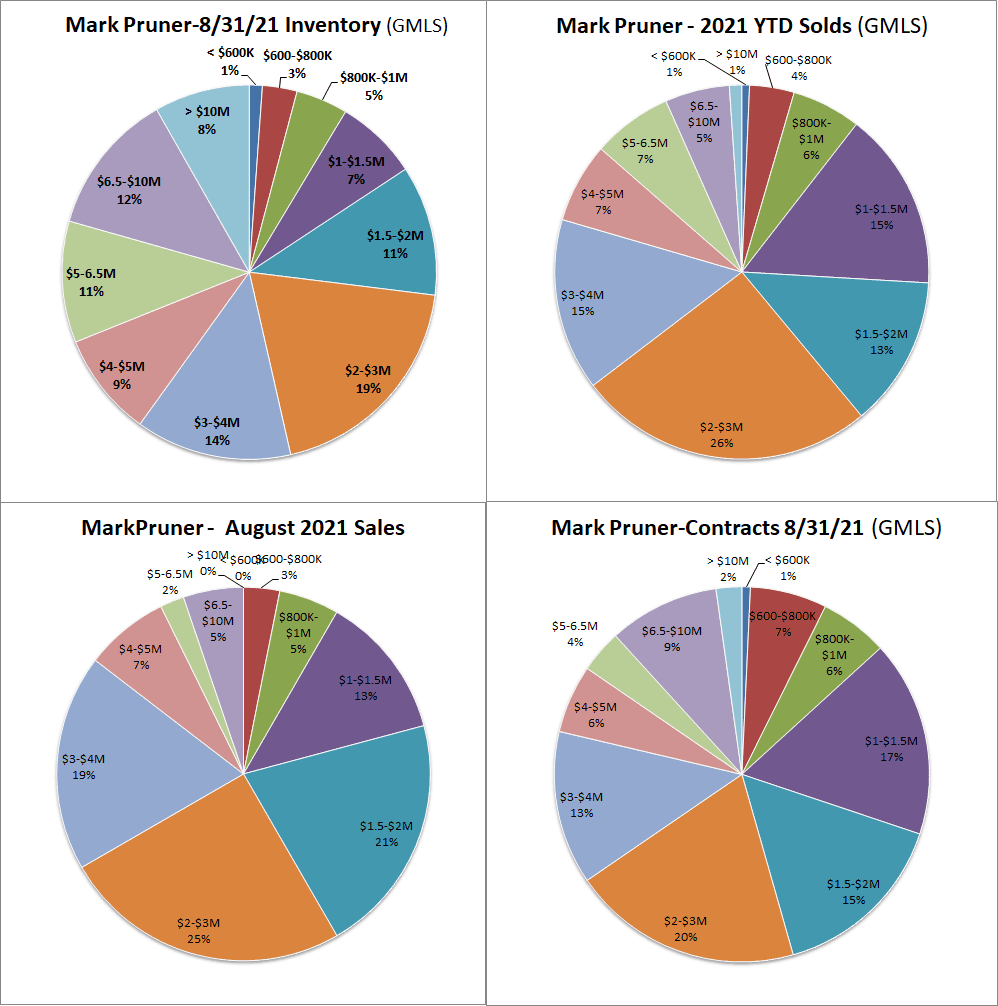 In August, sales from $1-4 million made up 3/4 of our monthly sales, but are a smaller percentage of our contracts. We have a supply-constrained market.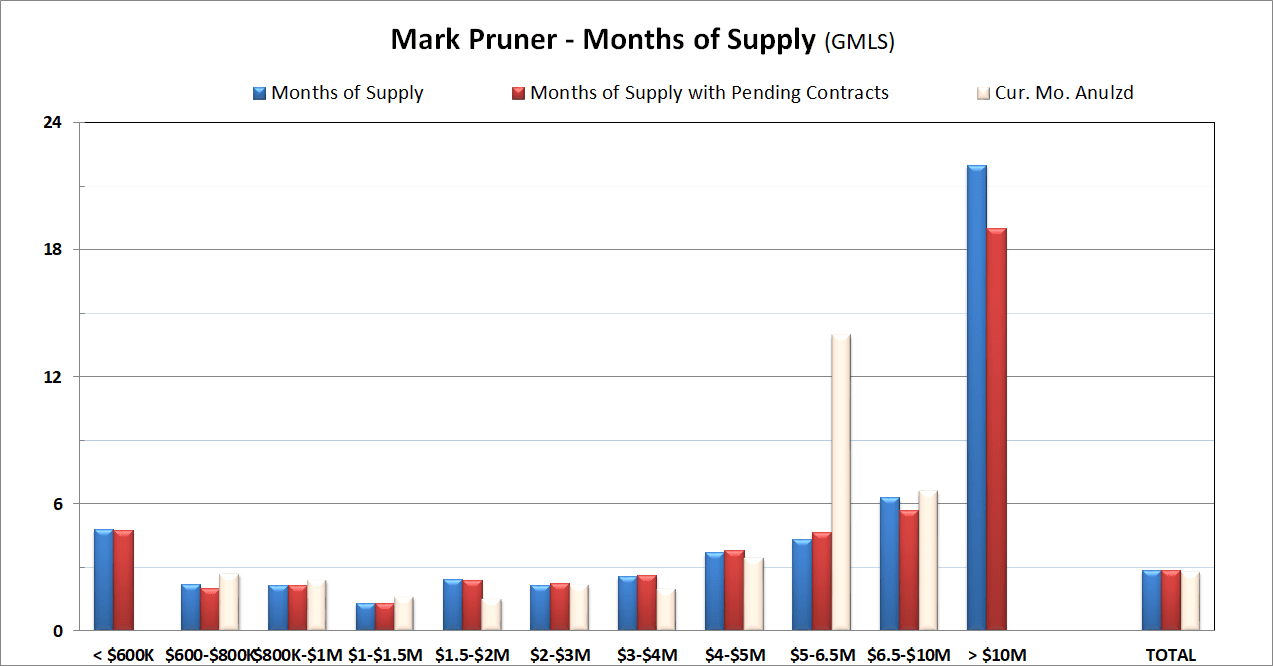 We have a seller's market all the way up to $6.5 million.
Contracts and annualized August sales indicate that should continue.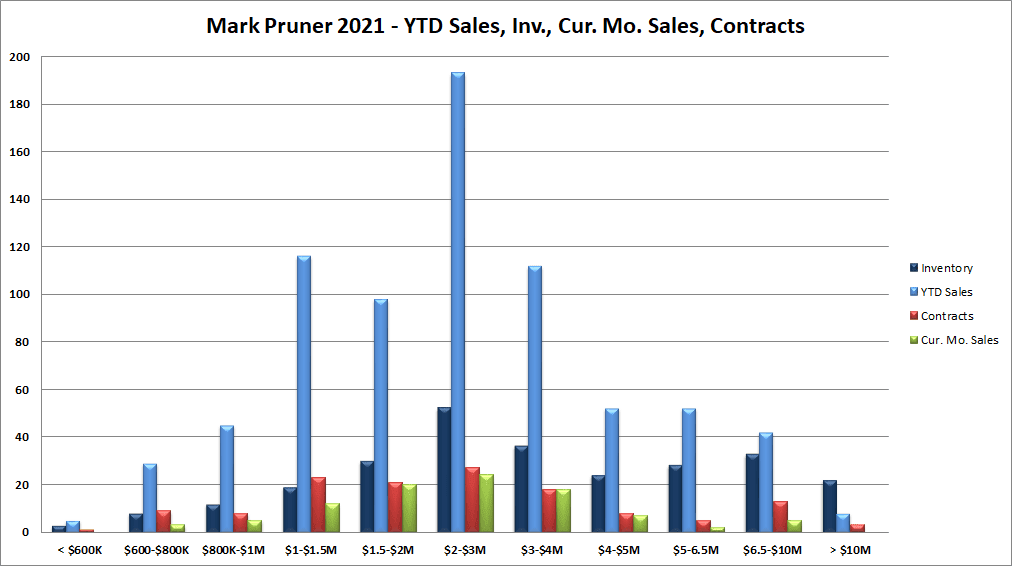 Our sales are concentrated between $1 and $4 million, where much of the inventory is.