Q1 2022 Report
Real estate sales in backcountry Greenwich continued strong in the first quarter of 2021. So far this year, we have sold 24 houses north of the Merritt compared to 22 last year. Both Q1 '21 and Q1 '22 are more than double the 11 sales in the first quarter of 2020. Inventory has done just the opposite. It has contracted from 83 listings in 2020 year to 55 listings in 2021, to a really small 36 listings in backcountry this year. Inventory has gone down 57% in two years and 35% just since last year. It's a tight market, and buyers are moving fast and keeping us Realtors very busy. The one fly in the ointment is that we only have 7 contracts in backcountry compared to 23 contracts in 2021.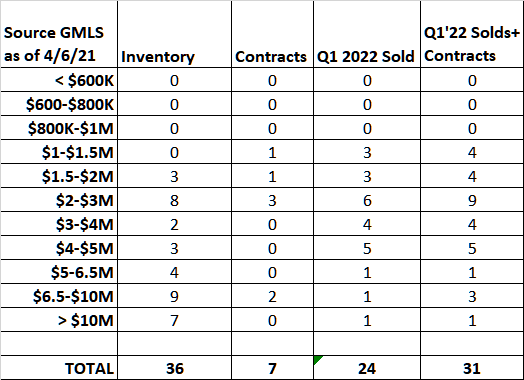 Under $2 million, we have 3 listings so the backcountry bargains that we used to have are gone. In 2017, we had 129 listings in backcountry and 25 of them were under $2 million. Back then you had a 4,232 s.f. house on 4 acres listed for $1,575,000. Now it was built in 1953 and needed work, but it was a hell of a deal for the person that bought it. Today, the best you can do is 2,894 s.f. on 4.2 acres for $1,875,000 or 1,338 s.f. less for $300,000 more.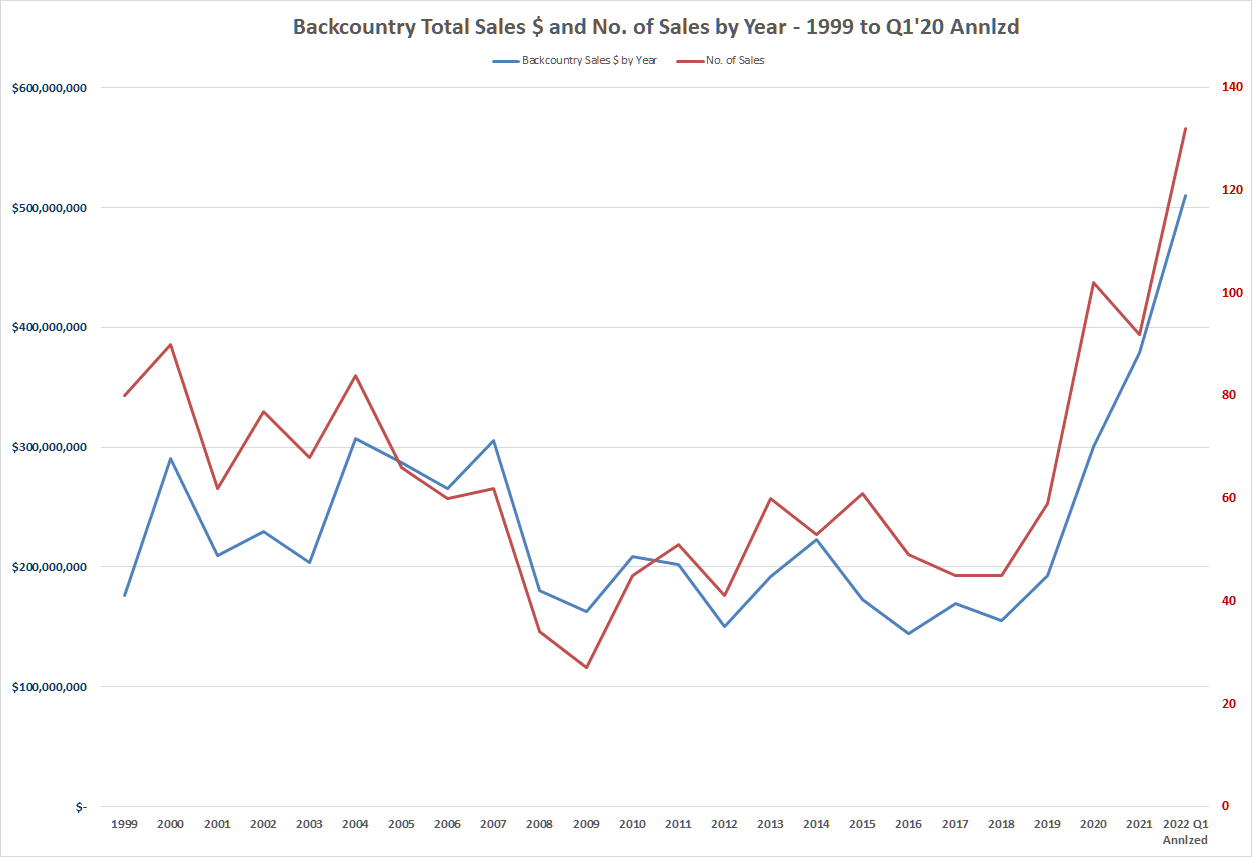 To get some perspective on this market, let's go back 23 years and look at how we got here. Our previous high for sales in backcountry was 90 sales in 2000. For much of what people think of as the heyday of backcountry, sales actually fell from 90 sales in 2000 to 62 sales in the peak year of 2007. That year we sold $306 million worth of houses in backcountry with an average sales price of $4.93 million. If you look at graph of the period, you see a big rise in total sales dollars (volume), while the number of sales was actually dropping. That's a pretty good definition of a bubble.
In 2008, the bubble started to burst with the number of sales dropping from 62 in 2007 to 34 in 2008 and sales hit their nadir in 2009 with only 27 sales. Sales volume dropped from $306 million to $163 million in 2009. We actually had a pretty good recovery going from 2010 to 2015 when sales grew from 45 to 61 houses.
At the same time, our sales volume and median sales price bounced around. We reached our post-recession low price point in 2012 as our backcountry median sales price dropped to $2,012,000 only to all most match that number three years later in 2015 with a median of $2,043,000.
We didn't start to see a real recovery until the 3
rd
quarter of 2019. At that point, prices in backcountry started to look pretty good compared to what you could get in Old Greenwich or downtown Greenwich. In 2019, backcountry sales were up 31% while they were down 11% for the town overall and Riverside saw a drop of 23% as the $10,000 SALT limitation on local tax deductions finally hit Greenwich hard. All this was pre-Covid.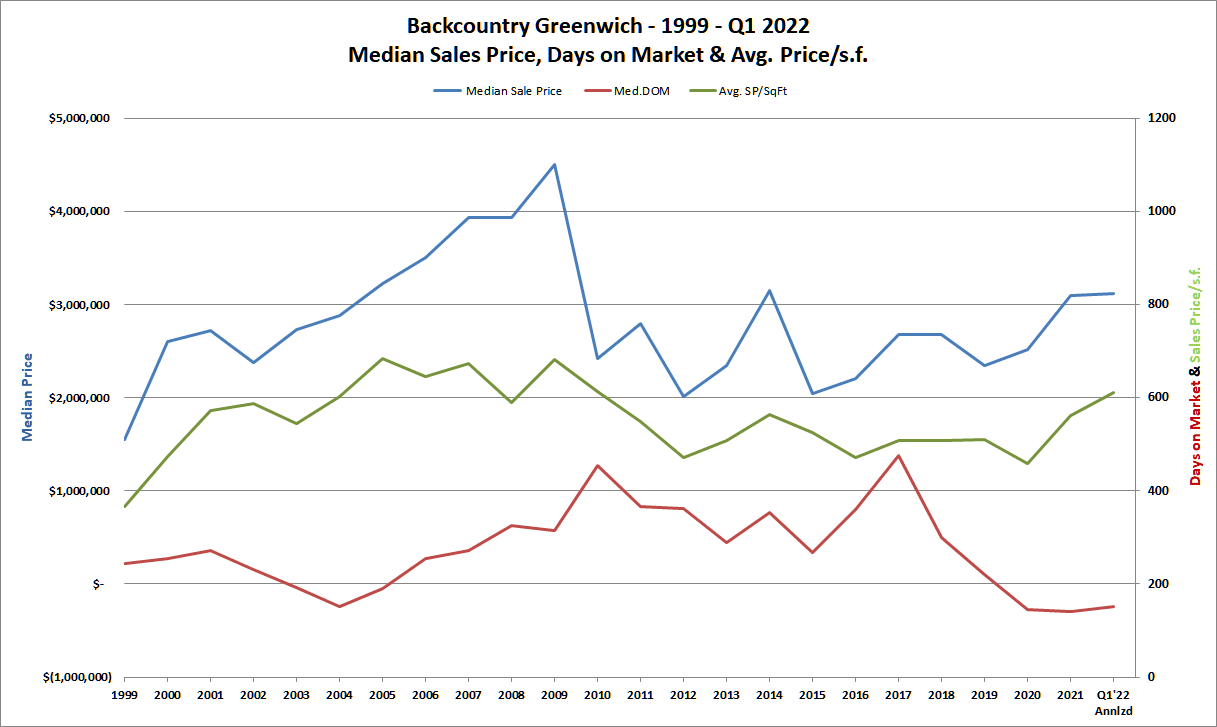 In 2019, our days on market dropped from its post-recession high of 475 days on market in 2017 to only 220 DOM in 2019. In 2020, after a slow first half of the year DOM dropped steeply to 145 days on market. In 2021 our median days on market was 142 and we have ticked up slightly to 151 days on market in the first quarter of 2022.
It's easy to over analyze this market. There is a lot of Brownian motion in the numbers as the law of small numbers means that one sale like Tommy Hilfiger's house selling for $45 million in 2021 throws off the averages. Take out that sale and the backcountry average sales price drops from $4.94 million to $3.03 million, which is still a pretty good average.
What is clearly remarkable is the number of sales we had in backcountry last year. Our 102 sales in 2020 is 13% better than our previous high of 90 sales all the way back in 2000 and several multiples of the 29 sales in 2009.
If you really want to make a "gee-whiz" graph, you can annualize our first quarter sales on a weighted basis. Most years the first quarter represents only 18.2% of our sales for the year, so, if you take our 24 sales so far this year and divide by 18.2% you get an expected 132 sale this year.
I'm betting that projection is really just fun with numbers as don't forget the paltry 7 contracts that we presently have compared to 23 contracts at this time last year. Also, our inventory is much tighter than it was last year, and we are already seeing sales being supply constrained.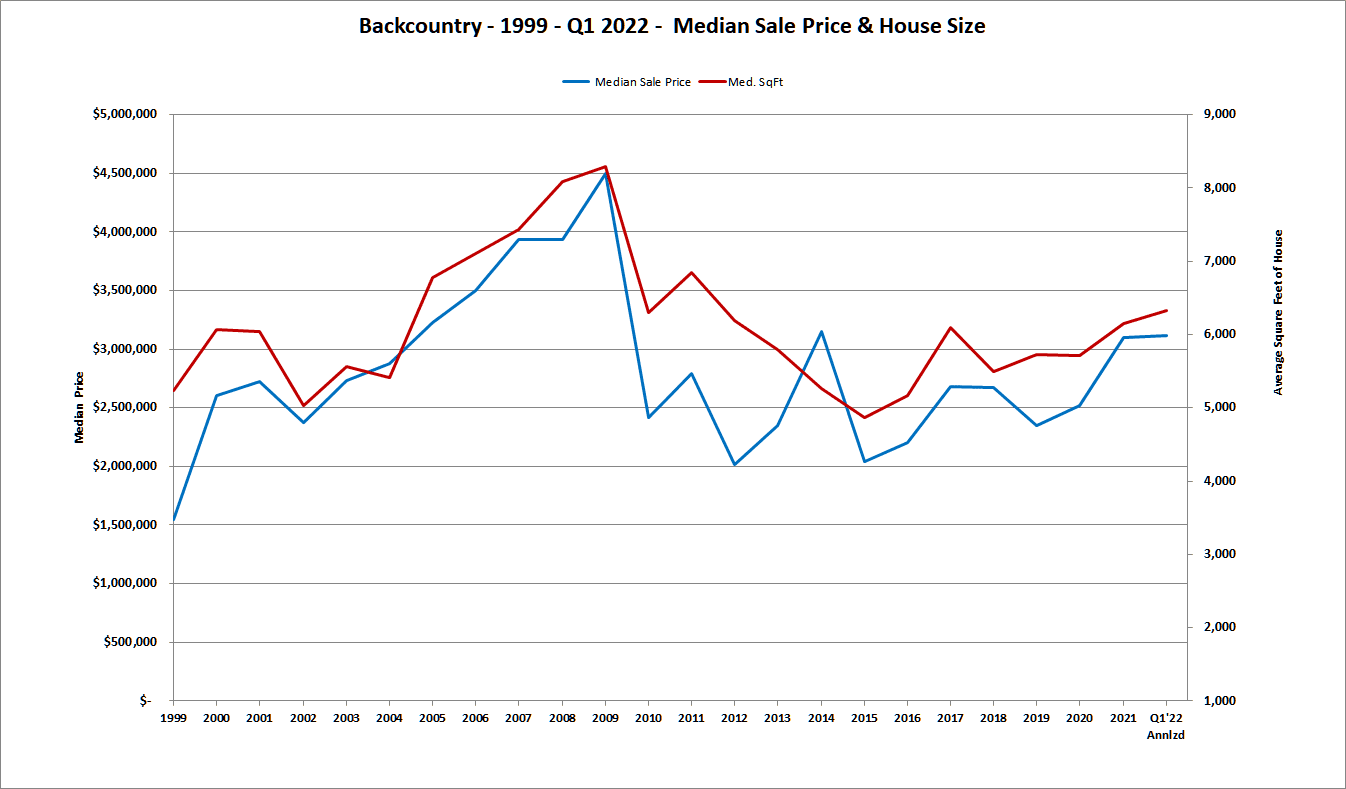 Backcountry has always been synonymous with larger houses, and we are seeing an uptick in our median size house sold. Our median house size peaked in 2009 at 8,300 s.f. From 2018 to 2020, our median house size has averaged around 5,600 s.f. In 2021 our median house size went up to 6,144 s.f. or more than 500 s.f. larger. So far in 2022, our median size is up again to 6,327 s.f., while our median house size for the town over all is 4,150 s.f. or almost 2,000 s.f. smaller.
This doesn't mean that houses suddenly got bigger in backcountry. What it is indicative of is that the smaller houses have been snapped up and we do have supply is at the higher end.
One major issue in backcountry is that sales are distinctly slower when you hit $6.5 million. Over that price we have 2 sales and 16 listings in inventory. That might seem like a big discrepancy, and it is, but last year at this time, we had 29 houses listed in backcountry for over $6.5 million. Also, the majority of high-end sales have shifted to the 4th quarter, so high-end sales in the first quarter have limited meaning.
It's likely to be a good year for backcountry; inventory will determine just how good, particularly, inventory under $2 million. Stay tuned.