When we last left you at the end of the decade in December 2019, sales were down 11% for the year and were down 26% in the month of December. But all was not lost our contracts at year-end were up 41%, which boded well for the beginning of the new decade.
As of

2/2/2019

Inventory

Contracts

Last Mo. Solds

Last Month Solds+ Contracts

YTD Solds

YTD+ Contracts

Months of Supply

Mos w/ Contracts

Last Mo.

Annlzd

< $600K

5
3
1
4
1
4
5.0
3.1
5.0

$600-$800K

20
4
1
5
1
5
20.0
10.0
20.0

$800K-$1M

23
2
2
4
2
4
11.5
14.4

11.5

$1-$1.5M

52
17
10
27
10
27
5.2
4.8
5.2

$1.5-$2M

53
8
8
16
8
16
6.6
8.3
6.6

$2-$3M

97
12
6
18
6
18
16.2
13.5
16.2

$3-$4M

68
9
5
14
5
14
13.6
12.1
13.6

$4-$5M

39
3
3
6
3
6
13.0
16.3
13.0

$5-6.5M

33
1
2
3
2
3

16.5

27.5
16.5

$6.5-$10M

38
0
0
0
0
0
X
X
X

> $10M

25
1
0
1
0

1

X
62.5
X

TOTAL

453

60

38

98

38

98

11.9

11.6

11.9
The increased contracts from December did not disappoint us resulting in 38 single family home sales in January 2020 sales an increase of 41% from January 2019's 29 sales. These 38 sales also beat our 10 average of 32 sales. You expect to see increased sales in a month that begins with increased contracts, but January had more good news for sellers.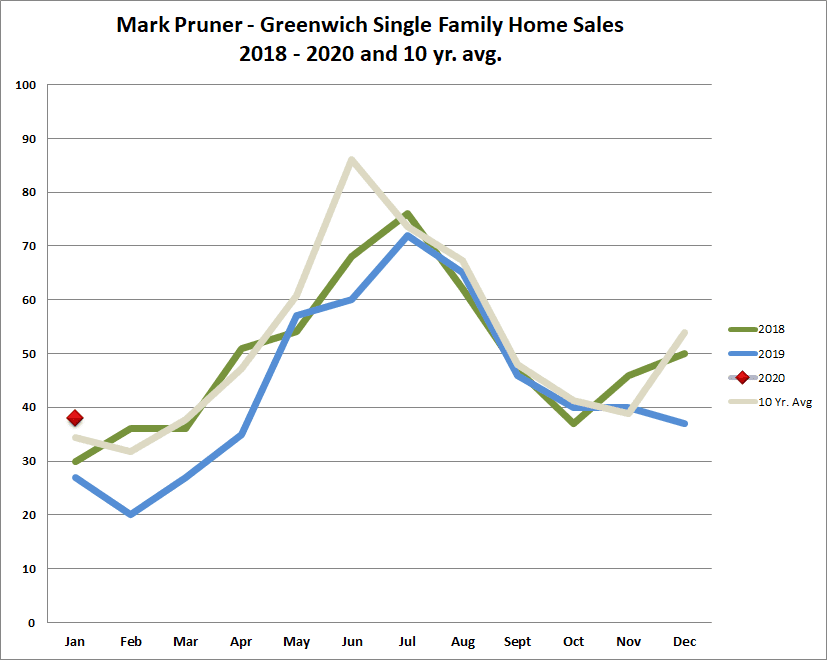 You would think with all those contracts maturing into sales, that contracts would have fallen by the end of January, and they did a little, but the buyers were out there signing more contracts and buoying the market. We entered January with 72 contracts and left the month with 60 contracts. This is normal behavior for the beginning of year as many people wait until the new year to close deals. (We also have people who rush to close before year-end, an effect that we did not see in December 2019. If someone could explain why we didn't see our normal number of year-end deals in 2019, I'd be appreciative.)
What we did see by the end of January 2020 was the 38 contracts going to sold status, but we also 18 more contracts than we saw at the end of January 2019. So, more sales and more contracts at the same time means buyers and sellers were busy in January signing new contracts. Sales and contracts were up 27 in total in January. This increase in both sales and contracts resulted in our inventory dropping to 453 listings down 31 houses from January 2019 when we had 484 listings.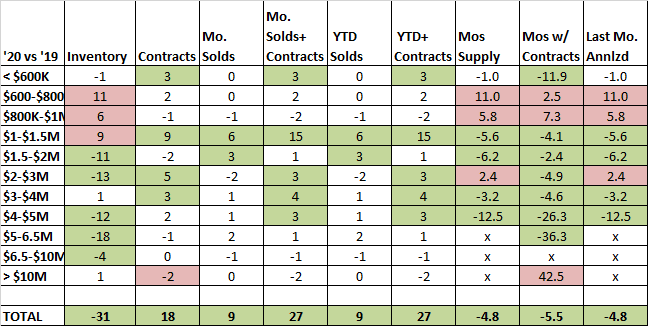 One exception to the lower inventory was a continued increase in inventory from $600K to $1.5 million. In earlier times, that is before 2018, we had buyers snapping up these homes as getting into Greenwich for under $1.5 million was very desirable and we had a "normal" number of people retiring and moving south or into a condo. In 2019 and extending into January 2020, ore folks in this price range are retiring and heading south or moving into a condo or even returning to NYC as empty nesters.
In 2018, this increase in retiree driven inventory was more than counterbalanced by a surge in sales from Westchesterites fleeing the highest property taxes in the country. Our sales from $800,000 to $1 million were up 59% in 2018 to 73 sales. That increase wasn't sustainable and in 2019 our sales were back down to 47 sales almost identical to our 46 sales in that price range in 2017. At the same time, we had more "retirees as we saw in 2018. The result was more inventory and normal level of sales.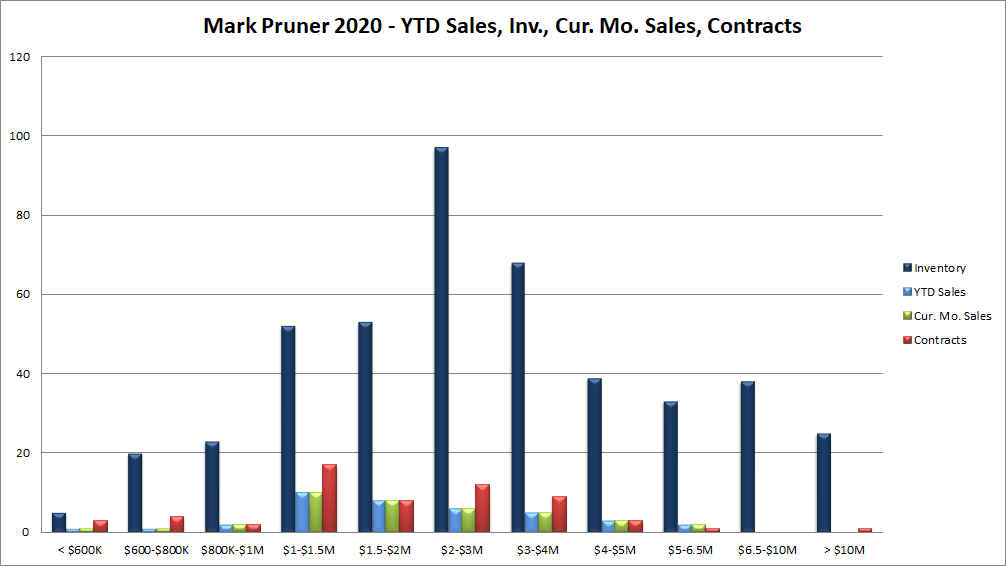 Above $1.5 million, our inventory was down or flat in every price range with 56 fewer higher-end listings or a drop of 14%. This brings months of supply down in the higher end. We are about to see months of supply go up as now that the Super Bowl has come and gone (sorry about that S.F.) the spring market has begun. The increase in months of supply will be muted from $1 million to $4 million as 46 of our 60 contracts or 77% are between $1 and $4 million.
With the exception of the aforesaid inventory from $600,000 to $1.5 million just about every indicator is showing a market that moved towards the sellers in January. Overall inventory is down, 6%, January sales were up 31% and contracts were up 43%; a very nice start to the year. With less inventory and more sales and contract, overall months of supply was also down.
What to Do in Our 2020 Spring Market
Every broker is different, but I advise my sellers to go where the action is. Right now, the action is in the $1 – 4 million dollar price range. We are seeing lower inventory, good sales and good contracts (actually only contracts matter when taking the pulse of the market at any given time). If the market is demand is there, I like to list earlier rather than waiting. You want to be in the market when the buyers are active, and you have fewer competing sellers. Of course, this also varies by neighborhood the house is in and other factors, so it is part art and part math/science. I put 21 Tomney Road on the market last week at $2.779,000. It is a beautiful house in immaculate, move-in condition and inventory is down and contracts are up. We had 71 agents show up for a realtors' open house, double the average number for a first open house. It can be nice to be early when things are busy.
What if your price range/neighborhood is not a hot spot? Then, I advise my clients to wait until later in the spring market to go public. If the buyers are not there, you may only be accumulating days on market. In a month or two other newer listings are going to be coming on when the house that rushed to market already has 30 or 60 of days on the market.
Buyers can also use this information. Knowing the same supply and demand information let's buyers make better deals. Right now, 70% of our single-family home listings have been on the market for more than 4 months and 43% have been on for more than 9 months. Some of these sellers just aren't motivated as represented by the 30 listing that have been on for more than two years. But, many of these sellers are looking for an offer. If you like the house make an offer, it doesn't cost anything to make an offer in Greenwich unlike some other towns. Early in the year is an especially good time to make an all cash-offer, with either a quick close in the house is empty or a delayed close if the sellers have to arrange a move. Just match the offer to the seller's desires.
January is only a blip on the market, but it was good blip. February is also looking good so far. Several blips in a row make a trend.