Inventory Falls, Sales Rise, but Below Average
Our market is much like the USS Enterprise, going where no market has gone before. As a result, it's a good time for buyers and sellers to boldly go where no buyers and sellers have gone before. Each week this year, our inventory levels have set all-time weekly lows. Even the rise in inventory from the last week in August to the middle of October, when inventory went from 198 listings to 224 listings, stayed below last year's record low inventory.
Inventory is dropping again
At the end of November 2019, we had 556 listings. This week we have 181 listings or a drop of 67% from our last pre-Covid November. Put another way, in 2019 we had 3 listings for every 1 listing that we have now. Our active inventory is even lower. Of those 181 active single family home listings, only 43 listings have been on the market for less than 2 months. It used to be that we didn't think of listings being on the market too long until they got up to 6 months of time on market, but we actually have a tight market with active buyers.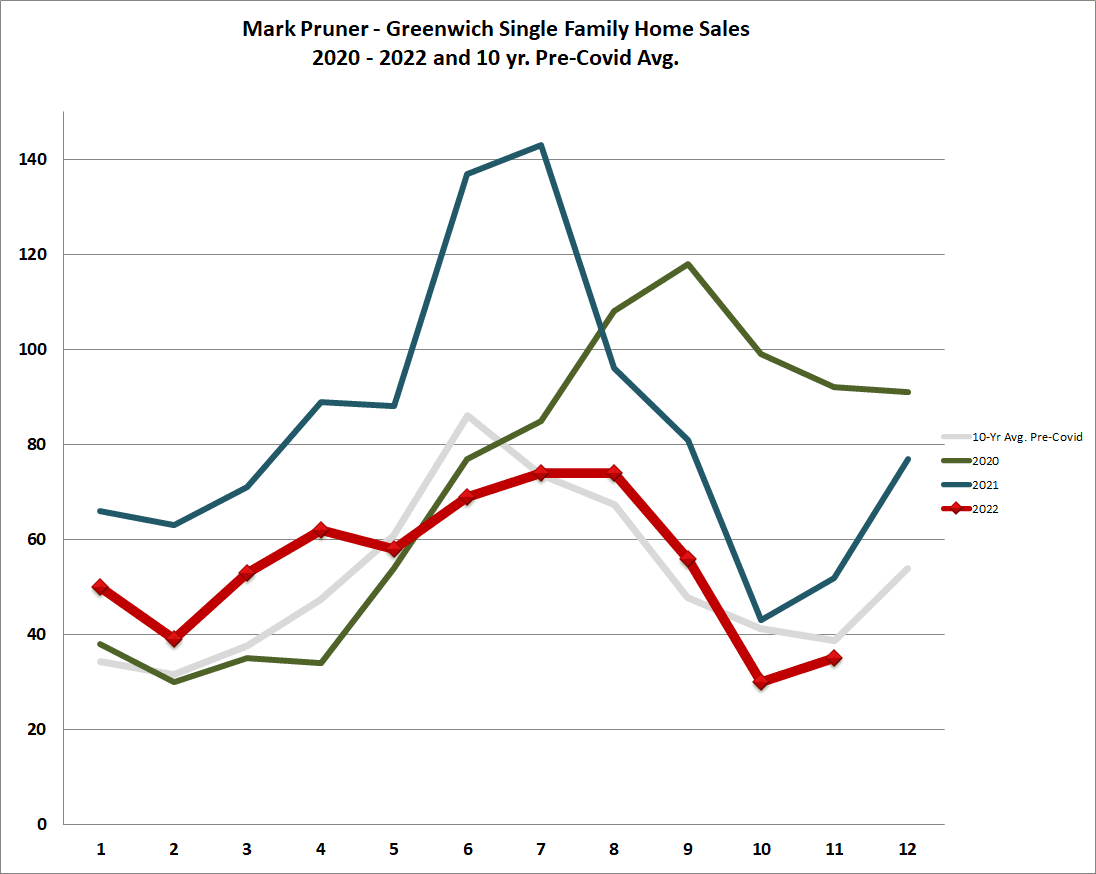 A tight under $2 million market
So why, if buyers are being squeezed out of the market under $2 million, and they are, does that market remain so tight with a red hot 1.5 months of supply. The market under $2 million is even tighter than it was last year when had a still minuscule, but slightly higher 2.0 months of supply. The answer is that Greenwich has been fortunate to have plenty of buyers that can afford to pay all cash or at least not make the sales contract contingent on getting a mortgage. It's time like this that we see the Greenwich market hold up better, than other areas with lower price points.
Over $10 million market a slight glimmer of hope
If the lower end with higher interest rates is doing well, that must mean that all those high-net worth buyers are buying like crazy, doesn't it? If you thought so, you'd be wrong. Our over $10 million market has been week all year and we had no sales over $10 million In November, leaving us with only 8 sales for the year so far.
We do have a glimmer of hope over $10 million. We have two contracts that were recently signed in our top price range. One went pending on 10/24 and the other just this week on Monday, 11/28, both were listed for under $12 million, leaving the ultra-high end market over $15 million with only one sale so far this year. That may not change unless someone moves pretty fast to close before year-end. Of course, that's very doable. I just had a high-end condo sale close this week that we got from first showing to non-contingent contract in 6 days including first and second showings, inspections, and multiple contract revisions.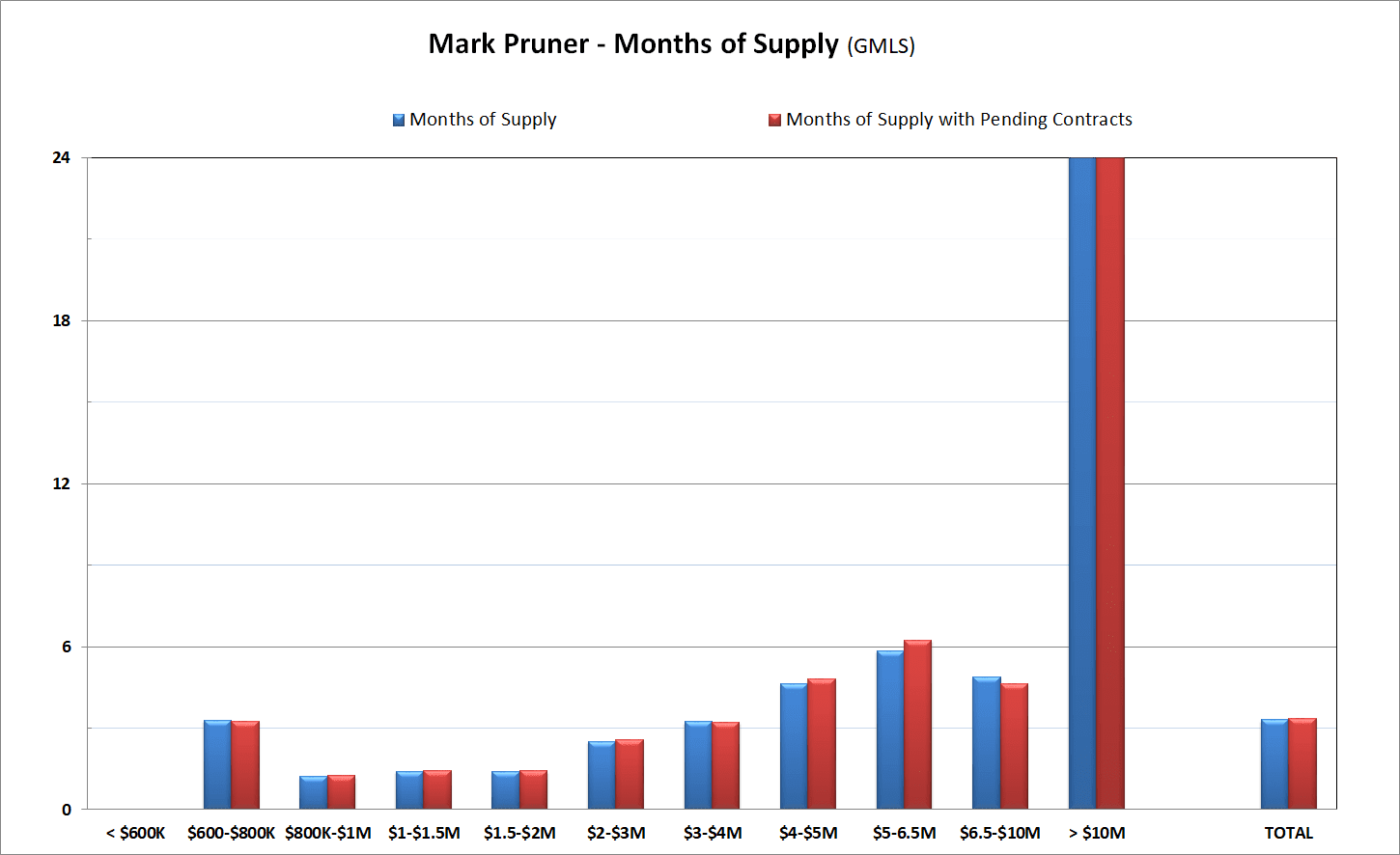 $4 – 6.5 million market in flux
While the over $10 million market has been slow all year, the $4 - 6.5 million market has gotten a little more pro-buyer in the last two months. This market segment had been doing surprising well this year, even when compared to the stellar year that we had in 2021.
For much of the year, the $4 – 5 million actually saw more sales this year than last year. If you want to see a market hit the brakes hard, this formerly hot price range is the poster child. Not only are we now at the same number of sales as last year, 64 sales, but we only had 1 sale in that price range in November and contracts are down from 9 at the end of November last year to 6 contracts now.
Let's not run down that segment too much. We had a lot of sales in that price range, 11% of all our sales this year are in the $4 -5 million price ranges. These sales are spread throughout Old Greenwich, Riverside, mid-country and backcountry. If you look at contracts rather than sales, we had 6 properties in that price range go to contract in the last two months compared to only one contract in each of July, August and September. We may well see that market get tighter as these contracts close.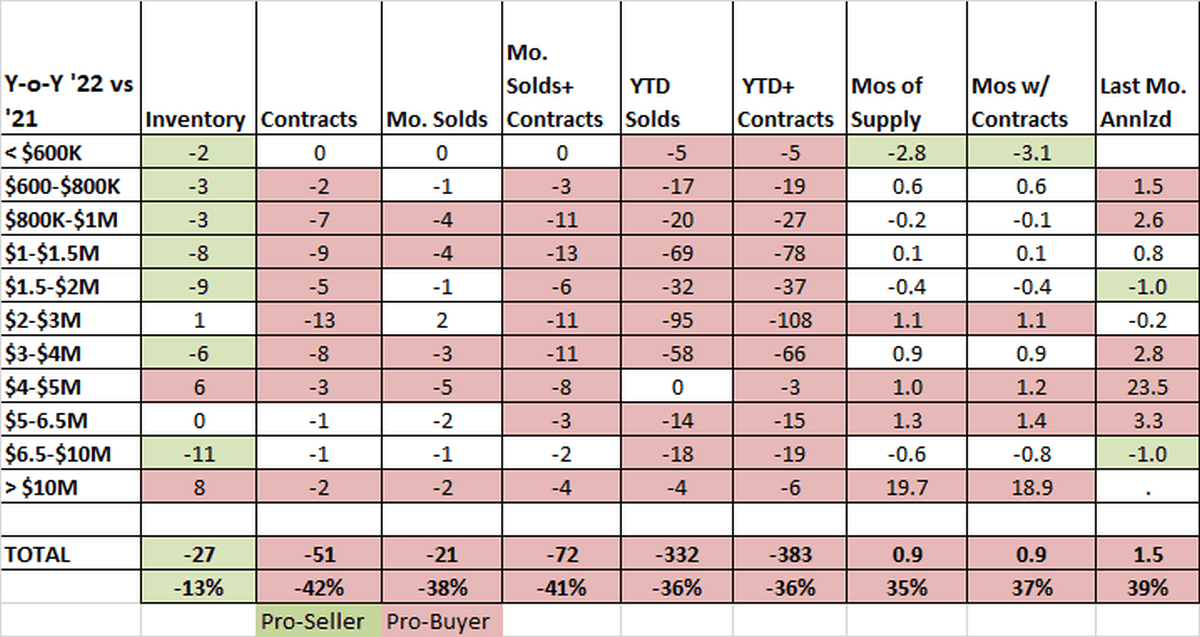 Just above that price range, we are seeing more weakness in the $5 – 6.5 million market where months of supply is up from 4.5 months last November to 5.9 months this November. In raw number that's 14 fewer sales this year from 61 sales last year to only 47 sales this year.
This price range has the same number of listings as last year with 25 listings available for sale. Of those 25 listings only 4 have been on for less than 2 months. Part of this is that we don't traditionally get a lot of listings in October and November and part of it is that demand is slackening between $4 million and $10 million.
Why would I ever list my house in December
That tradition of not listing a lot of houses at the end of the year is well founded. Traditionally, sellers and their agents have been reluctant to put their house on the market as we are heading into the holiday season and the winter months. Buyers are just more reluctant to get their expensive cars out of their expensive rented garage spaces and slip slide over 30 miles of slushy highway to see a house with bare trees and no grass. However, a good case can be made that now is a good time to list a house.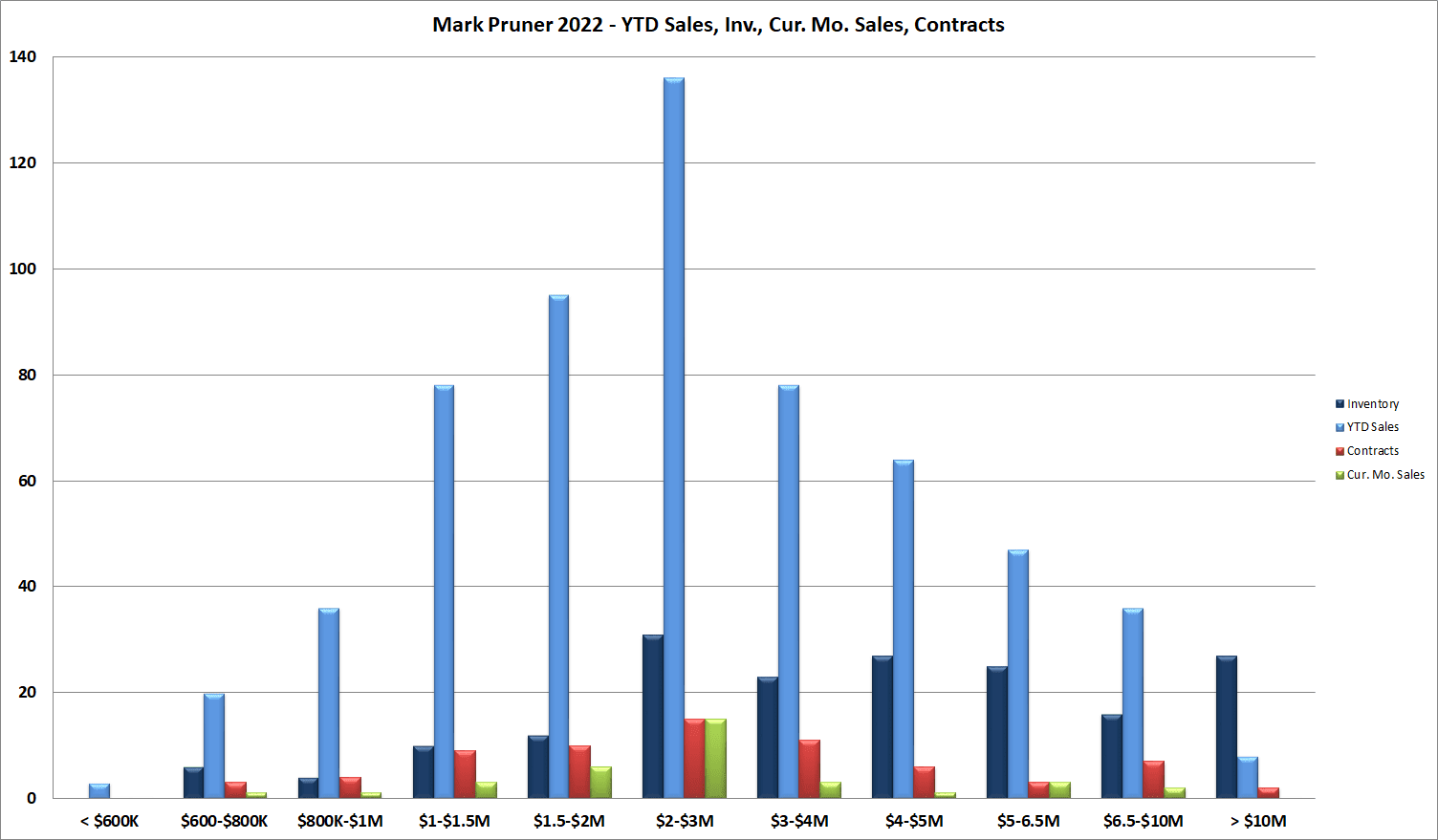 By far the main reason is that we have a seller's market for listings under $4 million and a very pro-seller market for listings under $3 million. The Fed has made it clear, that they will be moderating interest rate increases. In fact, mortgage rates have recently fallen as the number of interest rate sensitive buyers are way down.
All you have do is look at the 70 contracts that we have now. Of the 70 outstanding contracts only 14 have mortgage contingencies with 56 contracts being non-contingent. Some of those 56 non-contingent contracts had had a mortgage contingency, which has been satisfied and have gone non-contingent. That period of time between mortgage approval and closing is generally short as banks want their buyers to close within a week or two of when they approve the loan.
We also have seen a nice uptick in November sales, which is unusual, as November normally competes with February for the lowest number of sales. Part of that uptick was the removal of two uncertainties. The first, the Fed slowing further interest rate rises, we have already talked about. The second is that the election is now over. It resulted in split party control, so we aren't likely to see any major federal legislative changes given how poorly the parties work together. (When will our legislators work together to solve what are clearly some major issues?)
Putting a saleable house on in December or early January, at a good price, might be a good idea. Of those 35 sales in November, 40% went for full list or over list price. One even went for 40% over list, the median over 4% over list, that a busy market.
On the flip side, if the house hasn't been updated in decades, and we get a lot of snow and the seller insists on an aspirational price, because their house is so special, right now might not be the best time list. The number of motivated buyers is down, but the number of houses is down more.
Stay tuned, it's not likely to be a sleepy December this year.