The holy grail of Greenwich real estate in November 2022 is an upscale downtown condo with an elevator. Right now, there are dozens of people that are looking to downsize to one floor living in walking distance to the shops and restaurants of Greenwich Avenue.
To see why these units are so rare, let's start with the inventory of all Greenwich condos, which now stands at only 50 condo listings. Downtown we have 30 listings, since the majority of our condos are concentrated in the downtown area, however we only have 11 luxury "condos" above $2 million. Of these 11 condos, 3 are under construction, 2 haven't broken ground yet and one is fully gutted waiting for a wall-to-wall renovation. Of the remaining 5 listings, one has a tenant in place and isn't available in July 2023, one is across the street from I-95, and one doesn't have an elevator. This leaves 2 units for empty nesters that want to downsize to one floor living.
In our office meeting this morning, multiple agents said they have one or more clients looking for the holy grail. Personally, I have 3 clients that are gridlocked. They don't want to list some very nice houses until, they have a downtown condo under contract. What this also means is that at a time when we desperately need single family home listings, we have a bunch of properties that are being held off the market until the owners can find a place to go.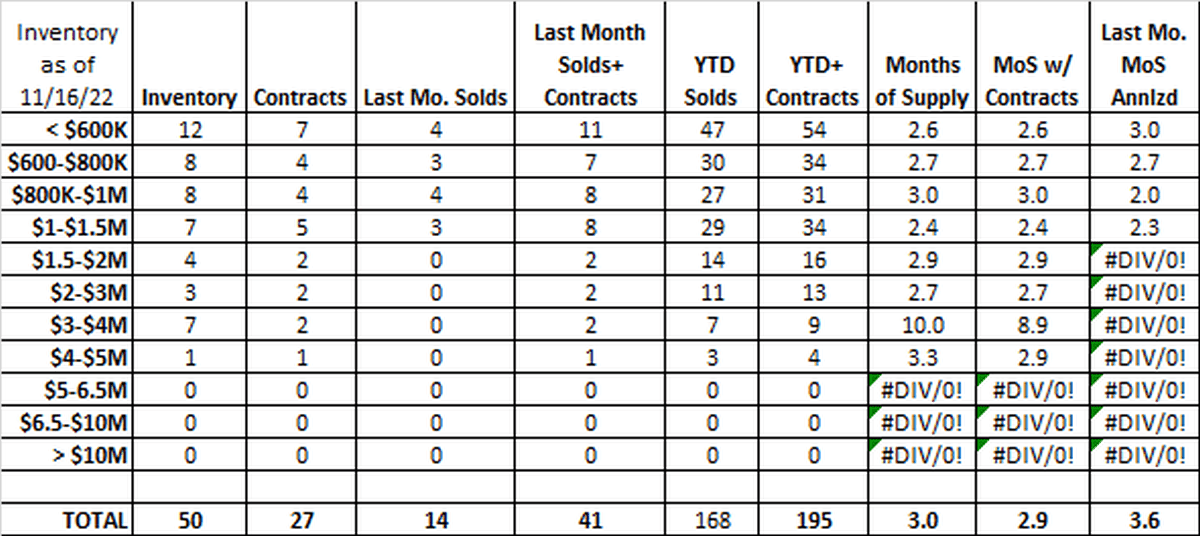 Normally, 10, 20, or 30+ home listings waiting to come on the market are not that a big influence on the market, but our single-family home listings have fallen to only 192 listings, which is an all-time low for this week. For comparison, at the beginning of November 2019, we had 587 single family home listings or 3 times more house listings than we have now. For condo buyers, the market is in some ways better, as we now have 50 listings compared to 47 listings at the end of last year, but condos are looking only 3.0 months of supply compared to 4.3 months of supply for houses.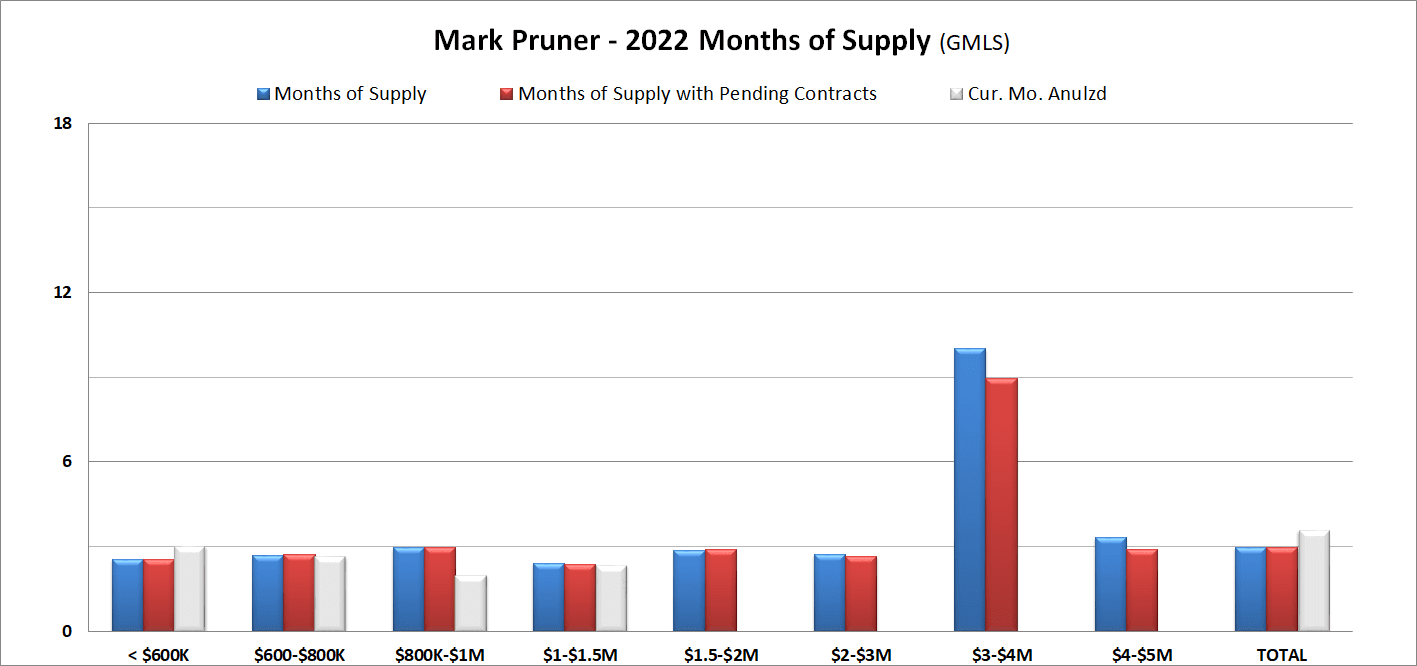 This 3 months of supply is up from 2.1 months of supply at the end of last year, but it won't take many sales in the remainder of this year to be right back at the super-tight market we had at the end of 2021.
I should probably clarify what I mean when I say condos or more formally condominiums. Condominiums come in several flavors: apartment type building such as 25 and 40 West Elm, townhouses type units such as the very popular waterfront units at Palmer Point in on River Road in Cos Cob and at Lansing Meadows at 500 River Road in Cos Cob. Some condos are also single-family units such as at East and West Lyon Farm in Glenville. This early condo pioneer also has connected townhouse type units as well as free standing units.
Condos all have common elements, including such things as roads, walks, grassy areas, lobbies, and utilities that are maintained by the condo association. They also often have limited common areas, such as a small, fenced backyard that is only for one unit's benefits.
Condos also have windows, roofs, doors and even walls, that may or may not be common elements. If they are common elements, these are usually maintained by the association. It's always worthwhile determining just what you are buying, whether just the interior, the so-called wallpaper to wallpaper purchase, or are other elements such as garages, lawns and even docks included in the purchase.
Even if you own these areas, the association may still maintain some of them. Also, and particularly in smaller units, what is actually done, may not match what is written in the condo documents. I've seen associations that were supposed to repair and replace roofs, but the three neighbors, who wanted to keep down the homeowners' association fees, agreed verbally that each owner would replace their roofs on their own schedule.
Also included in most Realtor's use of "condo", at least here in Greenwich, are a half dozen co-ops buildings. Here the buyer, doesn't get title to the real estate, but shares of stock in the corporation that owns the whole building. The corporation pays taxes as the owner of the building. These property taxes are paid by shareholders in their monthly fees, so that co-op fees are often higher than the condo fees, but that doesn't necessarily mean you are paying more. You have to see what the fees cover. In one co-op here in town, the monthly fee covers: taxes, insurance, on-site staff, water, hot water, heat and exterior landscaping. In addition, the co-op shareholders get to deduct their share of the property taxes assuming the SALT limitations don't apply, which they usually do.
We also have condos that are mostly water. On River Road in Cos Cob there is a busy market for boat slips that can be purchased. The dock slips are administered just like a residential condominium. These condos can go for $100,000 or more for the deep water, longer slips.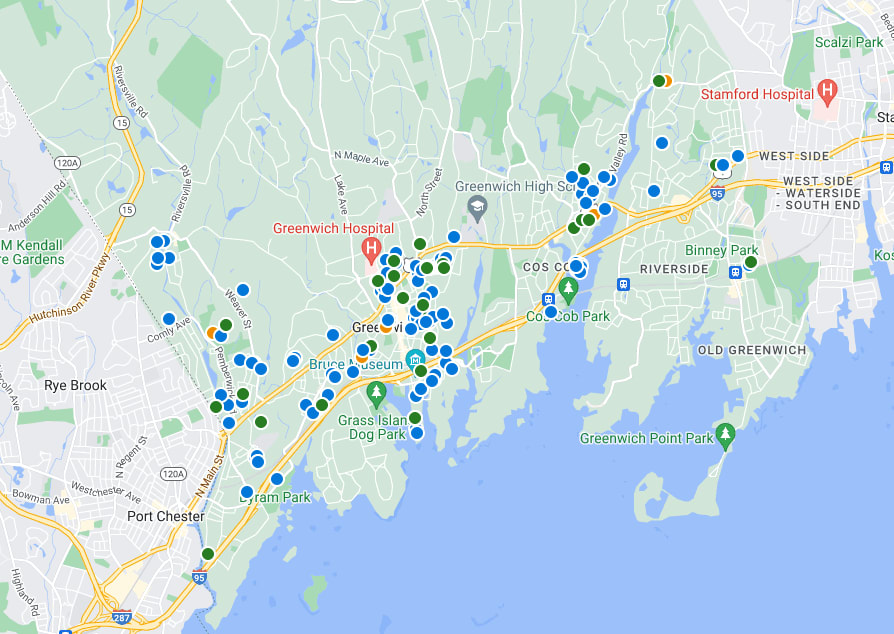 Part of that increase from 2019 is a rebound from the drop in median prices and price/sf in 2019 as the Tax Cut and Jobs Act finally started negatively affecting the Greenwich market. In 2018, the $10,000 limitation of the deductibility of state and local taxes actually benefited Greenwich as we had a lot of folks move to Greenwich to get away from the highest in the nation property taxes in Westchester County. By 2019, that surge tapered off and we saw a net outflow of people to lower tax states like Florida; and then came Covid in 2020.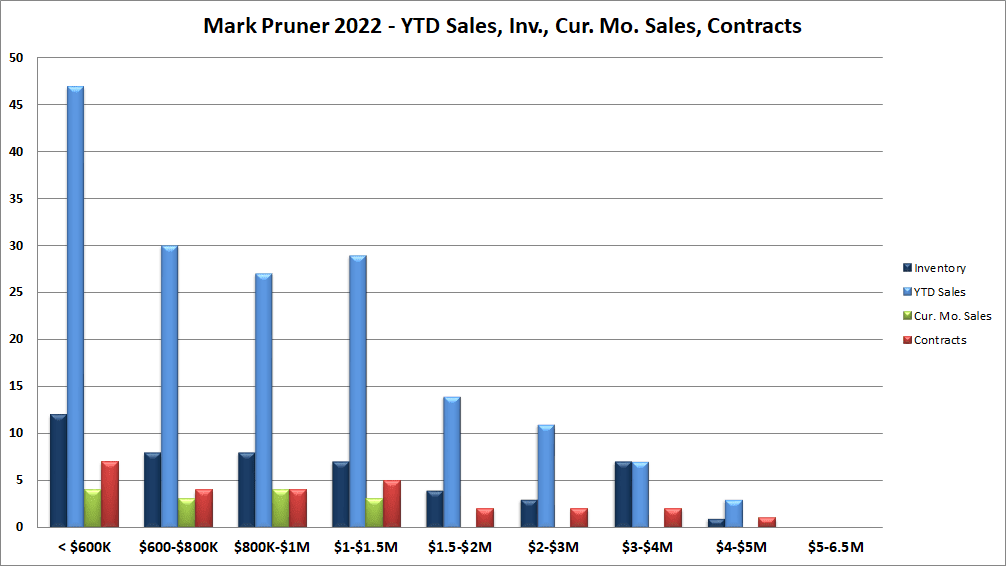 As mentioned above, we have a small number of condos at the high-end with only 10 of the 168 condos sold so far this year being over $3 million (with 3 more under contract). Most condo sales in Greenwich are under $1.5 million where we have 133 of the 168 condo sales so far or 79% of all condo sales.
After a record-breaking year last year with 265 sales, we are looking at around 200 sales this year, above what we saw in both 2018 and 2019 with 181 and 159 sales respectively. It's still a very strange market, as we have very limited inventory at all price levels. If we had more listings, we would have more sales. Having said that, 27 of our 50 listings have been on for more than 60 days, which means the owners may want to have a conversation with their Realtor about pricing.
Condos also are more sensitive to higher interest rates than are higher priced houses, but there are still lots of cash buyers out there. Of our 27 condos under contract 19 are under non-contingent contract, which usually indicates that the buyer is paying all cash. In addition, 91 of the 168 sales so far this year went for list or over list price, which is 54% of sales.
The market has slowed, but we had 6 of the 14 sales in October go for full list price or over list, which is 43% of October sales. None of the October sales went for less than 93% of original list price.
For now, if you price right, it's still a seller's market. Buyers who are willing to do some, or a lot of work, can get a discount, particularly, this time of year as many sellers don't want to carry their units over the winter. Once again having a good Realtor can be a big help.