If you're interested in luxury homes for sale in Greenwich, Connecticut, you may have questions and concerns about where the real estate market could be going in the future. After years of strong market activity and exponentially rising sales prices, there's currently a greater degree of uncertainty about the state of the market than there has been in quite some time. This raises questions among both current and potential property owners about what their homes might be worth several months from now. Read on to learn about the current state of the market and how it may change in the long-term future.
A recession is likely but it won't be drastic
Due to the effects of rising interest rates and rampant inflation, many experts assume that a recession will take place sometime in 2023. Home prices have already fallen in some places as demand has trailed off from what the market was during the period of time when interest rates were very low. Prices rose throughout the nation through the first few months of 2022, but began to decline slightly during the second quarter. The stall is likely to continue in 2023, but most experts don't expect prices to fall too far below where they currently are, especially for Greenwich waterfront homes. They certainly don't predict that another market crash will happen that resembles what took place in 2008.
The market is poised to rebound quickly
Despite the likelihood of a recession, the market seems to be in a strong position overall. A key piece of evidence that highlights the market's current level of health is the mortgage delinquency rate. Many experts argue that a higher mortgage delinquency rate suggests that greater trouble or concern could be looming. The mortgage delinquency rate is currently as low as it's been in
nearly 25 years
. While this is certainly welcome news, the question remains about when interest rates might fall or when home prices could continue to rise again. These are difficult questions to answer, but it's safe to assume that what is taking place is only a temporary setback.
If you study the recent history of the market, rates have always come back to past averages even after periods of time when they were much higher than normal. Even if rates continue to remain high, there will always be activity on the housing market. Some people don't have the luxury of waiting for rates to come down before they begin shopping for a new home. Life circumstances such as family changes or relocation for work purposes don't always allow people to wait for the right time to buy a home.
Your home is a hard asset
Home values don't suffer as much volatility because they are considered to be hard assets. A hard asset is something with
visible and tangible value
. It's much easier to perceive a home's worth compared to a soft asset like a stock. While stock prices can rise and fall quickly, home values usually take months or years to drastically change. If a home was ever going to lose all of its value, it would take a significant amount of time for this to happen.
Home values have outpaced inflation for decades
Inflation is rampant now and many people are struggling to keep up with a rapidly rising cost of living. With inflation currently as high as it's been in over 40 years, some people have questions about how this might impact the value of their home. The good news is that over the past 100 years, home prices have outpaced inflation
by nearly three percent
. This is especially important to remember now because of the current economic condition the nation finds itself in.
Throughout the past 100 years, there have been multiple notable recessions, including the Great Depression in the 1930s and the housing market crash of 2008. Despite these obstacles, the market was able to rebound and find success again. The same should be expected in the near-term future.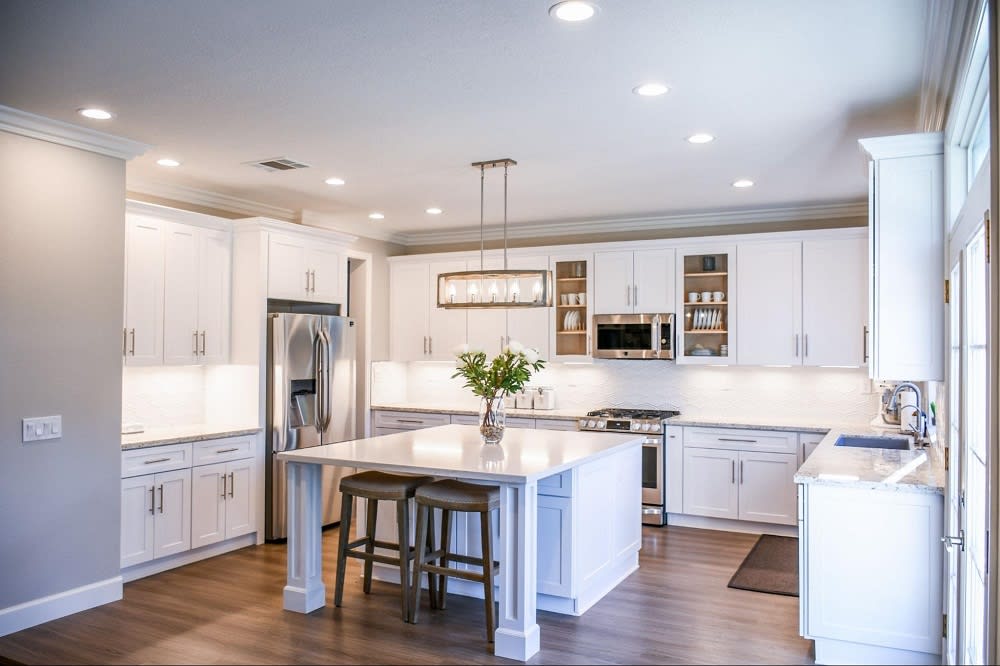 Photo courtesy of Pexels
DIY projects are becoming increasingly popular as many people look for ways to boost their home's value. If you want to increase your ROI or help your home stand out on the market, there are several things you can do without investing a significant amount of time or money.
Minor kitchen and bathroom renovations
are usually the two projects that offer the greatest return. These improvements can make your kitchen look brighter and newer. Consider painting your cabinets or installing new hardware on doors and drawers. Buyers are also looking for homes with energy-efficient appliances and features. Bragging about how little you spent on energy bills over the past year can be a major selling point when you put your home on the market. Make your home more energy-efficient by upgrading the appliances or improving your home's insulation.
Luxury real estate will always have a market
While you must consider the overall state of the market when viewing luxury real estate, it's important to keep in mind that luxury real estate requires a different perspective altogether. Luxury buyers are less susceptible to market changes and variances, which allows them to rest easier even when the economy is in a flux. There will always be qualified buyers who emerge to shop for luxury homes in Greenwich, Connecticut, because of the area's strong appeal.
Contact
Mark and Russell Pruner
when you're ready to begin seriously shopping for luxury homes in Greenwich.They have several decades of combined experience working in the local real estate market, and their wide range of past experiences equip them to anticipate any challenges that may arise in the real estate transaction process.

*Header photo courtesy of Shutterstock